Main content
The Frost Tapes: Five incredible interviews, lost for a generation
By Wilfred Frost, presenter of The Frost Tapes
When Dad died in 2013 – suddenly and unexpectedly – I started a journey that would ultimately lead me here, to The Frost Tapes podcast.
Dad recorded over 10,000 interviews in his lifetime – the exact number is unknown. And a lot of his early work has not been seen for decades. Well over half of the footage in the podcast has not been heard since its original broadcast. Some of it never aired in the first place.
The podcast focuses on Dad's work in America in the 1960s and 1970s. This is where a huge portion of the tapes fit that label of footage "lost for a generation". And as I reviewed it, my jaw would repeatedly hit the floor – these are conversations that could have been happening today. The parallels are extraordinary.
It has been an enormously time-consuming process to get to this point – but incredibly rewarding. In fact – it's been a privilege – to listen to what some of America's most influential leaders and activists had to say on hugely important topics like racism, women's liberation, press freedom and the politics of hope vs fear, and to admire and learn from how brilliantly Dad got them to open up. I hope you enjoy listening to The Frost Tapes.
And here are five of my favourite conversations from the series...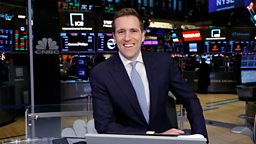 Wilfred Frost presents Closing Bell - CNBC / Heidi Gutman.