Main content
Baku's booming: The amazing architecture of Azerbaijan's capital
Former Soviet republic – and current-day authoritarian state – Azerbaijan might not be top of your list when it comes to potential holiday destinations. But in their latest Art Lovers' Guide adventure, ALASTAIR SOOKE and JANINA RAMIREZ head to this meeting point of Europe and Asia – and find its capital city Baku filled with a tantalising mix of ancient and modern buildings.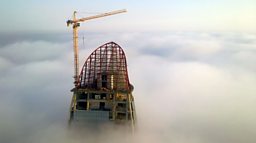 Construction of the Flame Towers began in 2007 | © Tuncay
People have been drilling for oil in Azerbaijan since the mid-19th Century. But in the 21st Century, the wealth generated by oil exports led to an unprecedented construction boom in Baku, a large city on the coastline of the Caspian Sea.
Possibly the most striking structure in the city is the Zaha Hadid-designed multipurpose venue named after former president Heydar Aliyev.
He served as president from 1993 to 2003, a former Soviet Communist leader who reinvented himself as a post-independence political strongman, before being succeeded in the role by his son Ilham Aliyev.
On the trip to Baku it's clear to Janina that Heydar, who died in 2003, has not been forgotten.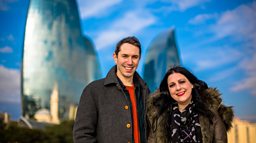 Alastair Sooke and Janina Ramirez in Baku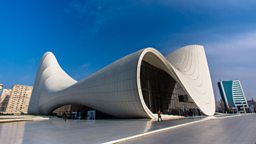 Zaha Hadid designed the Heydar Aliyev Centre to look like a wave ascending from the ground towards the sky
A large part of the work of the last fourteen years has involved remembering Heydar Aliyev

Janina Ramirez
She says: "A large part of the work of the last fourteen years has involved remembering the father – keeping him alive has become one of the purposes of Baku.

"There's a statue of Heydar Aliyev in Heydar Aliyev Park, with Heydar Aliyev concert hall in the middle distance. There's a Heydar Aliyev Avenue too, six lanes of traffic, and it leads to the Heydar Aliyev Centre."

Alastair can't find any fault with this striking, wave-like structure. He says: "It has to be celebrated. It makes me think of the effect of a really spectacular starchitect.

"It was designed by Zaha Hadid and I think, in many ways, it's the reason why Baku as a city is on the map as a cultural destination. This is world famous already."

Janina is blown away too. "It's so astounding partly because of its setting. All around us are Soviet blocks, cubes, high rises.

"There are some interesting shapes in some of the more modern architecture, but this is just a standout. It's white, it's gleaming, it's spectacular.

What of the building's interior? "It's a world of glossy, heated floors and pure white curves," Janina finds, "with insane sightlines to higher floors."

While there is an exhibition of models of Baku's buildings, it is not the star attraction.

"The sweeping stairways," Alastair says, "were built for someone or something considerably bigger than us – Heydar Aliyev. On the first floor there's an entire museum devoted to his life, with a soundtrack of celestial music."

For Janina it's certainly a thorough exhibition. "There are more photos of Heydar Aliyev here than I have of myself in my own home. It's certainly an elaborate celebration. This extraordinary structure is in service to the regime."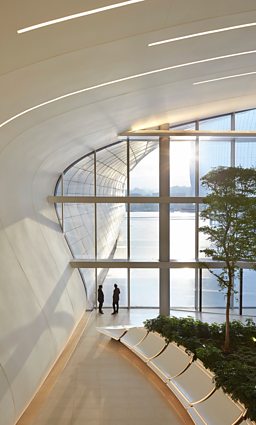 The Heydar Aliyev Centre won Design Museum Design of the Year Award in 2014 | © View Pictures / Getty Images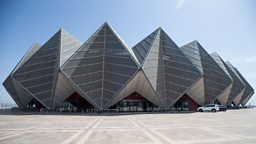 Other dramatic-looking structures have appeared in Baku in recent years. The Crystal Hall opened in 2012 | © Yegor Aleyev / Getty Images
Not that architecture is the only fascinating thing about Azerbaijan, as Nina and Alastair find when they head north out of the city to Yanar Dag.
There they find a patch of land which is perpetually on fire. Some say the natural gas beneath the surface has been burning for thousands of years, although others suggest a rogue cigarette in the 1950s started the fire burning.
Seeing this strange phenomenon up close emphasises to Nina the intrinsic relationship that Azerbaijan has with elemental forces. "Yanar Dag is a wonderful place... No wonder that when the time came for the construction of the other bold architectural statement that Baku's famous for – the Flame Towers – they were inspired by the curve of living flames."
Alastair too is moved. "The flames are beautiful but inescapable. This geology of oil and gas and fire was always going to shape the culture, identity, history of any human beings who settled here."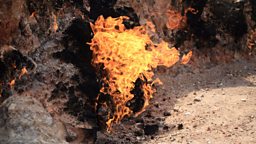 Baku is known for its natural fires like the one at Yanar Dag | © Stefano Bolognini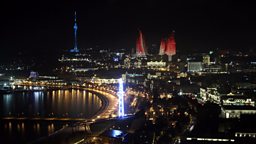 The three flame-inspired towers are lit up at night | © Trevor Claringbold
But the older architecture of Baku should not be ignored by visitors. Alastair weaves his way through the narrow streets of the old city to find the Muhammad Mosque, also known as the Siniggala Mosque – the damaged or ruined mosque.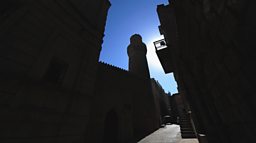 The Muhammad Mosque was built in the 11th Century | © Jamie McDonald / FIFA / Getty Images
Alastair spies a story in this structure. "Right at the top, on the minaret, you can see much newer stone. And there's a reason for that.
"If you go back to the 1720s, the Russian tsar, Peter the Great, sent a fleet here to conquer Baku and the surrounding area. A cannonball hit the minaret and completely shattered that side of the top of it.
"Things were not looking good. But there's one thing that you can rely on here in Baku and that's the wind. Suddenly the weather completely changed and the fleet was driven away.
"And of course for the people of Baku it seemed like a wonderful example of divine providence saving the city."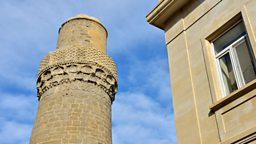 Baku's battle-scarred minaret | © Kasia Nowak / Alamy
Janina finds wonderful examples of iconic Islamic art in the Shirvanshah Palace, most of which dates from the 15th Century.
She says: "Unlike Christianity, right from off Islam specified that human beings and animals wouldn't be included in their visual arts because only God can create the image or likeness of man and nature.
"So instead they focused on foliate decoration, like beautiful vines and fig leaves, writhing over the surface in these deeply carved geometric patterns."
The Koran also inspires the beauty Janina sees on the walls of the palace. "There are two lines in Kufic script, they're able to develop a beautiful series of images just by perfecting the different types of calligraphy."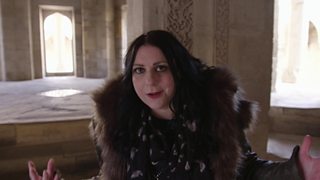 Janina Ramirez explores the Shirvanshah Palace in Baku
More from Azerbaijan
Janina and Alastair's trip Azerbaijan is on BBC Four at 9pm on Monday 23 April 2018 and will be available on BBC iPlayer shortly after
More from An Art Lovers' Guide...
Culture is helping the Arab world's most diverse city to heal wounds.

The delights range from iconic 16th Century architecture to 21st Century street art

The Catalan city is renowned for its rich cultural heritage and politically-charged art
More from BBC Arts
How classic films influenced comic book writers and artists to create Batman and more

Kenneth MacMillan's dark and intense Mayerling, performed by the Royal Ballet

Turn your home into a project haven with this step-by-step guide to making a mosaic door plaque