Main content
The BBC Student Critics' Award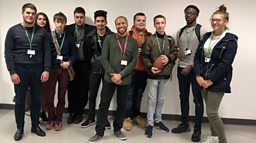 Dean Atta at Barking & Dagenham College for the 2018 Student Critics Award
The BBC Student Critics' Award with First Story and Cambridge University celebrates the written word by encouraging students to read critically, foster skills in literary criticism, and to build confidence.
Aimed at 16-18 year olds, selected students flex their critical muscles as they read, discuss and critique the five stories shortlisted for the prestigious BBC National Short Story Award with Cambridge University.
"I really, really liked the discussion – the teacher was one of us, rather than telling us" - Participating student from the BBC Student Critics' Award 2018
2018 saw 600 16 – 18-year-old students from 40 schools, and for 2019,, this activity is being extended to encourage wider community link-ups between schools, colleges, libraries and bookshops around the UK.
Inaayat Hashim, Head of English at Pocklington School, York, led a group of sixth-formers in 2018 and said,
"This was such a tonic for students who have been jaded by public examination and sedated by a summer holiday. It energised them and imbued them with a vigour for academic debate that we are still running off weeks later."
We are now looking for participating groups of 20 or more who are keen to take up this opportunity in 2019. If you work with teenagers (perhaps via a school, library, bookshop or community centre), you can find out more information and complete an application form here
Each group selected will receive a teaching resource for the short story which includes creative cross-curricular activity ideas; copies of the official BBC National Short Story Award with Cambridge University 2019 Anthology; a bespoke discussion guide for the five stories shortlisted for this year's award and the possibility of live or online interactions with writers, judges, First Story Patrons and staff and students from Cambridge University Faculty of English, and a certificate for the group.
So why not encourage some free thinking and debate around the very best new writing amongst the teenagers you work with?!
Please note that the shortlisted stories for the BBC National Short Story Award 2019 may contain adult themes. Find out how to enter and read the terms and conditions here. Deadline for entries is 9am (GMT) Monday 1 April 2019.
If you have any queries, please email bbcsca@bbc.co.uk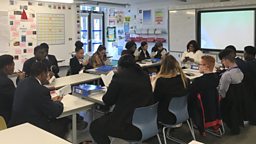 Ingrid Persaud, winner of 2018 BBC National Short Story Award, talking to students at Walworth College
Katie Thistleton visits Xavarian College for the Student Critics Award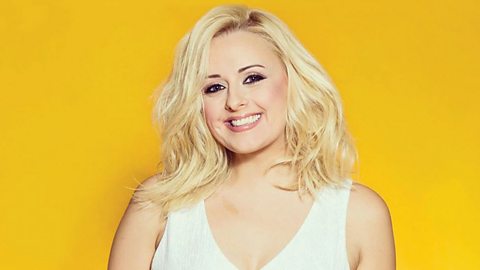 Radio 1 presenter and Young Writers Award judge talks to budding critics in Manchester