Main content
Big Weekend UK 2020: What to expect from our first virtual festival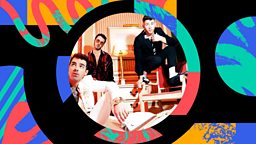 Big Weekend 2020 takes place this weekend (Friday 22 – Sunday 24 May 2020), but with a twist: it's a virtual festival. Radio 1 and the world's biggest artists will be joining you remotely while you stay at home.
The likes of Sam Smith and Jonas Brothers will be performing from their homes and maybe even home studios – we can't wait to see what these look like – and we'll also be replaying the most memorable performances from Big Weekends gone by for you to listen to Radio 1 and BBC Sounds, and watch on BBC iPlayer.
More amazing acts have just been announced, including HAIM, Sean Paul and YUNGBLUD on the Radio 1 Stage, and Disclosure, The Black Madonna and the legendary Armand Van Helden on the Radio 1 Dance Stage.
Ways you can watch, listen and get involved!
There are five key ways you can keep up with all the action...
1. Listen on the radio
You'll be able to follow all the action live on Radio 1 and 1Xtra. Big Weekend kicks off on Radio 1 at 7pm on Friday night with huge tunes from the biggest names in electronic music on the Dance Stage. From 11am on Saturday morning join the Radio 1 and 1Xtra family as they recreate that festival feeling with Big Weekend performances new and old.
2. Find everything on Sounds
BBC Sounds will be bringing you a huge collection of full sets from the festival, as well as archive headline performances. Miss something on the radio or want to listen to an extended performance from your favourite artist? This is your go-place!

3. Watch sets on iPlayer
Across the weekend, we'll have video highlights from some of the festival's biggest stars on iPlayer, including Sam Smith, Blossoms, Niall Horan, Rita Ora and more from the Radio 1 Stage; Ms Banks, Koffee and Mahalia from the 1Xtra Stage; and Disclosure and Armand Van Helden from the Dance Stage. You'll also be able to catch classic performances from the likes of Jay-Z, Rihanna, Katy Perry, Foo Fighters and more.

4. See highlights on YouTube
The Radio 1 YouTube will be hosting some of the biggest tracks from the course of the weekend. Hit that subscribe button and you won't miss a thing!

5. Get involved on socials
Big Weekend UK 2020 may be a virtual festival, but we're sure you'll be recreating that festival feeling from the comfort of your home. Get involved with Radio 1 on Instagram and Twitter to let us know how you're celebrating - it's also the place for you to get the full backstage access!
Who's performing?
Friday 22 May is all about raving from home. Expect wall-to-wall bangers from a who's who of the dance world on the Radio 1 Dance Stage.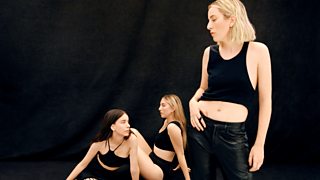 Radio 1's own Annie Mac, Danny Howard and Pete Tong will be joined by the iconic Armand Van Helden, dazzling duos Disclosure, CamelPhat, Solardo and Bicep, big name DJs High Contrast, Hannah Wants and The Black Madonna. All that, plus a massive back-to-back set from Fatboy Slim and Eats Everything. It doesn't get any better than that.
With dance's finest providing DJ sets, it's over to you to turn your kitchen, bathroom, living room, anywhere into a fully-fledged club.
The party continues on Saturday 23 and Sunday 24 May with new performances, recorded from home, on the Radio 1 Stage, 1Xtra Stage and BBC Music Introducing Stage. And across the weekend, you'll be able to watch classic Big Weekend performances via The Headliner Stage. See the full line-up poster below.
On the Radio 1 Stage, expect brand new performances from HAIM (pictured), Blossoms, Biffy Clyro, Dermot Kennedy, Sean Paul and loads more.
If the chart-topping Stay Home Live Lounge is anything to go by, it will be a chance to peek into popstars' houses. Who will have the best selection of houseplants? Whose home studio set-up will be the slickest? Will anyone be performing with a lava lamp, like Foo Fighters' Taylor Hawkins did? All those questions will be answered and more.
See the line-up in full so far: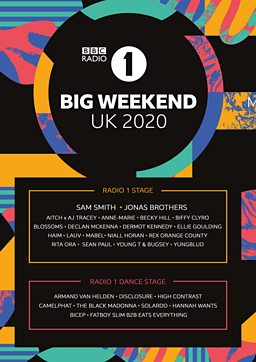 How will it all work?
Great question. It will be a very different experience from a usual Big Weekend, but that won't stop us from recreating the full festival experience. "We're going to do our best to bring you a virtual festival," says Greg James. "Whatever you're doing that weekend, get the radio on and you can experience a load of stuff from Big Weekends gone by, and some brand new festival performances."
He adds: "We've never tried it before, it's got some great plans. But of course, it could all go wrong, and that's sort of a great thing. Whatever happens happens!"
Performances take place across five virtual stages: The Radio 1 Stage, the Radio 1 Dance Stage, the 1Xtra Stage, the BBC Music Introducing Stage, and last but not least the Headliner Stage, which will feature legendary performances from previous Big Weekends, including Katy Perry's set at Radio 1's Big Weekend in Glasgow and Miley Cyrus' stormer from Middlesbrough.
You'll be able to tune in from home all weekend by listening to Radio 1 and BBC Sounds, and watching via BBC iPlayer. And seeing as we're treating this as a proper festival, we'd recommend as a bare minimum that you set up a tent in your living room and wear a summer-ready bucket hat. Or an umbrella, depending on the forecast...
How are artists getting ready for a virtual festival?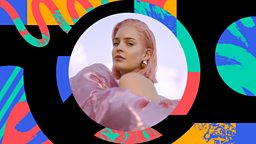 As essential Big Weekend prep, Greg James sent Anne-Marie a festival care package of all the things she might need over the weekend. The essentials: An umbrella hat, a pop-up tent, a cow windsock. You know, a cow windsock. Pop it up on a flagpole and it will inflate. Perfect for a festival. What do you mean you haven't heard of it?
Anne-Marie wants all of us to get into the festival spirit. "I think everyone should pretend they're at a festival and camp in their living room during Big Weekend. I'm going to do it right here in my living room, and I can't wait."
Niall Horan is preparing for a special set from his home – he says adapting from a normal festival to a virtual one will be a big challenge, but he's excited to give it a try. "Some of my favourite memories have been at festivals. This time with no audience, no crew and an amateur like me setting the sound up will be interesting but I'm going to give it a right go. Also my toilets are super clean unlike some of the literal pits I've seen at previous things!"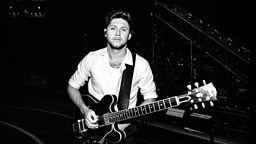 Mabel is promising a "slick, smooth and stripped back" performance, adding that "it's way more technical when recording things remotely!"
I'm going to give it a right go

Niall Horan
Hip-hop duo Young T & Bugsey are spending lockdown in their own separate homes, but they're preparing something special for their Radio 1 Stage performance. "We're gonna link up and perform together. I don't wanna give away too many surprises, but we're definitely gonna play songs we haven't performed before. A lot of vibes."