Main content
Are these the most Instagrammable #artgalleries in the world?
21 December 2018
Once galleries and museums ordered 'no photos' but there's a new generation of art venues that are actively encouraging visitors to get snap happy. ROWENA McINTOSH looks at the latest breed of interactive exhibits and colour-popping installations that are perfect for Instagram.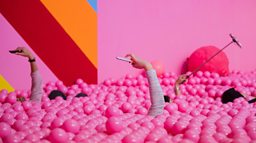 Visitors at the Supercandy Pop-Up Museum take selfies in a ball bath | DPA Picture Alliance/Alamy Live News
Photo-sharing app Instagram launched on 6 October 2010, initially just on Apple's iOS platform. By the time it was released on Android 18 months later, there was so much hype that it racked up a million downloads in 24 hours.
With celebrities, businesses and brands all embracing the application, the number of Instagram users has continued to grow rapidly, reaching one billion monthly active users just three months shy of their eighth birthday in October 2018.
Driven by aesthetics, Instagram celebrates colour and symmetry. The 'Instagram effect' has bled into many areas of modern life, from how interiors are designed, to how food is arranged on a plate, even how we enjoy art.
Exhibitions and museums are now being designed specifically with photo sharing in mind, offering up interactive exhibits, colourful settings and flattering lighting so visitors can get that perfect snap.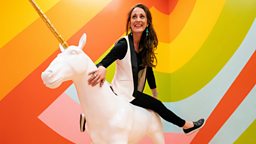 Visitor riding a unicorn at The Museum of Ice Cream | Photo: Rachid Dahnoun / Alamy Stock Photo
The Museum of Ice Cream
The Museum of Ice Cream is an art exhibition that started in New York in 2016, and has since opened in Los Angeles, San Francisco and Miami.
We believe in creating beautiful and shareable environments that foster IRL interaction and URL connections

Museum of Ice Cream
In this candy-coloured wonderland visitors can immerse themselves in a pool of rainbow sprinkles, climb atop a unicorn and play on swings in colour-popping rooms, as well as enjoying sweet treats along the way.
In its short lifetime the Museum of Ice Cream has extended its exhibitions multiple times, with tickets selling out in as little as 18 minutes.
The #museumoficecream hashtag has been used over 181,000 times on Instagram, not including the hashtags specific to the individual sites.
For Christmas they are celebrating with a winter wonderland featuring a sparkling pink forest, gingerbread house and a unicorn disco.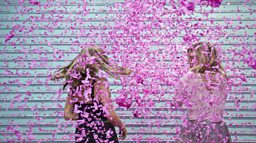 Confetti rain at Supercandy! Pop-Up Museum | Michael Gottschalk/Getty Images
Supercandy Pop-Up Museum
It's not just an American phenomenon. Cologne's Supercandy Pop-Up Museum in Germany opened in September and describes itself as a 'Made-For-Instagram exhibition'. Visitors can enjoy confetti rain, a giant liquorice pool and a room filled with 2,000 flamingos.
Designed as a traditional museum art exhibit but complemented by perfect light, colorful backgrounds and interactive installations

Supercandy Museum
Sugar Republic
In Melbourne and Sydney, Australia, Sugar Republic is home to art installations including a confetti shower, a sherbet-filled rainbow bridge and a lolly shop. Visitors can get interactive exploring Charlie's Chocolate Factory, jumping out of a birthday cake and spinning the wheel o'treats.
Dessert Museum
In the Philippines Manila's Dessert Museum pride themselves on being the only museum you'll ever slide into. After the delights of the sprinkle slide there are eight rooms of sugar-filled fun with suspended marshmallows, a candy cane grove and giant gummy bears.
The Dessert Museum says: "There are only two things on the menu – sugar and selfies."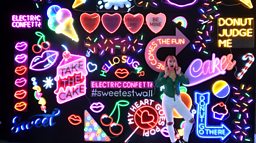 A wall of neon signs at Sugar Republic | WILLIAM WEST/AFP/Getty Images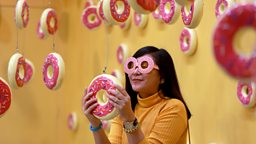 The Dessert Museum | Photo: Xinhua / Alamy Stock Photo
In The Color Factory visitors can play with balloons inscribed with children's wishes | Xinhua / Alamy Stock Photo
The Color Factory
Away from the focus on sugar other exhibitions are also emphasising an interactive experience, where rather than just look at an artwork you are encouraged to engage with it physically.
'I was there. I came, I saw and I selfied'."

Jia Jia Fei
The Color Factory is a collaborative interactive exhibit designed to celebrate creativity and colour that employs the talents of a range of artists, designers, makers and illustrators.
Here people can plunge into a vast blue ball pit, spin on a coloured wheel and play with balloons inscribed with children's wishes. All of which make excellent photo opportunities.
The museum taps into the desire not just to experience something but to be seen experiencing it. In her TedX talk Art in the Age of Instagram Jia Jia Fei, then Associate Director of Digital Marketing at the Solomon R. Guggenheim Museum, observes that people don't just take photos of artworks and exhibitions, they like to take pictures of themselves at the exhibitions.
She says: "In the pre-digital photography era the message was, 'This is what I'm seeing. I have seen' and today the message is, 'I was there. I came, I saw and I selfied'."
Zobop
Zobop is the collective title of an ongoing series of psychedelic floor designs by artist Jim Lambie. First created in 1999, the artwork is made from brightly coloured tape stuck in lines on gallery floors and staircases. Zobop has featured at Japan's Towada Art Centre, Italy's GAM Torino and Tate Liverpool.
The interactive element of Lambie's art, getting to physically walk across it, makes it particularly in tune to the Instagram trend of the 'shoefie' – a picture of the shoes you are wearing. For attendees of Lambie's exhibitions across the world: "I came, I saw, I shoefied."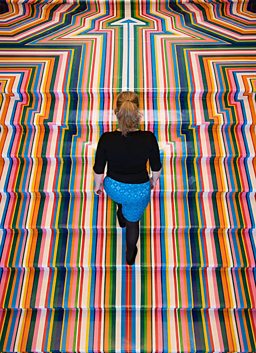 Jim Lambie's installation Zobop at the Royal Academy Summer Exhibition 2015 | LEON NEAL/AFP/Getty Images
Mona Lisa
It isn't just new art works enjoying the Instagram effect. The Louvre's most famous painting, Leonardo da Vinci's the Mona Lisa, is also a star of social media.
More than eight million people visited the Paris gallery in 2017 alone, and pictures of the portrait have appeared so many times on Instagram it's been made into a video montage, described by Open Culture as a "succinct commentary on our time".