Main content
Who performed at the BBC Radio 2 Folk Awards 2019
Mark Radcliffe hosted the 2019 BBC Radio 2 Folk Awards - the annual ceremony that celebrates and rewards the very best in folk, roots and acoustic music - on Wednesday 16 October 2019.
Here are some of the acts who attended on the night.
Catrin Finch & Seckou Keita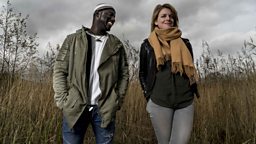 Welsh harpist Catrin Finch and Senegalese kora player Seckou Keita have built a formidable reputation for extraordinary performances over the past six years. They draw deep on their own diverse traditions and transform them with remarkable synergy. Entrancing, mesmeric, intricate and ethereal, this critically acclaimed and multi award-winning collaboration between two adventurous virtuoso musicians delivers a stunning exhibition of world-class musicianship and a thrilling live experience.
Catrin and Seckou released their much-anticipated second album SOAR in 2018. The release was the duo's first since their award-winning debut album Clychau Dibon which released in 2013. They have been touring the world ever since. SOAR explores themes of migration, and journeys – both emotional and physical, and continues the duo's intrepid exploration and celebration of the parallels and differences between their two instruments and cultures. SOAR continues the avian theme started in Clychau Dibon, highlighting another amazing connection between Wales and Senegal that has recently reestablished itself.
The album won the prestigious fRoots Critics Poll Album of The Year 2018, an award they also received previously for Clychau Dibon in 2013. SOAR also received a nomination for the Welsh Music Prize, and has been named as one of Songlines Magazine's Top Ten Albums of the Year 2018, and MOJO's Top Ten World Music Albums of 2018.
Dervish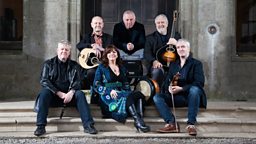 Dervish have been bringing Irish traditional music to the world for 30 years. The band have played at festivals from Rio to Glastonbury. They accompanied the Irish President on state visits to Latvia and Lithuania and Prime Minister of Ireland on a trade mission to China as Cultural Ambassadors taking time out to play an impromptu session on the Great Wall of China.
Dervish have a line-up which includes some of Ireland's finest traditional musicians, fronted by one of the country's best-known singers, Cathy Jordan. They are long-established as one of the biggest names in Irish music internationally, and are renowned for live performances, which match dazzling sets of tunes with stunning interpretations of traditional songs. Their studio and live albums – 13 to date – make up one of the outstanding catalogues in Irish music.
This year the iconic folk group released a new album, The Great Irish Songbook, which features performances by a remarkable array of guest vocalists. One of those is Irish actor and director Brendan Gleeson - perhaps best known for his portrayal of Alastor "Mad-Eye" Moody in the Harry Potter films - who lends his lilting baritone to the band's spirited rendition of DK Gavan's much-loved classic "The Rocky Road To Dublin," which chronicles the adventures of a man as he travels from his home in Tuam, County Galway to Liverpool.
The Great Irish Songbook, Dervish's first studio album in more than a decade, is an ambitious project that boasts guest appearances by an extraordinary assemblage of singers and musicians from both sides of the Atlantic.
Dervish - Michael Holmes, Cathy Jordan, Liam Kelly, Brian McDonagh, Shane Mitchell, Tom Morrow, and Seamie O Dowd - are joined on The Great Irish Songbook by fellow Irish artists Andrea Corr, Brendan Gleeson, and Imelda May; English singer Kate Rusby; Welsh singer-songwriter David Gray; and from the United States, Steve Earle, Rhiannon Giddens, Vince Gill, Jamey Johnson, The SteelDrivers, and Abigail Washburn.
Edward II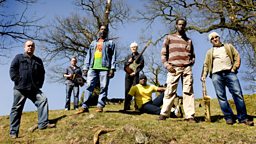 Edward II are an English roots band that uniquely blend the rhythms and songs of the traditional music of the Caribbean and the UK, celebrating the similarities between the two and the long standing links between the evolution of the two traditions. Back in the 90s the band was signed to Cooking Vinyl Records and Rhythm Safari in the US. They worked extensively across the globe touring world music, reggae and folk festivals on almost every continent before finally calling it a day in 1999.
The band always remained close friends and in 2015 came back together to record and perform a new repertoire of songs born of the Industrial Revolution, (specifically of their home town Manchester), known as the Manchester Broadsides, and released a brand new critically acclaimed (4* Guardian / Mojo) CD called 'Manchester's Improving Daily'.
The band are now working on a project exploring the traditional songs sung around the same time on the plantations of Jamaica, often featuring similar themes of the struggles at the bottom end of the social spectrum at the height of the transformative 1800s, but bringing them up to date in their own unique style.
Still upbeat, and with rock-steady rhythms, blazing horns, fabulous harmonies and fiery melodeon melodies, the band continues to amaze audiences across the UK and Europe.
O'Hooley & Tidow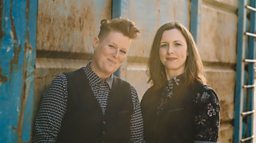 West Yorkshire duo Belinda O'Hooley & Heidi Tidow will be performing their song 'Gentleman Jack' - the title theme to this year's hit BBC One drama of the same name - at this year's Folk Awards. Hailing from the same area as the series' protagonist, Anne Lister, and of series' writer Sally Wainwright, O'Hooley & Tidow's 2012 song was a perfect fit for the show, which was watched by millions earlier this year.
With their sound being described as "beautiful and brilliant" by actress Maxine Peake, O'Hooley & Tidow have released five albums since 2010 and, when not performing as a duo, they are occasional members of the supergroup Coven (alongside Lady Maisery and Grace Petrie). More recently, Belinda O'Hooley released a solo album, Inversions, earlier this year.


Wizz Jones
This year's Radio 2 Folk Awards Lifetime Achievement Award recipient is influential guitarist and singer Wizz Jones - who will also be performing live at the event.
Hailed as one of the early musical influencers on the likes of Keith Richards, Eric Clapton and Rod Stewart, the late Bert Jansch called Wizz "the most underrated guitarist ever." Bruce Springsteen is among the artists to have covered Wizz's songs, with his version of Jones' 1973 track, "When I Leave Berlin".
Noted for his natural musical flair and laidback delivery, Wizz is very much a musician's musician who enjoys his craft and long career performing in clubs across the land. Wizz is a true travelling troubadour who has lived his life on the road. He turned 80 in 2019.
Wizz regularly performs live with his son, Simeon Jones, and fellow guitarist Pete Berryman. Ralph McTell is also a regular on-stage sparring partner for Wizz.
The Breath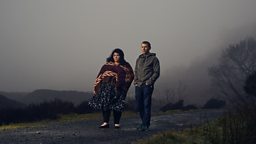 The Breath are unfortunately unable to perform at the Radio 2 Folk Awards due to illness. English folk singer-songwriter Kate Rusby will perform in their place.
BBC Radio 2 Folk Awards 2019