Main content
The Archers Cast Singalong - Barwick Green As You've Never Heard It!
That unmistakable tune, Barwick Green: sung, played - and whistled - by several of our versatile actors, in their own homes (and gardens).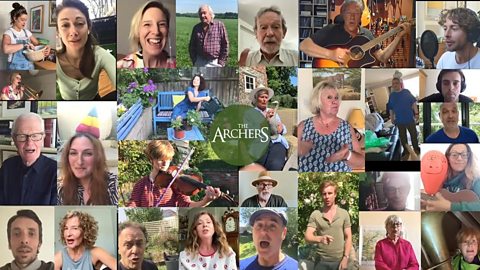 The Actors' delightful DIY cover of the iconic theme tune
How did the Cast Singalong come about?
In the midst of all the relentless effort that has gone into reinventing The Archers during the Covid-19 pandemic, keeping in touch with the large Archers ensemble cast and finding some respite and humour to keep everyone's spirits up has been essential. We also wanted to give our listeners an extra treat - and so this fun DIY musical project was born.
It was inspired by the photos and videos shared by the actors of their home recording setups. When the question was asked within the Archers team "how about we get some of the cast to film themselves at home 'in lockdown' singing the Archers theme tune?" we never expected so many to rise to the challenge – and in such style (although we knew there was an array of musical talent among the cast!).
Watch the clip and read a full list of credits.
About Barwick Green
Barwick Green is a "maypole dance" from the suite My Native Heath written in 1924 by the Yorkshire composer Arthur Wood.
It has been the unmistakable theme tune to The Archers since the very first episode. When the founder of The Archers Godfrey Baseley selected the tune, he played it numerous times over a weekend and decided that it would bear repeated listening - hardly expecting it to be repeated for nearly 70 years!
Barwick Green by Bellowhead
Since The Archers returned to the airwaves on 25th May after a brief hiatus, Bellowhead's boisterous cover of Barwick Green has graced the Sunday Omnibus - and we love it.
The Archers Omnibus has for many years been accompanied by by The Yetties' alternative folk rendition. In 2014 Bellowhead were commissioned to arrange and record a new version of the iconic Archers theme tune. It was used as the theme music for Archers spin-off series Ambridge Extra, and you will have also heard it popping up in recent Archers extra podcasts on BBC Sounds, and The Archers' / Lynda Snell's The Canterbury Tales on BBC Radio 4.
More about how the actors went about filming and recording themselves
The cast singalong was the brainchild of Andrew Smith, production co-ordinator on The Archers. The only brief given to the cast was to sing, play or in any other way improvise the main melody – and, if time and inclination, to try out one or two of the other parts. Several people did this, and some even improvised and added lines and motifs. Mali Harries, who plays Natasha Archer, improvised several parts, and Joanna Van Kampen (Fallon Rogers) included a part inspired by her dad, saying "it's sort of a family joke that my dad used to sing it along to the radio and it was funny".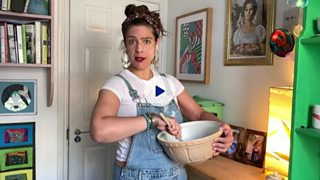 Joanna Van Kampen at home (as Fallon Rogers)
Then Andrew had the painstaking task of piecing it all together:
"The effect of hearing everyone together is tremendous...
…I listened to it, listened to it again, then played it to everyone in the house, trying to spot who is my favourite, which is impossible. They are all wonderful" - Jeremy Howe, Editor The Archers
We hope you enjoy it – and check out this roll call: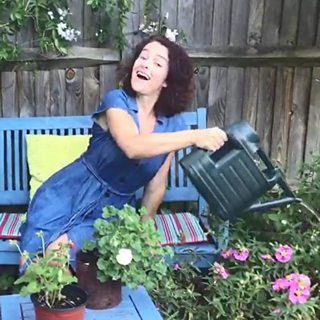 Annabelle Dowler (as Kirsty Miller) The Archers, BBC Radio 4
I listened to it, listened to it again, then played it to everyone in the house, trying to spot who is my favourite, which is impossible. They are all wonderful.

Jeremy Howe. Editor, The Archers
We've got a bobbing village Bobby, Harrison Burns (James Cartwright) and a baking, painting and decorating Tearoom owner Fallon Rogers (Jo Van Kampen). Who knew Mia Grundy (Molly Pipe) could play the violin? That Jolene Archer(Buffy Davis) could take up her place in the Hollerton Silver Band?; Kirsty Miller (Annabelle Dowler) clearly takes pride in tending to her plants (anything to put off discovering the truth about Philip); while Kathy Perks (Hedli Niklaus) has been perfecting her whistle; Tracy Horrobin (Susie Riddell) is now a quadruple threat to Ambridge, adding singer and instrumentalist to cricket captain and self-appointed life coach.
The brilliantly inventive Reverend Alan Franks (John Telfer) can now jockey for position at the St Stephen's organ, having composed a jaunty piano solo; Jazzer actor Ryan Kelly has quite a musical history in The Archers as a folk singer and bagpiper. Can you spot Ryan's guide dog sneaking into shot in the video? It's easier to spot Justin Elliott's (Simon Williams) silent singing partner. And Neil Carter's nemesis at the Berrow pig unit Hannah Riley (Helen Longworth) shows her softer side on uke and flute (is Hannah marking her territory with that balloon?); while David Archer (Tim Bentinck) shows us what his rock n roll dreams are made of.
The closing word goes to Eddie Grundy (Trevor Harrison) – Eddie always looks out for his family, and we in The Archers family are looking out for each other and all of you. Enjoy - and :
Take care.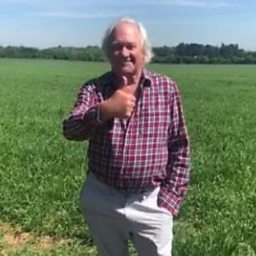 Trevor Harrison (as Eddie Grundy) The Archers, BBC Radio 4
The Archers at Home - the story so far
How The Archers is continuing despite the coronavirus pandemic
Barwick Green - Some of Our Favourite Cover Versions