Main content
'It's scary, there's not enough help for them, so why do Roma Travellers come here?'
There are over 5,000 Roma people living in Scotland, with the majority living in Glasgow's Govanhill area.
A language barrier and cultural differences sometimes make it difficult for the Roma community to fully integrate into Scottish culture.
Rock and Roma paired 21-year-old Roma woman Rahela with Scottish Govanhill resident Neil to see if they could find a way of hepling bridge the gap between the two cultures.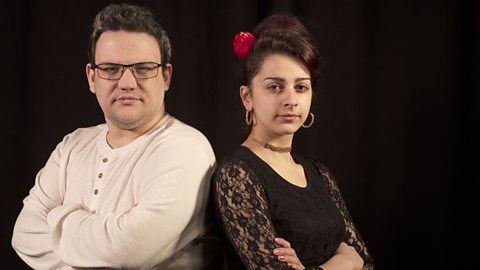 Both Neil and Rahela are trying to make Glasgow's Govanhill area a better community.
Rahela is faced with a cultural difference even in choosing the venue for one of her first meetings with Neil due to the fact that her faith means that she doesn't drink. The compromise of choosing a bar and only drinking coffee means that she can offer Neil the option of drinking alcohol should he desire to do so.
Introductory conversations can be nervy affairs at the best of times, but questioning someone from a different culture to you with potential for a language barrier getting in the way makes Neil and Rahela's chat stilted at times.
As well as being a slight issue during a conversation, the problem of a language barrier is something Rahela points out to Neil is an issue in her daily life:
"You can't find a job because you don't know the language."
Neil is obviously sympathetic to Rahela's situation, but quizzing her as to what Scots like him can do brings out a frank reply from the 21-year-old:
"Make [Roma people] feel more welcome... I teach Romanes at a swap market and privately as well. I think if the Scottish people do a bit of their part then the Roma people can do a bit of their part."
Neil also points out that there will be many people in the local Govanhill community who will believe that if Roma people come to Scotland, then it's their responsibility to learn the language.

'[Some Roma people] find it difficult to even learn the basics. They know nothing, zero.'

Given the massive issues surrounding learning the language, Neil asks why Roma people come to the UK if there is not any help for them to better integrate into a local community.

Rahela's resignation is evident in her reply:
"I don't know."
What does Roma culture entail?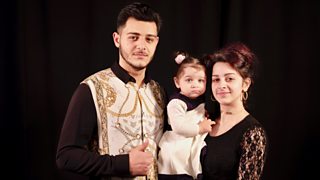 Rahela and her husband talk about early life marriage, a common thing in the Roma community.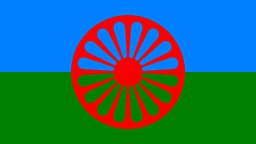 The flag of the Roma community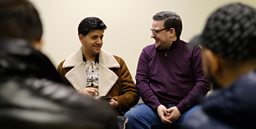 Neil and Rahela's husband David in conversation
Govanhill's Roma community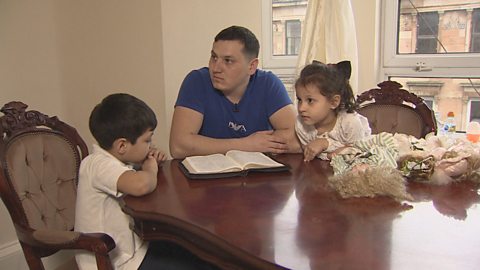 More than one in three of sites for Scottish Travellers fail minimum standards
Music in Roma communities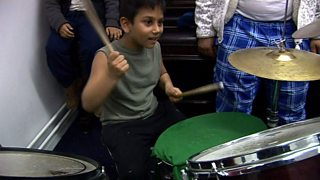 George Akba from the Govanhill Youth Project and young Roma people share an insight into how music is part of their culture from an early age (from 2011)
A journey through the vibrant culture of the Roma community as it exists today in Glasgow's Govanhill area.
Latest features from BBC Scotland