Main content
25 important things we learned about Matty Healy from his time on the Radio 1 Breakfast Show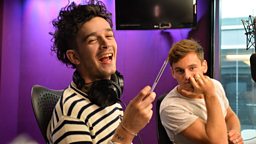 Matt Healy of The 1975 and his near-perfect bed hair joined Nick Grimshaw today to co-host a very special Radio 1 Breakfast Show.
He was very good and more importantly, gave us an insight to his weird and wonderful brain.
Here's 25 essential facts we learned about one of our favourite men in pop.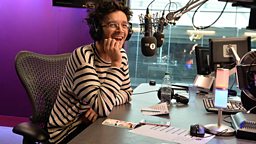 1. "I'm in Malaysia" is Matty's go-to excuse when he doesn't want to meet someone.
2. His favourite bit of the MTV VMAs was when Drake got stuck in traffic.
3. He love Rihanna's Work even if he doesn't quite understand all of her lyrics.
4. He's not a deodorant kind of guy. "I naturally smell like balsa wood," he says.
5. He thinks Climax by Usher is "the best song of all time".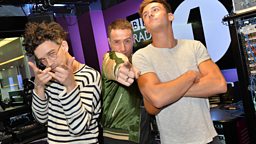 6. Every time he leaves his phone with his bandmates, they download Grindr and send messages to strangers.
7. He has a lot of time for Biffy Clyro.
8. He's not quite so sure about where he stands on Red Hot Chili Peppers.
9. He is a big fan of Charlie Puth and Selena Gomez's We Don't Talk Any More.
10. His favourite Snapchat filter is "the one that gives you big eyes".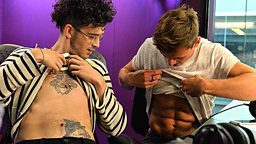 11. He goes into the sea to have a wee when he's on the beach.
12. He believes Tom Daley should consider wearing Bermuda shorts instead of Speedos to dive in.
13. He wants an invite to Tom's wedding.
14. He thinks Chris Martin from Coldplay has an "intangible sexual presence".
15. He considered "eating Mick Hucknall's back-hair" to improve his musical ability.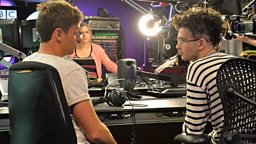 16. He doesn't wear socks in bed because he's "not mental".
17. He describes Vincent van Gogh as a man who "drank paint with no ears".
18. He got bored of writing a book. "I might write a book, but not yet", he says.
19. He loves that Troye Sivan has such a big crush on him.
20. He talked quite a lot about "brutalist concrete pottery".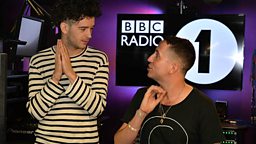 21. "I was never a pulling machine," he says of his chat-up techniques.
22. He keeps his dog Alan in a "Taj Mahal-esque cage".
23. He says he is like a "tired single mother" and takes the dog to bed with him.
24. He is a very big fan of Skepta. "I just love a bit of rap music. It gets me excited, gets me hyped up, gets me ready for the day. I love grime and I love what's happening to Skepta."
25. He would host the Breakfast Show again. "I quite like it. I don't get out much," he says.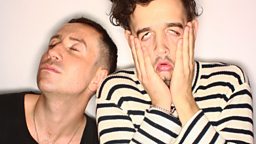 Matty, you're welcome back any time - if you can cope with the early start.