Main content
How Camila Cabello owned Wembley at the 2017 Teen Awards
With slick choreography, lush vocals and a really pretty sick trumpet solo, Camila Cabello's three-track performance was the night's biggest treat - and that was even before she revealed a very special guest. First, flanked by some black-clad dancers, she slayed a supremely slinky performance of Havana. "London, how ya feeling? My name is Camila!" she yelled by way of introduction. "If you know this song, I want you to sing it with me..." Deafening na-na-nas from the audience suggested they were at least a little familiar with it.
And what about that trumpet player? We could listen to that sultry solo all day. Although we'd just as happily listen to Camila's actually rather impressive British accent impression, and her second song, the moody Latin romance Crying In The Club.
Her male backing dancers were giving Rita Ora's check deerstalker a run for its money as Best Hat Of The Night with their pure white fedoras, and were second to none with their moves.
But what was her third song going to be? No one had a clue. "I have a surprise for you guys," confessed Camila, and welcomed to the stage... James Arthur! The two locked lungs on a beautiful duet version of Arthur's 2016 single Say You Won't Let Go, and to be honest, it was a bit much for our emotions. "I think it's such a beautiful song," said Camila. "Raise your phone flashlights up, and let's make this a beautiful starry night sky. She isn't wrong about the song, and she and James's voices were as beautiful a match as the shimmering scenes in Wembley Arena. We didn't want to let them go either... what a night!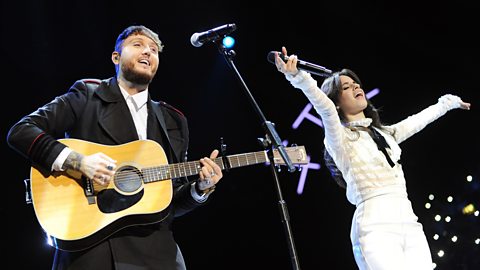 Camila Cabello & James Arthur perform Say You Won't Let Go at Radio 1's Teen Awards 2017