Main content
Plus-size shopping: 'I feel isolated from the high street'
BBC Radio 5 Live journalist Molly Keyworth is a plus-size shopper. She has been investigating why she finds it so hard to find fashionable clothes on the high street.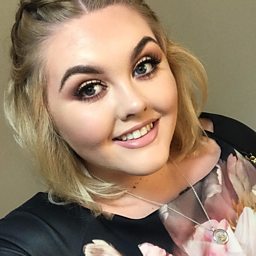 I'm Molly, I'm 22 and I am a plus-size woman. I have been bigger all my life and whether it is down to genetics or a lack of motivation, the fact is, I need to wear clothes. I want to wear proper, fashionable clothes too. But where can I go?
There are some high street options available but the majority offer smaller sizes. And when I enquire about my size, I'm usually greeted with "look on our website". It is exhausting, disheartening and I think it's discriminatory that most plus-sizes are mainly only available online. I don't want to wear butterfly print T-shirts and stonewash jeggings. I want fashion in my size and on the high street.
Standing at 6ft (1.8m) and size 22, I've always stuck out like a sore thumb amongst my average height, size 10 friends. It did affect me growing up but I have always been told: "You dress really well for your size."
What a compliment eh? In my teenage years, my mum worked in a popular high street clothes shop and would often bring me home clothes that were 'in'. But I didn't look the same in my black bandeau tube skirt as my pals.
When I had my own disposable income, I found shopping very isolating. I couldn't walk into a shop, pick up whatever I liked and pull it off. I couldn't do an emergency shopping trip for a last-minute Friday night out like my friends could. I had to plan weeks, sometimes months in advance. I had to sift through magazines, websites, stare at people walking around shopping centres to try and get some inspiration, and tactically plan where I could get an outfit from.
Online shopping has revolutionised options for the plus-size shopper to a degree yet this doesn't make the ordeal hassle free. It's a case of predicting the right size, often having to buy a variety of each garment as they can have a different fit. Then ordering, paying for premium postage or waiting 3-5 working days to try it on, deliberating which size to keep, re-packaging it, paying to send it back, waiting up to 10 working days for them to receive the item and refund you... all to do it again because it wasn't what you wanted.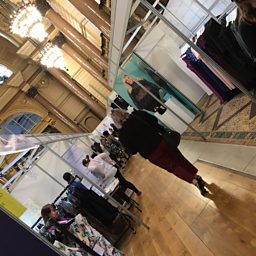 I disagree with people who say 'just lose weight' to be able to buy normal-sized clothes. It is about the accessibility of fashion to be able to be stylish at this moment in time, whilst being mindful of living a healthy lifestyle.
I went to The Curve Fashion Festival in Liverpool to find out what other people in the industry think. TCFF is in its third year and with celebrity guests, the biggest plus-size brands and pop-up shops, I was in curve fashion heaven. When I walked in, I was greeted by big women with even bigger smiles, making me feel so welcome.
But seeing the brands and plus-size clothing options available was a bittersweet experience. I was excited and thankful that this event was happening but I couldn't help feeling sad that this wasn't normality on the high street.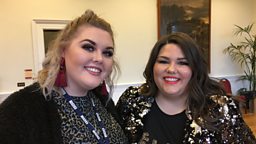 I met blogger Callie Thorpe who is an influencer in the plus-size community. Callie and I chatted about the accessibility of fashion on the high street targeted at people like us. She said: "There's a culture now where plus-sized women know they can't get that much stuff on the high street... it's almost a waste of time going in if they can only shop in two places. And if no-one's going, the retailer isn't going to be able to afford to keep running that space. It's frustrating."
She told me that she would love to go and try things on but the option just isn't there, meaning she automatically diverts to online shopping. I could relate to her experiences so much.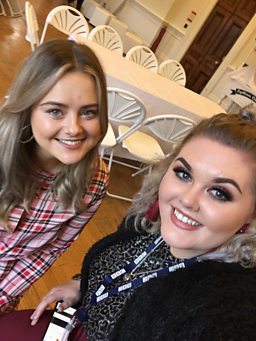 It was reported earlier this month that River Island had made the decision to make their plus-size range online only.
I spoke to Ashley Skinner from the company. She said a lot of products have moved online, including plus-size.
Simply, their online sales were more successful than physical purchasing.
Ashley told me it means the plus-size range is much larger: "When you did go to store, you'd have about 30 options to shop, whereas currently online we have 250 styles available."
She said if demand was clear, they would think about returning the range to stores.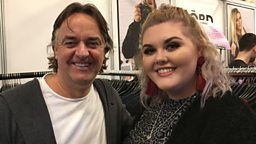 Andrew Killingsworth is the owner of Yours Clothing, one of a few specialist plus-size brands on the high street. He told me they believe plus-size women deserve the right to be able to shop, when and wherever we want: "These ladies have got the money, they want to look and feel the same as everybody else"
He also told me they plan to open another 15 shops by the end of the year.
It was great to hear that a brand is being proactive to make plus-size fashion available on the high street, but it still left me wondering why other brands don't follow suit. I asked a few delegates at the festival what they thought, and one woman said that she felt brands don't want fat people in their stores taking up their space.
Another commented that if stores do stock a curve range, it is always at the back, in a dark dingy corner.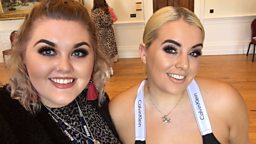 Felicity Hayward is a successful plus-size model who has worked with a variety of brands and has set up her own campaign #SelfLoveBringsBeauty.
I've followed Felicity's journey for a while and was so excited to hear her view about plus-size fashion on the high street. She explained to me that plus-size is not regarded as normal in today's society and she wishes there's something that could be done.
"You want to be able to go to a high street shop with your girlfriends and to be able to buy the same item. I wish we were all equal, but we're not at the moment."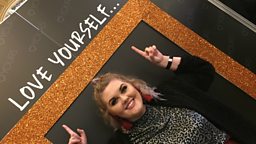 Plus-size fashion is definitely in demand. According to the UK plus-size clothing market review published last year, the plus-size fashion industry is worth £6.6bn and is forecast to grow by five to six per cent per year by 2022. But the high street seems to be diverting those customers to the isolating experience of only shopping online.
22-year-old journalist Molly Keyworth investigates why it is so hard for her to find fashionable clothing on the high street.
Model and Love Island contestant Jamie Jewitt investigates how we use social media.

BBC Radio 5 Live speaks to spies from MI5, MI6 and GCHQ.

Six things you didn't know about a condition which leaves people without a 'mind's eye'.