Main content
How designer glassmaker Michael Ruh uses traditional methods to make a simple glass jug
Michael Ruh is passionate about his work. Handcrafting each object lets him see its inherent beauty emerge.
I am mesmerised by the movement of the glass I'm seeing at an arm's length; I'm reading its movements.
The jug may appear to be a simple object, but it encapsulates the technical challenges of glassmaking.
When making a jug, Michael's assistant Adriane Wysocki has just one chance to prepare the handle — and he has only one chance to set it. Precision timing and well-honed teamwork are essential to this craft.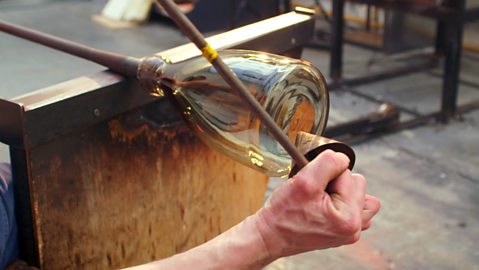 There is no room for hesitation as Michael and his assistant set the handle.
The process
Creating the jug begins with preparation of the colour component that gives it its subtle, steel-blue hue.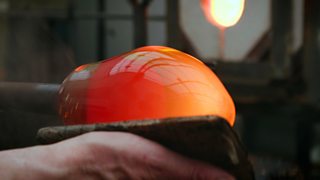 Glass gathered from the furnace is then blown, shaped and the base flattened.
The partially finished jug is transferred from the blowing pipe to the punty (a long iron rod) for finishing, which involves opening the rim, pulling the lip, and finally, setting and shaping the handle to the finished pitcher.
Michael's process, unlike others featured in Handmade, allows for no pause or hesitation and is characterised by perpetual motion.
He is ever conscious of the subtleties of balance, colour, texture and form and takes inspiration from the world around him.
"My aesthetic and colour choices have been informed by the palette of arid landscapes and inspired by their illumination from sundown to darkness."
Michael's finished 'Summer Pitcher', named to reflect its intended use as an informal jug for celebration of outdoor living, is representative of his preference for making utilitarian glassware for everyday use.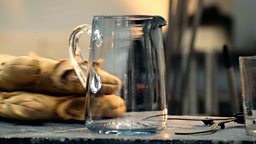 Michael's finished 'Summer Pitcher'