Main content
'I got my 89-year-old mum to wear flower vases on her head'
A surreal art project provided much-needed distraction during lockdown.

Over recent months, keeping elderly relatives safe from illness has been a prime concern for many families. Artist Fiona, who lives next door to her 89-year-old mum in Angus, was among those with caring responsibilities.

As she tried to protect her mum Rosemary from Covid-19, Fiona devised a unique way of both checking in with her, and helping to lift her spirits during lockdown. Telling their story on Loop, she revealed how she asked her mum to take part in a very unusual art project.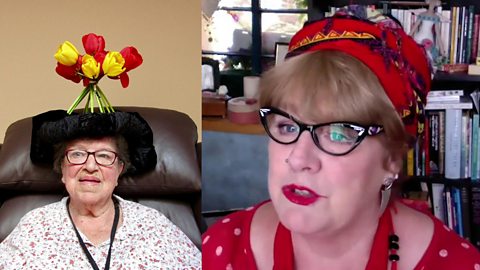 Fiona took daily photos of her 89-year-old mum with flowers on her head.
"My mum's very independent; she likes to do things for herself," said Fiona.

"I thought, if we can do something together ... then that would be more collaborative and more fun."

Rosemary had little idea of what was going to happen when her daughter popped in to reveal her plans for a daily photo shoot, but she was more than happy to take part.

As Fiona recalls, "I just grabbed the pot plant sitting on the table beside her stuck it on her head and said 'Stay very still!'."
A daily highlight
As the days passed, Fiona's mum became more engaged with the project; her expressions became more cheerful, she applied make up and jewellery, and began planning details of the shoots.
The project lasted for several weeks and there was only one day that Rosemary didn't appear fully in frame: the day her sister-in-law passed away. The pair chose to mark their loss by focusing on the flowers instead.
Thirty days on from the first photo, as lockdown continued, the project came to an end.
"It was a beautiful sunny day," Fiona recounts. "We looked back at how many pictures we'd taken and at that point I realised we'd doing it for exactly on month.
"It's a really good picture that we finished on. It's outside and it's sunny and we don't know when [lockdown is] going to end so this is as good a time as any to call it a day."
On BBC iPlayer
How photographers are finding new ways to stay creative and connect with people.
More lockdown art
One woman's painted stones have encouraged strangers to create their own art.
Latest features from BBC Scotland