Main content
Day-glo dystopia: Rachel Maclean's techno-fable Make Me Up
1 November 2018
In her first feature film for television, Rachel Maclean remixes art history and feminist perspectives in a dystopian, hyper-real world where technology might just devour us all. ALASTAIR McKAY talks to the artist behind Make Me Up, a surreal and jet-black satire dressed up in day-glo pastels.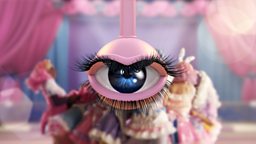 Cam / Photo Rachel Maclean
Watching Rachel Maclean's film Make Me Up, you might wonder what it is about. Let's see.
Right at the start there is a voice asking "Siri, when is the world going to end?", so it's fair to say that it is confrontational, and ambiguous in its embrace of technology. If you ask this question of the real Siri, the computerised voice on an iPhone, she will reply:
"As long as you keep me charged, we should be just fine."
Ordinarily, that might seem funny. After watching Make Me Up, it starts to have a malign edge.
Watch: Civilisation can be destroyed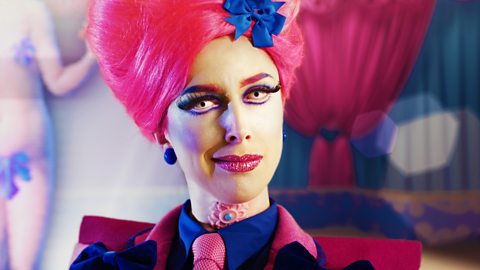 Figurehead observes that civilisation may seem solid but is actually quite fragile.
Why is this? Because Maclean's film, while not easy to digest, is a green screen nightmare of digital anxiety, a feminist interrogation of Kenneth Clark's Civilisation, a girlie paradise in which Eve is tormented by a forbidden sausage ("Oh eat me, Sir, and don't worry, I won't make you all big and chubby"), a Barbie Westworld, an art experiment in which the surfaces of Jeff Koons and Cindy Sherman are observed by a Big Brother eye.
Kenneth Clark seems to represent that very canonised idea of art history, in a person. An art history that doesn't include women unless they're in a sculpture or in a painting.

Rachel Maclean
It is Doctor Who with stretched elastic, a prosthetic charade in which the voices of Laurie Penny, Cilla Black, Taylor Swift and Rose McGowan are given equal prominence. It is Max Headroom re-sexed and reborn for the Instagram age.
A character called Alexa eats a meat roll with a smiley emoji face. Revolutionary feminism bangs into consumerism ("because I'm worth it").
A disembodied woman's head worries about the shape of her nose, and getting followers, soliciting likes. Everything is coloured cute; candy-coloured to the point of nausea.
The starting point was Kenneth Clark's late 1960s BBC series Civilisation, which used to be seen as the bedrock of visual culture, but is increasingly viewed as a relic from reactionary times.
"The way Kenneth Clark speaks is amazing," says Maclean. "His voice is so specific and of its time. He seems to represent that very canonised idea of art history, in a person. An art history that doesn't include women unless they're in a sculpture or in a painting."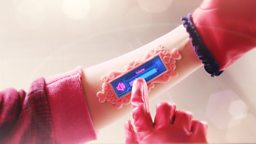 Figurehead's controller / Photo Rachel Maclean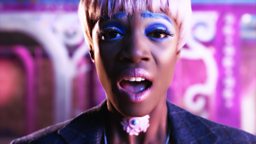 "Alexa, when will the world end?" / Photo Rachel Maclean
Clark's voice is sampled througout Maclean's film; delivered by Maclean's character, Figurehead, "a sort of big-wigged diva" who delivers sermons and sets tasks for other women, including Siri, who emerges, Pygmalion-like, from Venus.
"Siri is immediately in competition with these other women," says Maclean. "You see them go through tasks that feel like odd reality TV show gameshow formats, and when the women lose the tasks they drop through a hole in the floor."
Maclean's examination of feminism isn't straightforward. "It's interesting how power feeds into everything. And to not see feminism as something that's polarised between genders but to see it almost as a system of control that can be implemented by women as well as men. Also I like playing with gender, so it's not seen as a binary thing."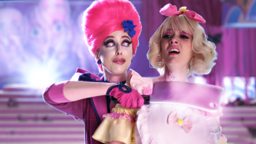 Figurehead and Cortana / Photo Rachel Maclean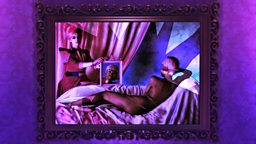 The Rokeby Venus reimagined: A slashed painting shows Figurehead with Alexa's reflection. The original work by Velasquez was attacked in the National Gallery by suffragette Mary Richardson in 1914 / Photo Rachel Maclean
Make Me Up is Maclean's first film for television. While it marks a structural advance from her gallery work, it makes few concessions to the medium. The artist works in green screen, a technique she started experimenting with at Edinburgh College of Art, where she was studying drawing and painting.
"I painted my bedroom wall green and tried it, and it worked in a shonky way. The nice thing about painting is you can make up the world you want to present. The frustration I had with film before was that no matter what was in your head, it always looked very banal and real. Green screen gives you the option to start collaging your ideas into another world."
Maclean's big break came when she won the Margaret Tait Award in 2013. She represented Scotland at 2017's Venice Biennale with her film Spite Your Face, which reworked Pinocchio for the post-truth era. The character rises into a glittery world, his nose and his phallic power growing with every lie, until the film loops back and he falls from grace.
"There's a sense of being trapped in a circle, and an unsatisfying lack of a fairytale ending," says Maclean.
Currently, Maclean is working on a film about Britishness called I'm Terribly Sorry, which takes place in a dark, rainy environment, where the buildings are made of oversized tat - bus key-rings and Big Ben teapots.
The influence of Cindy Sherman is obvious. Maclean, whose parents are art teachers, recalls a school trip to see a Sherman exhibition in Edinburgh.
"I remember thinking how fun it looked. I always liked dressing up, so it felt like. 'Oh - I didn't know you could do this and be an artist.' She feels really relevant now - there's so much about identity and gender politics and how people represent themselves on social media."
Watch a clip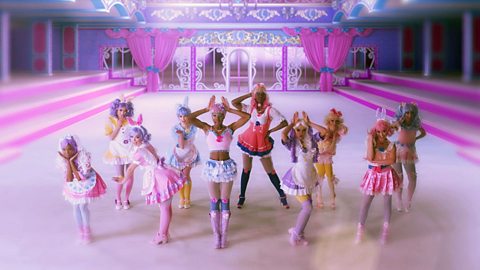 Newbie Siri watches on as the Figurehead controls the movements of the female dancers.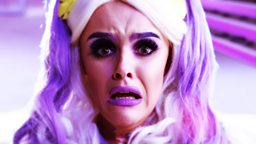 Ava / Photo Rachel Maclean
Siri is assesed by the Cam / Photo Rachel Maclean
As well as the costumes, Maclean shares an aesthetic with Sherman, producing different worlds for every film.
There's an association: serious things happen in masculine colours, frivolous silly things happen in feminine colours. I want to say: take this seriously.
Make Me Up, she says, "is definitely the Barbie Disney Princess, and that quite restrictive vision of femininity."
"It's partly a critique of that. But I also like making things in colours that people don't take seriously. There's an association: serious things happen in masculine colours, frivolous silly things happen in feminine colours. I want to say: take this seriously."
Make Me Up had its premiere at the BFI London Film Festival in October, and is on BBC Four and BBC iPlayer on Sunday 4 November. An exhibition is running at the Zabludowicz Collection, London until 16 December.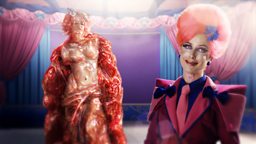 Figurehead with meat statue / Photo Rachel Maclean
More from BBC Arts
All aboard! Trainspotting at the movies as Inside Cinema takes an in-depth survey of trains on film

An interview with the late author from 2011, featuring rarely-seen drafts and lithographs of the title page artwork