Main content
Grimmy tried to set up Olly Murs with Jennifer Lawrence and things got a little awkward...
After Olly said he'd like to say 'Kiss Me' to Hunger Games star Jennifer Lawrence, Grimmy started to get ideas...
He decided to try and set up the two of them by bringing Olly along to a Hunger Games interview.
It got a little awkward to say the least... Here's how things went down:
Olly panicked when he realised he might actually meet Jennifer Lawrence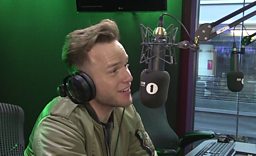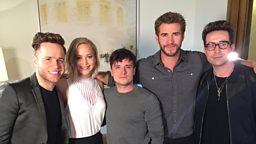 'Olly is the biggest Jennifer Lawrence fan in the world'
Within 10 seconds of the interview starting Grimmy dropped Olly in it by announcing that he is a Jennifer Lawrence super fan... There was no going back!
Olly was so excited he couldn't even hold is Radio 1 card up the right way
Jennifer talks about kissing 'bottom lip' and Olly can't even.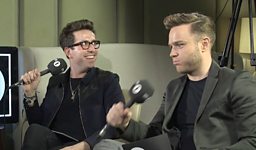 Olly couldn't contain himself when Jennifer started talking about her kissing preferences...
He tries to say 'I'll let you have my bottom lip, Jennifer' but can't quite get the words out... Awks!
Awkward looks from the cast when Olly asks about Jen's 'ideal man'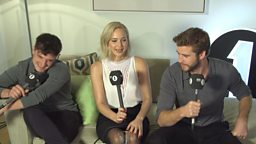 The Hunger Games cast laugh and look around uncomfortably when Olly asks Jen to describe her 'ideal man'.
'Umm I don't know... Uhh... You'
'I don't have enough information about you to list out all your qualities because we just met, but you seem really wonderful'.
She certainly knows how to smooth over an awkward situation!
Olly thinks about a goodbye kiss...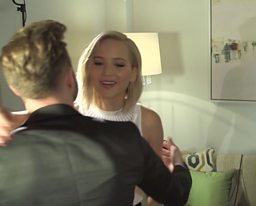 He bottles the kiss and settles for an awkward hug...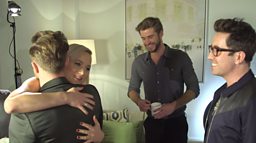 After all that Olly is still hopeful... Bless him!
Watch the full interview in all its awkward glory below: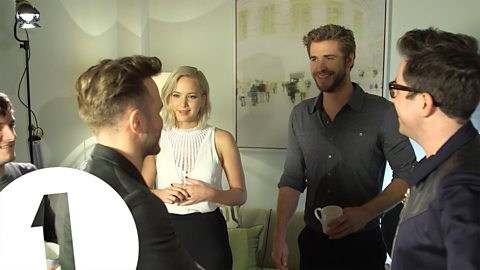 Olly meets the Hunger Games cast on Nick Grimshaw's Breakfast Show.