Main content
Rapsody has curated a mix about "being a woman in this world"
From iconic greats to current stars, these are the female artists backed by Rapsody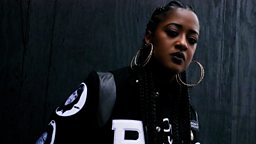 On recent third album 'Eve', Grammy-nominated star Rapsody named every song after a black woman, "because I'm an extension of every black woman", as she explained to NPR.
On slick lead single 'Ibtihaj' for instance, she took influence from fencer Ibtihaj Muhammad, who in 2016 became the first athlete to wear a hijab while representing the United States in the Olympics. The whole full-length is a celebration of women of colour, spanning the globe.
Now in an exclusive mix for 1Xtra, Rapsody is turning her attention to fellow female artists who've pushed musical boundaries, past and present. In her words, the mix is "dedicated to a bunch of fly females, to all my ladies and sisters."
She combines tracks from legendary artists like Nina Simone and Lauryn Hill, through to new stars ("people who I'm repping") like Ari Lennox and Heather Victoria.
Rapsody says: "It takes you through all the emotions and flavours of being a woman in this world. There's something for everybody, something for every mood, something for every day. Shout to the sisters worldwide."
Here's a quick guide to some of the tracks Rapsody is currently playing:
Ari Lennox – BMO
Taken from the Washington, D.C. newcomer's debut album 'Shea Butter Baby', this track gets by on a sample dating all the way back to 1969, taking its instrumental from Galt MacDermot's 'Space'. The end result is one of R'n'B's finest recent hooks, and testament to why J. Cole signed Lennox to his Dreamville label.
Leikeli47 – Top Down
Balaclava-ed Brooklyn talent Leikeli47 works at the fringes of experimental R'n'B and hip-hop (and beyonce – she once collaborated with activists Pussy Riot). The songs on 2018 LP 'Acrylic' showcase an act who could take over the mainstream, but chooses to operate outside.
Heather Victoria - Japan (feat. The Gavin Quintet)
Signed to Jamla Records, the same label as Rapsody, Heather Victoria soul-fused R'n'B is best exhibited on 'Japan', a sax-backed, gorgeous tune with a throwback feel.
Third party videos may contain adverts
More from 1Xtra
Reece Parkinson joins weekly guests to have honest, frank and real conversations about your life and your issues.

The freshest RnB cuts peppered with serious classics under the expert guidance of 1Xtra