Main content
Is this the worst draw(ing) you'll witness at the 2019 World Cup?
BBC Radio Scotland presenter and former rugby star John Beattie is used to talking about having a sporty child: his son Johnnie also plays professional rugby.
But recent interviews where the former Scotland international has been asked to discuss his daughter – Jen Beattie, part of Scotland's Women's World Cup squad – took him a little by surprise.
"Every time I'm interviewed about my daughter I cry because it's emotional."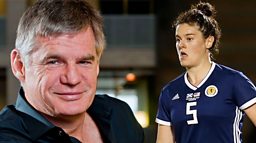 An emotional father who is immensely proud of his daughter's achievements is not necessarily someone you'd want to get on the wrong side of.
Combine that with the physical stature you'd expect of an ex-rugby player and you'd probably think twice before showing John Beattie a 'rubbish' portrait you've drawn of his daughter, wouldn't you?
Well Alex Pratchett of Panini Cheapskates thought it was a good idea and appeared on Mornings with Kaye Adams to do just that.
'Cheap Panini' Jen Beattie
Panini Cheapskates
Alex Pratchett – along with wife Sian – created portraits of Jen Beattie and the rest of the Scotland squad as part of his Panini Cheapskates project.
So far, so bad – we're making up for a lack of talent with enthusiasm and dedication

Alex Pratchett
Alex and Sian calculated that completing their 2014 World Cup sticker album would have ended up costing them around £450, so they decided instead to save their money and fill it in themselves with their own interpretation of the stickers.
"We set ourselves the challenge of drawing all the stickers, starting on the first day of World Cup 2014 with the aim of finishing at the end of the tournament."
"The important thing is that neither of us is any good at drawing."
They completed portraits for the players in 2014, 2016 and 2018's major men's tournaments before Euro 2019 presented them with a first stab at a women's football album.
Kaye unveiled the Jen Beattie portrait to dad John, whose reaction might have been affected by the proud father's already-heightened emotions and learning that this project is a charitable endeavour.
"Perfect," he said. "Well done."
Alex admitted that the pressure of the father of one of his subjects viewing his artwork had an effect on this particular portrait.
"We might have put a bit of extra effort into drawing Jen knowing that John would be seeing the finished article."
The former Scotland rugby star chats with Kaye Adams about his daughter playing at the 2019 Women's World Cup and sees the portrait Panini Cheapskates did of Jen Beattie (from 2h 36min).
'Cheapskate' World Cup 2018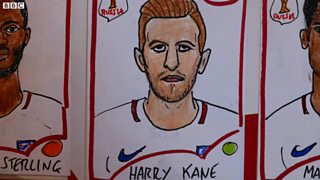 The Pratchetts attempt to draw every World Cup 2018 sticker. (From 2018)
Jen with some sporting Scots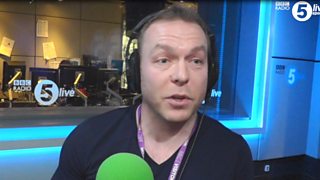 Jen gets some advice on how to stay fit from Sir Chris Hoy and Jamie Murray. (From 2018)
Latest features from BBC Scotland