Main content
All the reasons Taylor and Ed are the true definition of BFFs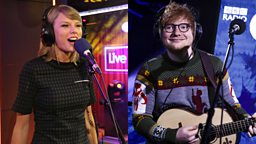 Whether you're a Swiftie or a Sheerio, we've got some news that's bound to make your Wildest Dreams come true. TBH, we're not sure you're Ready For It. (Don't mind us, we're just Thinking Out Loud...)
*Drum roll, plz!* Taylor Swift and Ed Sheeran are performing at Radio 1's part of BBC Music's Biggest Weekend in May! (We told you it was major.) Yup, Ed is taking to the stage in Swansea on May 26th and Tay Tay is following his lead by appearing on May 27th.
Excited? Same. Everyone knows that Sheeran and Swift go waaaay back and every stan has an extensive knowledge of this duo's glorious friendship but, in the name of reminiscing, we're going to take a deep dive into their BFFL archives anyway.
So whether you need to hit refresh on all things Tay and Ed or you simply want to take a blissful stroll down the sweetest of memory lanes, let's reacquaint ourselves with the friendship goals that are Sweeran (you take Swift, you add Sheeran... you get the picture).
It all began when the pair met in 2013...
We like to imagine that these lyrically-gifted humans first met after enjoying a cuppa at the same cat cafe but the reality was a little bit more, well, boring. According to Buzzfeed, Taylor reached out to Ed via her management after seeing him onstage in Nashville. The rest, as they say, is history.
They became firm friends, like, immediately
Grimmy gets all the good jobs! Wedged between Taylor and Ed in 2015, our early morning companion quizzed the duo on their knowledge of each other.
Where was Ed born? What are Taylor's cats called? What was the name of Ed's debut album? And, most importantly, when and how did they make the transition from songwriting acquaintances to the very best of pals? Our hearts can't handle this vid.
And they've been sharing the stage ever since
This cute-as twosome have been commanding arenas worldwide since way back when in 2013. Ed was Taylor's support act during her Red Tour. Chatting to MTV News before the tour kicked off, Ed revealed that this gig was the biggest of his life so far:
"This is actually my biggest outing to date. I've never gone on tour for six months without any break. I've never really touched multiple arenas, so that' going to be a bit mind-blowing."
Fast forward five years and Ed has completed his third world tour, headlined Glasto and his latest album (÷) was the fastest-selling album by a male artist EVER. Meanwhile, Taylor has gone from strength to strength with her 2017 album, Reputation, being the biggest-selling album of the year is the U.S. with a mind-blowing 1.23million estimated sales in a single week.
Guys, we're exhausted on your behalf.
They got matching cats! (If that isn't true friendship then we don't know what is)
You read that right: both Ed and Taylor have a Scottish Fold, which is the fancy technical name for a certain breed of domestic cat.
Taylor is cat mother to Olivia Benson and Meredith Grey, while Ed is the very proud owner of Dorito and Calippo. We can't verify this information but we're 97% sure both stars have a steady supply of lint rollers in their arsenal.
And they've given each other the sweetest of gifts (literally)
Including (but not limited to): Kanye-at-the-VMAs inspired jam jars, a Drake-inspired hand-stitched needlepoint and a silver plate engraved with all of Tay Tay's Red Tour dates ("I got a plate, it was a silver plate with all the [Red] Tour dates engraved into it, which took a while to do", Ed said during the MTV Presents The Ed Sheeran After Show) to name just a few.
Unsurprisingly, they've got nothing but lovely things to say about each other
These two have said a lot of pretty lovely things about each other over the years. Prepare yourself for all the feels because we've lined up a few examples for you. Tissues at the ready, folks!
"We've gotten matching Scottish folds, made each other arts and crafts Christmas presents, vacationed with our families, and had each other's backs. He is the James Taylor to my Carole King and I can't imagine a time when he wouldn't be." - Taylor Swift, Rolling Stone
"She would be there if everything ended for me. Taylor is kind of an anomaly in that sense." - Ed Sheeran, Rolling Stone
"[Ed] is protected by an impenetrable and ever-present armor of enthusiasm that has helped him endure any setback, letdown or underestimation. His reaction to any idea that fails is to almost immediately come up with a new one. He's like a fighter who pops back up on his feet before you even noticed he'd been knocked down" - Taylor Swift, Time
TBH, we're not at all surprised that they're bezzie mates. All hail, Sweeran!
And we are seeeeriously stoked to have them at Biggest Weekend! If you fancy finding out who else will be taking to the stage, a la Tay and Ed, tune in to Radio 1 for more announcements and keep your eyes peeled here.
Want to get your hands on some tickets? Find out how you can here.