Main content
A Day To Remember: Written by 500 Words Winner Evie Fowler
Apart from the fact that I had to get up at 4:30 in the morning, I absolutely LOVED the time I spent in London for the 500 Words final last year. I am 10 years old now, yet the only time I have stayed in a hotel room was the night before the final.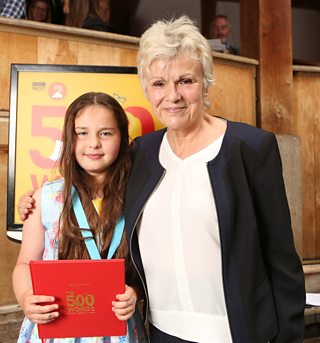 Oh... My.... GOD! I actually won!

Evie Fowler, 2016 5-9 Gold Winner
When the time finally came to go to the Globe Theatre, I can only just remember being TOO tired to be excited. We walked from the hotel to the Globe and we all had to sit on wooden seats. Finally Chris Evans started his radio show and I started to get excited and nervous. I had thought that even getting into the second round of the competition was good enough, but I was in the final!
Bands played music and people told us lots of stories about the theatre and about Shakespeare plays being performed there. We also heard why the lower seats were cheaper than the seats on the balcony, but I won't explain why as it is a bit gruesome!
Then it was time for the winners to be announced, which went something like this.
3rd place in the older age group was announced. Then the 3rd place in the younger age group. I thought, "OK, chances of even coming second is very slim".
The older age group 2nd place was announced, followed by the younger age group 2nd place.
"Oook then," I thought. "I have a 1 in 23 chance of me coming 1st. Chances? Eeh, extremely narrow!"
Finally, the winner of the older age group was announced. Then it was time for my group. Sweat poured... My heart pounded...
Julie Walters climbed onto the stage.... "The winner of 500 words, 5 to 9 age group, is......... Poor Pigs Revenge by Evie Fowler!"
Oh... My.... GOD! I actually won!
As Julie Walters read out my story and I clambered up onto the stage, people were clapping and cheering for all of the 6 winners!
What happened next was a bit of a blur, but here is what I remember in chronological order:
1. Being greeted on stage by Camilla, the Duchess Of Cornwall
2. Receiving the 500 words book and medal
3. Meeting lots of celebrities in the VIP reception
4. Asking for an autograph from someone who I thought was Tom Hiddleston, but who was actually his PA (embarrassing!)
5. Chatting with Camilla while eating a ginormous cinnamon swirl
6. Having my picture taken with lots of different people
7. Chris Riddell the cartoonist drawing 3 pictures for me (one of me, one of a pig and one of my story with a pig and sausages and butcher scraps on)
8. Getting interviewed by Charlie Higson outside next to the River Thames, for the One Show (my mum still has a recording of the show from that night but I find it embarrassing to watch!)
9. Going back to the hotel and packing up
10. Finally after an exciting day of business, me, my mum and dad went on the train home
Watch Evie's winning story being read out by awesome actress Julie Walters at the 2016 500 Words Final.
More from 500 Words
Honorary 500 Words Judge HRH The Duchess of Cornwall appears in our special animation.

Everything you need to know about Radio 2's short story-writing competition for kids.