Main content
James Cameron reveals how he improvised Titanic's most famous line
The legendary director spoke to Ali Plumb about his career highlights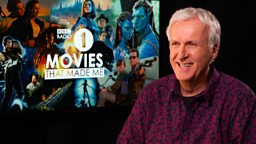 James Cameron has heard the line "I'm the King of the world!" a million times over, but in a new interview with Radio 1's Ali Plumb he revealed how the unforgettable Titanic moment actually happened.
Speaking as part of a brilliant look back on his career, the director recounts how he had to persuade a hesitant Leonardo DiCaprio to actually say those world-famous words.
Movies With Ali Plumb
The legendary director chats through his career highlights with Ali Plumb
If you haven't witnessed the film or the scene in question (first of all, where you have been?!), it sees DiCaprio (playing Jack Dawson) leaping to the deck of the Titanic and screaming: "I'm the King of the wooooooorld!"
Third party videos may contain adverts
"It was made up on the spot," Cameron explained on Movies That Made Me. "We'd tried this line and that line, and nothing was really working. I said 'All right, I've gone one for ya.'" He gave DiCaprio the line, to which he responded over walkie talkie: "What?" The Inception and Wolf of Wall Street star took some persuading.
Cameron also reveals some incredible anecdotes about coming up with the concept for Avatar, working with Arnold Schwarzenegger on The Terminator films, and accidentally commissioning an all-black poster for Aliens.