Main content
Meet the 2017 contestants
In the 2017 series, ten passionate amateur artists undertook an intensive, six-week, artistic boot camp in a bid to perfect their skills and be crowned the overall champion. They were:
Alan Tsang
Currently working as an Account Manager, Alan Tsang from Sheffield rediscovered his love of painting three years ago.
He expresses his world view through his art and using his favourite medium, oils, Alan takes inspiration from all manner of sources – from fashion to music, other paintings, Chinese Communist ballet and political history.
Enthusiastic about the challenges this competition offers, Alan is determined that with tuition from a mentor, he will find his own distinctive voice through his art.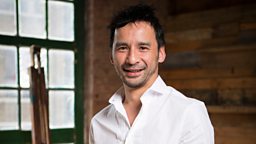 Angela Watson
Following a life-threatening accident, Lincolnshire-born Angela took up art as an alternative to jigsaw puzzles during her recovery.
Having since undertaken lessons and workshops on painting with watercolour, pastel and acrylic, Angela continues to experiment and develop her style and – as a former farmer - enjoys painting animal pictures from home.
Angela feels her strengths lie in her tones. Devoted to honing her skills - Angela is eager for guidance from a Big Painting Challenge Mentor.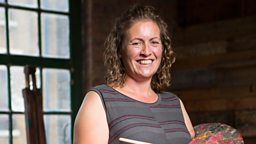 Camilla Frederick
Camilla took A-Level drawing lessons in Florence in 1974 but her passion for art wasn't truly reignited until a painting holiday she took with friends in Turkey, just three years ago. Since then, Camilla has undertaken two months of training at night-school near her Somerset home and now self-teaches using YouTube videos.
Her niche is painting portraits of homeless people on the streets of Bristol as well as of refugees behind border fencing. Whilst her subject matter is dark, Camilla describes her style as classical and is confident with her use light and shade. She hopes The Big Painting Challenge will improve her understanding of colour and perspective even further.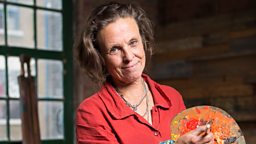 David White
Self-taught artist David, from Swindon, rediscovered the paintbrush in 2012, after a 25-year hiatus since studying art at A-Level. David has since surprised himself with how much his skills have progressed over just a few years and is keen to test just how much he could improve his technique.
Painted using acrylics, David's works are usually 1m by 1m and can take him up to 70 hours to paint – however he looks forward to improving his speed, as well as exploring other mediums, under The Big Painting Challenge mentors. David has exhibited at the Wiltshire Guild of Artists and he notes impressionism, surrealism and hyper-realism as amongst his favourite styles.
Jennifer Morrow
Hailing from Lisburn, Northern Ireland, Jennifer studied art at the University of Ulster and is now a teacher.
Taking inspiration from everything from feminism to abstract ideas such as 'absence', Jennifer's favourite mediums are oils and inks, but she works in mixed media and is interested in the relationship between the viewer and the art – particularly how colours influence thoughts.
In this competition, Jennifer relishes the idea of timed challenges and looks forward to seeing how the mentors might influence her style.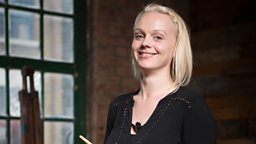 Jimmy Mackellar
Retired optometrist Jimmy lives in Skelmorlie, Scotland, and regularly attends life-drawing classes at Glasgow School of Art. He is influenced by French impressionism and the Glasgow Boys, and favours portraiture over landscape.
He once painted Eleanor McEvoy playing her hit song Only A Woman's Heart on her guitar and she ended up using it on her album cover; he has never sold any of his art and ends up giving it all away. He looks forward to being critiqued by judges on The Big Painting Challenge, and would like to move people with his work like he is moved when he sees brilliant pieces.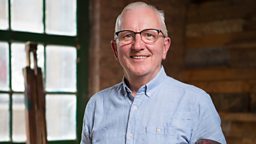 Lesley Rowe
Lesley qualified for a scholarship to Art College but was told by her parent to "get a proper job". Fifty years later, retired nurse Lesley now paints as a hobby and sells her work to holidaymakers through a local pop-up gallery near to where she lives in Cumbria.
Eager to learn, Lesley wants to be on The Big Painting Challenge as she would love to develop a recognisable style. She gets inspiration from observing people in everyday situations, from sketches, and in developing the shapes from photographs of odd or beautiful scenes.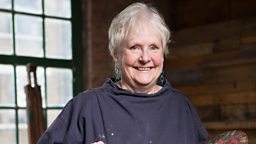 Maud Wellington
For business analyst Maud, art is a way for her to explore her creative side; she has been painting since school where she was always "scribbling all over the place". Maud hopes that The Big Painting Challenge will be a way for her to improve in using different techniques and styles of painting, and would like to go all the way through the competition.
Based in West London, she also sings in her local gospel choir and plays the saxophone, gaining artistic inspiration from everyday life in and around London, her friends, travelling and reading.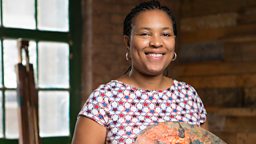 Ruaridh Lever-Hogg
Recently graduated art student Ruaridh, from Lochaber, gets his inspiration from Cezanne and the Surrealist movement and likes to use strong and bold colours to impact his audience.
Diagnosed as deaf at the age of two, he believes that his lack of hearing has intensified his visual perception, and as he returns to study a Masters in Fine Art Humanities at Dundee he hopes that the experience of The Big Painting Challenge will be an opportunity to channel his style. Art is a way for him to express himself and his unique sense of humour, and he is eager to continue to learn.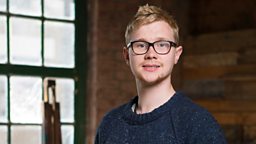 Suman Kaur
Art has always been something Suman has wanted to do, and having recently quit her full-time job, she is preparing to take the plunge into the art world full time with an access to higher education course at Leeds College of Art.
Her previous career as an orthotist working with amputees has inspired her to not to give up on her dreams of becoming a full-time artist, and she hopes that The Big Painting Challenge will allow her to prove to herself and make her family proud.
She loves using unorthodox mediums, including shoe polish, coffee and charcoal within her work, and takes inspiration from pre-Raphaelite works.