Main content
11 things we learned from Sue Perkins's Desert Island Discs
Sue Perkins has been a stand-up, writer and presenter (most notably of The Great British Bake-Off) for 20 years. She claims she gave up Bake-Off because she ran out of puns… there are only so many soggy bottoms in the world. Here's what we learned from Sue Perkins's Desert Island Discs.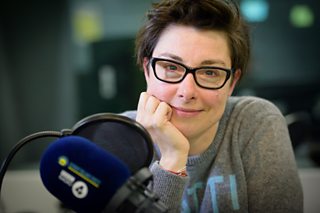 She's a bit of a mover
"The only time I am not talking is when I am dancing," says Sue. "I look like an electrocuted octopus." She loves the song Rock Island Line by Lonnie Donegan because it reminds her of her father, a car dealer, who would "gently bounce up and down" waiting for it to start.
An adventurer
She's journeyed to many challenging places to make travel documentaries – and loves it. "What I get from it is a sense of connecting with people," she says. In Northern Cambodia, after all the translators had left, she sat in "a pile of pig poo" which helped break the ice with the 30 women who were staring at her as she struggled to communicate.
She's not a "comedy snob"
She is equally as amused by nuanced satire as "a well-timed burp". Once, after opening the fridge door and burping simultaneously, she laughed for 15 minutes.
She's known Mel for 30 years
She picked T. Rex's Twentieth Century Boy because it reminds her of Mel Giedroyc, her friend and comedy partner. The first things she noticed about Mel were her "dusky pink boots, shock of bleached blond hair and hearty laugh," and she knew from that instant that they'd know each other forever.
Sue Perkins on her relationship with Melanie Giedroyc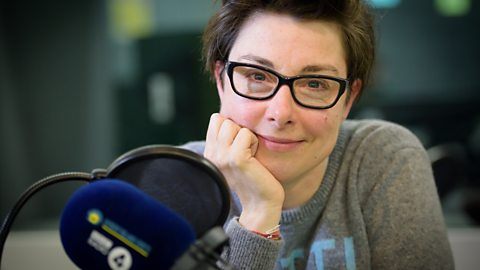 Sue Perkins on her relationship with Melanie Giedroyc.
Consistently inconsistent
At her school, the nuns "would swoop down" and force her to eat with her right hand when she's naturally left-handed. Her grades were "all As and Es" and one of her reports included the comment, "What Susan lacks in intelligence, she makes up for in stupidity."
She's the product of desperately shy parents
Her mother was fiercely bright, creative – and a "catastrophiser". When there was an anthrax scare her mother opened all her post while wearing rubber gloves. Her father loved data and was a compulsive list maker which, Sue says, was to help him create order in a universe he felt to be essentially chaotic.
Cambridge was the start of her comedy career
Studying at Cambridge was one of the happiest times of her life and she saw Footlights as a way of challenging herself. When she stood in front of the audience for the first time she was "wearing a very prickly lambswool jumper". Improvising gave her a sense of freedom.
She wishes she hadn't had to make a binary choice about sexuality
She didn't know anyone gay when she was growing up. She fell in love with a boy as a teenager and the relationship lasted six years, before he came out as gay, as did Sue, in her twenties. "It was like having a second adolescence," she says. She dyed her hair blue, drank heavily and went from being the shyest person in the room to the person standing on the table dancing. When Sue asked if she could come home to have The Chat, her mum stole her thunder by asking "is this because you're gay?"
Sue Perkins on realising she was gay
On the outside looking in
Sue is a huge Smiths fan: "I don't think anyone can listen to a Smiths song and not scream your lungs out in recognition of what it's like to feel odd."
She's fascinated by food
Over the course of her illustrious food presenting career, Sue has eaten bread-and-butter pudding with spinal cord, duck tongues and Fallopian tubes.
Sue's brain tumour was discovered as part of a presenting role
When she was filming The Supersizers with Giles Coren, she had blood tests as part of the show. The results revealed she had a benign but symptomatic brain tumour. For a while she didn't pursue any treatment and as a result went through a period of ill health which caused dramatic and irrational decisions and behaviour, including ending a relationship. The death of her beloved father, from a non-benign brain tumour, persuaded her to begin taking care of her health, which is now on an even keel; and she's now happily settled with a partner.