Main content
How do I get my music played on Radio 1?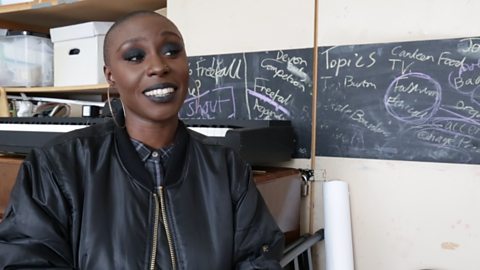 Laura talks about her first radio plays... and why her manager ran naked down the street
The Radio 1 Playlist can make or break bands and musicians.
It plays a big part in what gets played on one of the world's most influential music radio stations.
So what exactly is it? How do Radio 1 decide what gets on it, and how do you get your music on it?
Chris Price is head of music for Radio 1 and 1Xtra. That means he's responsible for all the music across both stations. His main focus is on the playlist.
After 7pm Radio 1 goes specialist and the music is picked by the DJs and show teams.
At Radio 1 the next song you hear after Taylor Swift might be a brand new artist like Mura Masa

Chris Price
The Radio 1 Playlist makes up the majority of the songs that are played before that in the daytime.
It's made up of around 50 songs that are played on rotation throughout the week. The amount of plays each song gets is based on which part of the playlist it's on.
A List - these are the songs that are played the most - around 25 times in a week.
B List - music on this list gets around 15 plays per week.
C List - you're still on the playlist if you make it to the C List but you are only played around five times in a week.
In New Music We Trust - this section of the playlist is just for testing out brand new music. Songs here won't get much airtime (at least at first) - but they will still make it onto Radio 1 in the daytime.
Most radio stations have a playlist, but Chris Price says Radio 1's is unique because it introduces brand new artists right alongside established pop acts.
"On another radio station you might hear lots of Taylor Swift next to Justin Bieber next to Ed Sheeran. At Radio 1 the next song you hear after Taylor Swift might be a brand new artist like Mura Masa".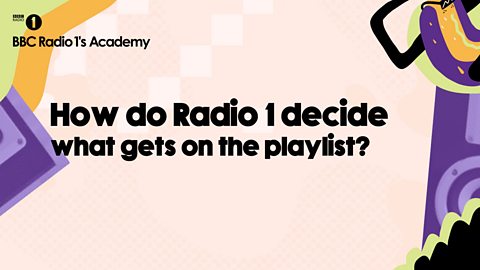 A weekly meeting, fiery debate and lots of listening says head of music Chris Price
The Radio 1 Playlist is decided in the Radio 1 Playlist meeting.
We really rely on the tremendous depth and breadth of knowledge that our specialist presenters and producers bring
The Playlist meeting
About 14 people, including producers from all kinds of shows across Radio 1 and 1Xtra get together every Tuesday.
They spend hours listening to new music and debating what makes it to the playlist and where on that playlist it should go.
So to get on the playlist you have to be heard in the playlist meeting - that means getting the attention of someone who will be there.
Chris says him and his team spend almost all their time listening to music - that includes in appointments with representatives from the music industry such as managers, radio promoters (sometimes known as a plugger) or artists themselves.
The playlist team includes producers from Radio 1 and 1Xtra's specialist shows - the ones that aren't playlisted.
These producers will put forward tracks they have already played on the shows they work on. Getting your song to a specialist DJ could be the first step to getting on the playlist.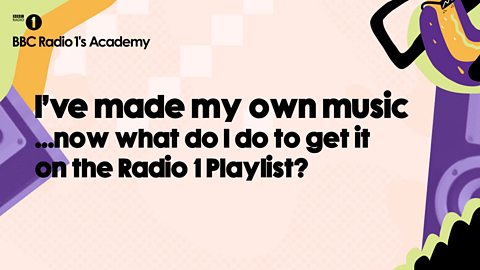 There are two main routes according to Chris Price: BBC Introducing, or building a team.
If that all sounds daunting don't worry; there is a shortcut.
If you upload your music to BBC Introducing... if you're good you'll get there
BBC Introducing
The BBC Introducing Uploader is responsible for getting artists like Florence and the Machine, James Bay and Catfish and Jake Bugg on Radio 1.
There are over 30 BBC Introducing shows across the BBC's local radio stations and their producers are all waiting to hear music you upload.
The very best of these shows gets passed on to Radio 1 and 1Xtra.
If you want to get on the Radio 1 playlist and you upload your music to BBC Introducing - "If you're good you'll get there", according to Chris Price.
Build a team
If the BBC Introducing Uploader doesn't work for you then Chris says you should make sure you have a great team around you.
That team could be made up of:
Manager
Live agent
Radio promoter (known as a plugger)
A press agent
There's more information on jobs like these over at iWonder.
Those things cost money of course, but Chris says they represent you to the wider world.
"They're almost like your army fighting on your behalf
"You've got someone really fighting your corner on radio and making sure that your music is heard over the other stuff that is in competition".
Why is it so important?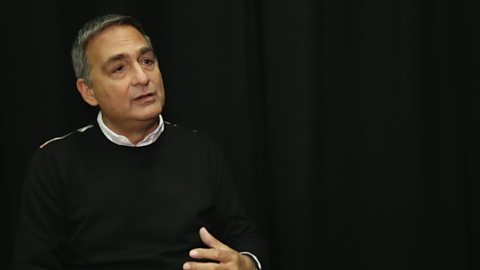 The man who signed Craig David and Arctic Monkeys explains why radio matters
The internet has changed the way the music industry works forever but radio is still at the heart of it.
Colin Lester is Craig David's manager and also the man who signed Arctic Monkeys. He thinks that radio is as important as ever, and Radio 1's playlist stands above those.
"When you look at the internet it's a bit like looking at the sky, you don't see anything. Then someone says to you 'check that out... that's Mars' and then you focus and you go I wanna know lots about Mars.
"The internet is like that, so if you hear something on radio it points you towards where you want to go on the internet".