Main content
Miles Davis on canvas
Famously, the trumpeter Miles Davis reshaped and transformed jazz in the 20th Century. Less well known is that in the last decade of his life the prince of cool developed a passion for painting and art. Radio 4 documentary Blue Canvas: The Artist Miles Davis explores how it developed.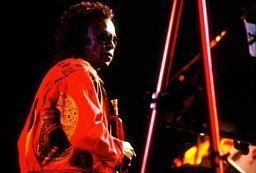 Miles Davis on stage in 1991
When Miles Davis had a minor stroke in 1982, he suffered from a frozen hand. Advised by his doctor to hold a pencil to aid recovery, he soon he began sketching. So began a passion that would last the rest of his life.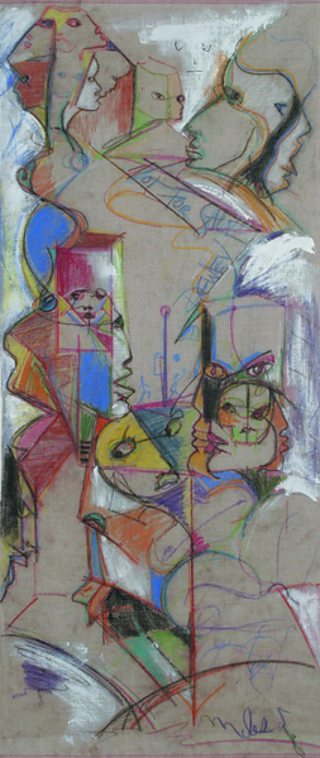 Not For Sale Dewey, 1990 (Miles Davis / Jo Gelbard)
His youngest son Erin Davis recounts how his father would be constantly sketching to fill the down-time in a heavy schedule of tours and recording sessions: "He was always sketching... sketching in the car, sketching in his hotel room." His favourite things to draw were horses, dancers, and faces, and the odd self-portrait.
In 1984, Miles Davis met the artist Jo Gelbard when they lived in the same apartment block in New York. "He always had his trumpet, his red trumpet, and in the case was always a sketch pad and pens," she explained in her New York apartment still adorned with many of Davis' paintings. "He called me on the house intercom. He said, 'I hear you're and artist, can I come and see your work.' So I said, 'Sure of course.'"
The pair began to work together on large abstract paintings full of colour, faces, movement and rhythm. "We started with acrylic paint and he loved that," Gelbard say. "But what he was doing originally was like when a kid goes to kindergarten and he's thrilled with the paint - just globbing it on.
Their passion for art also developed into a sometimes turbulent relationship but, with Gelbard's help, Davis began to refine his technique and draw the more subtle relationships between art and music, space and sound.
Former musical director of Miles Davis' band, and an artist himself, Robert Irving III remembers spending time with Davis in his apartment near Central Park: "I'd go and visit and he'd be working on all these canvases. There would be canvases just overwhelming the room. One day he turned to me, and he said, 'Bobby you should really try this painting because it's really relaxing.' He said music is a painting you can hear and a painting is music that you can see."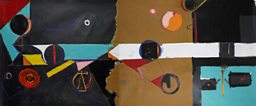 Synchopation in Acrylic, 1990 (Miles Davis / Jo Gelbard)
Author of Miles Davis: The Collected Art Work, Scott Gutterman met the trumpeter towards the end of his life and interviewed him about his paintings. "He spoke very quietly but very intensely and when we sat in his study and he fixed his gaze it was very powerful" he says. "He spoke very movingly about what Gil Evans had taught him about music and arranging... in that way he compared musical arranging to the arrangement of a painting."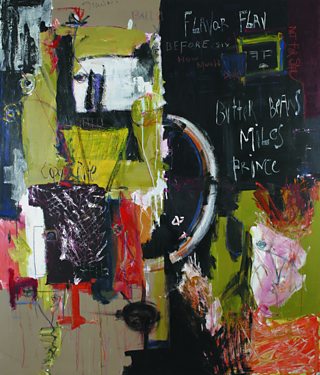 Butter Beans, 1990 (Miles Davis / Jo Gelbard)
The works began to incorporate new elements such as found objects and graffiti-style writing, influenced by the work of artist Jean-Michel Basquiat. Davis' paintings began to be shown in galleries with musicians including Quincy Jones and Lionel Ritchie becoming collectors.
"He eventually saw it shown in galleries and collected," says Gutterman of Davis' art work. "But he was not someone who was involved in reading art magazines or the critical discourse around art... he viewed it as just another facet for his creativity."
Previously known for never looking back musically, in the summer of 1991 Davis toured with music and with musicians from throughout his career. His health was in decline and a darker, abusive side was showing. Jo Gelbard was on tour with him that summer: "He had spent his life in such dark corners. In his mind anything was possible from anyone. He started to hate me for what he imagined I could be doing to him."
Gelbard eventually left the tour after a jealous incident turned violent, but the pair produced art works together right up until the end.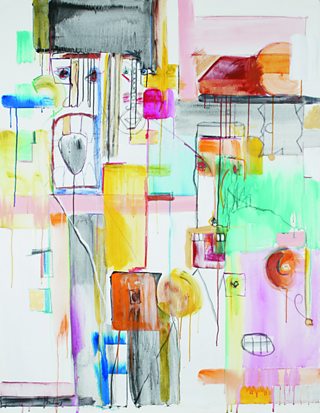 Sugar Rush, 1991 (Miles Davis / Jo Gelbard)
Miles Davis played his final concert at the Hollywood Bowl on 25 August 1991. Soon after he was taken seriously ill and Gelbard went to see him in the hospital. "His head was in my lap and he just looked at me and at that very moment he looked at me and his eyes went dead," she remembers. After suffering a stroke, he was taken into intensive care and died on 28 September, aged just 65.
The paintings of Miles Davis may not have reached the spectacular heights of his music, but they reveal a lesser-known, unguarded side of a great man. Gelbard believes he could have gone much further. "Within a period of six years he progressed tremendously," she says. "Had he stayed alive and painting I think he could have been a great artist."
Late Davis painting Sugar Rush, subtle and light, reveals much about the man and his art. "People think of him as such a violent, dark heavy character," says Gelbard. "What he was looking for in life is this sweetness, this candy, this pink and happy light filled space that he got lost in. It was his fantasy. It was what he was searching for and didn't have, but it was somehow in his soul."
Listen to Blue Canvas: The Artist Miles Davis on Radio 4 online now.
More from Seriously...
Jolyon Jenkins investigates whether meditation can do you more harm than good.

The band member recalls the anarchistic joy of a truly unique group.

The team of recovering addicts who made their mark on cinematic history.

David Aaronovitch on how an Eastern political tract became a Western icon.

David Bowie's interviews reveal his humour, passion and determination to succeed.

Did Nazi leader Hermann Goering have a brother who saved innocent lives from the Holocaust?

A selection of great female authors who have radically altered the genre.

Dream away those mid-winter blues by pondering our selection of fantasy idylls.

Mat Fraser meets the former striptease stars back on the stage in their 70s and 80s.

The legendary radio maker recommends seven great documentaries for Seriously...

A poetic retelling of the Orpheus myth, from the celebrated writer Neil Gaiman.

An aspiring singer-songwriter meets the man who predicted the demise of the music industry decades ago.

What have you learned from our documentaries? Try our fiendishly difficult quiz...

Kellie Redmond explores Disney's fascinating contribution to the war effort.

The Simpsons star, satirist and actor reflects on the flood that devastated his home town of New Orleans.

Meet five codebreaking women who helped beat the Nazis and are still alive to tell their tales.

Seven reasons to love the modern melodic drum that creates a haunting tone.

The award-winning writer on porpoise dissections, stranded whales and beached dolphins.