Main content
Coldplay's Chris Martin performs "the earliest breakfast session ever"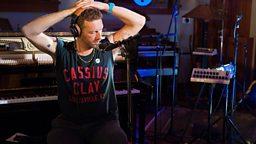 Coldplay's Chris Martin took us way back with his Live Lounge Month performance, when he woke the nation (ever so gently) with a solo performance of his band's early smash, Yellow.
We kicked off Live Lounge Month 2017 with an ear-splitting session from Foo Fighters in LA and followed it up from Malibu, where Chris performed in the early hours of the morning.
Chris told Nick Grimshaw, when he performed on the Radio 1 Breakfast Show, that he and Dave Grohl are good mates, even if Chris suspects Dave is a bit ashamed of him.
Dave Grohl likes to hang out with longer-haired gentlemen

Chris Martin
"I think sometimes he's embarrassed to be seen with me because our rock is a bit softer," said Chris.
"He likes to hang out with longer-haired gentlemen. That's OK, who can blame him."
But 'softer' rock suited us just fine when Chris performed Yellow with just a piano for accompaniment. It was the perfect way to ease us into the week.
Listen to Chris perform Yellow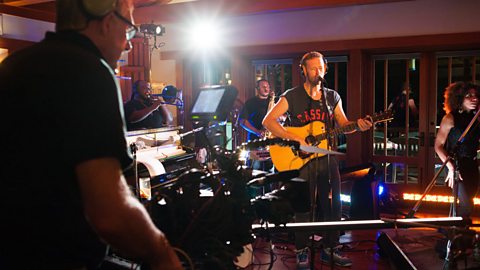 Chris pops some batteries in his piano and plays the Coldplay classic for Grimmy.
Chris was without his Coldplay bandmates for this rare solo performance and he quoted a sporting great for his mantra for the day.
"The late, great Muhammed Ali once said 'the will must be greater than the skill' and that's what we're going to rely on today," he said.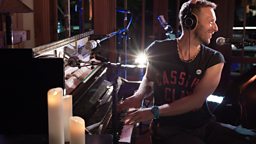 He chose to cover a classic from 1986
Chris covered Graceland by Paul Simon (narrowly picking this over Bittersweet Symphony by The Verve), and told Clara why the song means so much to him.
His songs just make me feel wonderful

Chris Martin
"I particularly love this album because it's just a blend of so many things I love and so many cultures and so many people you wouldn't imagine - especially at that time -just make me feel wonderful would have been on the same record together, so it came from a very beautiful place," he said.
"The songs just sound like they've always existed and they just make me feel wonderful."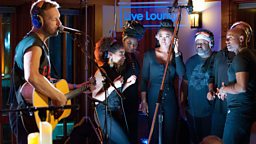 Watch Chris perform Graceland
Chris also revealed how Graceland has a special, slightly sombre place in his heart, as it reminds him of his first experience of being shunned by someone he fancied.
"I was 10 years old and I was living in Zimbabwe, which is where half my family is from, and this record was playing," he told Clara, speaking about the first time he ever heard Graceland.
"I was trying to get the attention of another 10 year old girl. There was no texting in those days, but she was doing the eighties equivalent of not texting me back and I remember this song playing and thinking 'at least the music is awesome'."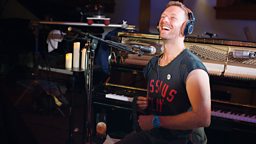 Chris also performed a stunning solo version of Coldplay's Hymn For The Weekend
Sadly, Beyonce wasn't on hand for her guest vocals, but Chris's backing band for the day more than made up for the missing diva.