Main content
Interview with Douglas Henshall (Perez)
Douglas Henshall plays DI Perez.
Six years on since he was cast as the lead role in Shetland, Douglas Henshall reflects on how Perez has changed since he first arrived in Shetland and looks forward to what is in store for series four.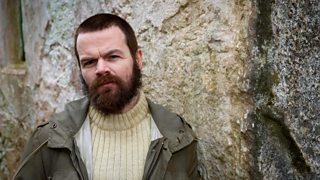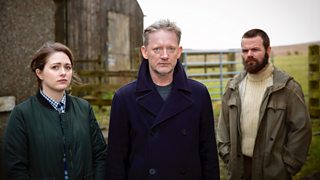 D.S. "Tosh" McIntosh (Played by Alison O'Donnell), D.I. Jimmy Perez (Played by Douglas Henshall) and Thomas Malone (played by Stephen Walters)
When the person you are trying to build a relationship with isn't interested in helping you, or even helping themselves, then it gets very complicated
Shetland is back for its fourth series. What do you think audiences like about the series?
I think first and foremost it's the characters. Secondly, closely followed by, the place that it's set in. Not only because it's beautiful but because it's like another character in the show. I think people are drawn to the place because they imagine themselves there. But I really have to give credit to the writers and producers because they are the prime reason. And the books, they're incredibly popular. All those ingredients together work very well for us!
How do you think Perez has changed since we first met him?
I think he's slightly more disillusioned than he was. Shetland's a lot more violent than he thought it was going to be - people seem to get murdered there a lot! And I think he's finding being without his wife a lot harder, and the idea that he is still alone 10 years after it happened is as much of a surprise to him as everyone else. Bringing up a young daughter has been very difficult and reminds him of the loss he's had and how he can't be with anyone that's not good for her.
Do you relate to Perez?
Very much. When I read the script at first, the things that sprung at me were that he seemed to be quite kind, empathetic and wanted to find the best in people. Also his relationship towards the women in his life, such as Tosh - he seems to genuinely like women, which I thought was quite unusual in a police show. All of those things drew me in and similarly I try to put my own self in there as well. I felt Perez was far removed from a typical police television character!
So in this series Thomas Malone (played by Stephen Walters) has been released after 23 years in prison after being wrongly imprisoned. Is Perez more sympathetic than others?
I think he feels quite stretched by it. When you are trying all of the ways in which you usually relate to people and none seem to be working, it makes it harder for Perez to build a relationship with Thomas when he is trying to find and prove his innocence. He has to try and prove it for himself and for everyone else. When the person you are trying to build a relationship with isn't interested in helping you, or even helping themselves, then it gets very complicated - as you'll see in this series.
Do you think Tosh and Perez's relationship has deepened after what happened to Tosh in the last series?
They were always close but I think when you go through experiences that are particularly hard it can't help but move your relationship onto somewhere else - but that's not always a good place. In some ways it moves it back as you don't talk as freely. It's almost like there's part of her he doesn't know anymore and part of her she doesn't want to share anymore. They have to work at it harder. I don't know if it's brought them closer in a way either of them would want. But they are definitely a partnership for sure.
Perez and Duncan's parenting relationship is quite unusual, has that been an interesting storyline to work on with Mark Bonnar?
For sure - especially with Mark Bonnar being as great as he is. I'm so delighted he keeps coming back and there are storylines that keep him interested! We get on well and I think we work together well and it is very interesting in this series to see what happens to the two of them… Duncan's relationship with Cassie [their daughter] and Jimmy [Perez] – that was fantastic to explore this time around. It's brilliant that people who haven't necessarily seen Shetland before can enjoy this series, but for people who have watched Jimmy, Duncan and Cassie's relationship before, there's a big pay-off in this series…
Can you give us a teaser of what's in store this series?
I think we're taking on some big subjects in this series. Last series we did too and we were rewarded, and we've been quite bold this time around as well. There are some quite subtle questions this series asks like, what does a good person sound like? What does a bad person look like? It's not always obvious, as our own prejudices get in the way. So whether you think you're qualified to know who is a good person and who is a bad person - that's been interesting to explore.