Main content
Ten reasons to love nostalgic music
Presenter Sarah Walker writes about her light music choices – and why they're a weekly treat on Sunday Morning.
As a music student, getting to grips with 20th century modernism, one statement always stood out: "One must liquidate the past to move forward." The words of Pierre Boulez, so not to be taken lightly. Nostalgia was for me, a dirty word for a while: it meant looking at the past through rose-tinted glasses and not acknowledging the irrelevance of those old familiar sounds to contemporary life.
However, Boulez's words are often taken out of context. Nowadays I doubt whether the great interpreter of Debussy and Stravinsky would truly wish to liquidate the music's glorious past. Boulez was all for flexible, intelligent listening ("either follow the argument, or enjoy the view," was one comment), and today I get real delight from revisiting music that I might once have dismissed as merely nostalgic.
It's why I choose a bit of film music, light music or even television theme music around 10 o'clock every Sunday Morning. The craftsmanship and passion in some of this music can be extraordinary: under that sweet surface lies musical genius.
And it doesn't half bring back memories. These are a few highlights that I've featured, in no particular order!
About Sarah Walker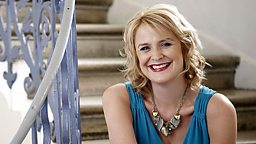 Sarah was born in Barnsley where her earliest enthusiasms were music, art, writing and making taped 'radio shows' for her friends. She studied music at Royal Holloway College and Reading University, where she specialised in performance. Since then she has worked as a broadcaster, pianist and teacher. Sarah has a strong interest in contemporary music and in 1995 completed a PhD on the subject of English experimental music. Pursuing that interest, she has performed with many new music groups and has premiered lots of new material.
1. The Watermill, by Ronald Binge
With the Slovak Radio Symphony Orchestra, conducted by Ernest Tomlinson.
This lyrical theme, composed by Ronald Binge in 1958, was used for The Secret Garden, the BBC TV series back in 1975, based on the book by Frances Hodgson Burnett. The accompaniment has a poignant quality – the strings complement the melodic oboe… and there's something going on in the basses that conjures up watery depths. All sorts of riches, if you look closely.
2. Galloping Home, by Denis King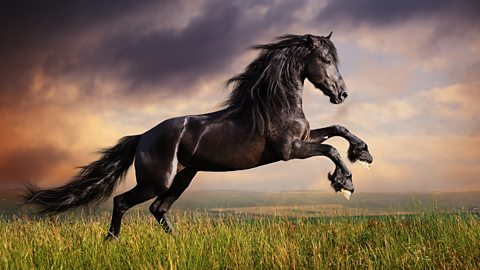 With the City of Prague Philharmonic Orchestra, conducted by James Fitzpatrick.
My next choice was selected by one of the guests I was fortunate enough to interview on Essential Classics. No prizes for guessing who, once you hear it! Yes, I'm eternally grateful to the lovely Clare Balding for reminding me of this (though I'm not half as mad on horses as she is)! The theme for Black Beauty truly is one of the best pieces of TV theme music ever: horns, trumpets, trombones and timpani (BOM! BOM!) working their magic on the mesmerised children of the 1970s.
3. The Typewriter, by Leroy Anderson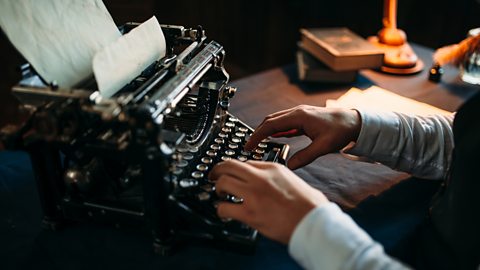 With the Iain Sutherland Concert Orchestra, conducted by Iain Sutherland.
This track evokes the atmosphere of a busy office circa 1950. I'm not quite old enough to remember that myself, but my mother taught "Office Practice" so I grew up with the clatter and ding of a typewriter on the dining room table.
The use of "everyday" sounds connects this to the experimental culture of the early 20th century – Jean Cocteau notoriously added a typewriter to the score of Erik Satie's Parade (as well as a revolver and sirens) – which for me, adds to the charm of this light classic. Not to mention its breezy melody, which evokes the essence of the '50s: the exciting new household appliances, Dior skirts, chaps brisking to work with newspaper and brolly under their arm… no wonder it's used as the theme tune for Radio 4's News Quiz!
4. Walkabout, by John Barry
Back in my Essential Classics days, another memorable guest was the actress Jenny Agutter, who seemed barely changed from that young girl who waved her underskirt in front of a steam train in The Railway Children!
Well for Sunday Morning, I chose music from another of Jenny Agutter's most notable cinema appearances: Walkabout, set in the Australian outback and directed by Nicolas Roeg. The composer is John Barry, who found that conducting this sensual music on the 1992 album Moviola was a surprisingly emotional experience, something he never expected. Dipping into his old scores brought up "distant memories, some vivid, some vague… one rediscovers the poignant effect music instills."
5. Television March, by Eric Coates
Another reason I pay attention to light music is that it often reflects important historical moments in the 20th century. So for one episode of Sunday Morning, I chose the Television March by Eric Coates: music that heralded the re-opening of the BBC television service after WWII.
I was interested to read that Elgar was such a fan of Coates that he placed a standing order in a London record shop for every new Coates recording! The energetic, upright quality of Elgar's Pomp and Circumstance marches is not a million miles away from this work, and if Elgar admired the music of Coates, then I certainly think it's worth a second glance. And you've got to love the use of the triangle.
6. Don't talk, by Brian Wilson/Tony Asher, arr. Elvis Costello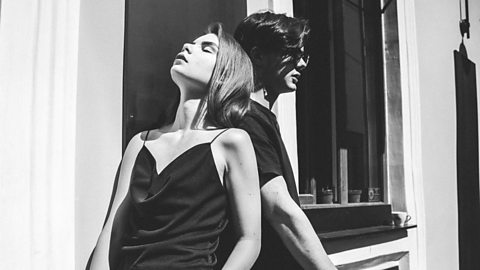 With Anne-Sofie von Otter (mezzo soprano) and Mats Schubert (piano).
This song isn't "light music", nor is it film or TV music, but it definitely fits into this round-up of nostalgia-inducing tracks. It's a recording by the mezzo-soprano, Anne Sofie von Otter, one of those artists whose work reveals that there's not necessarily a massive barrier between popular and classical music.
She's recorded music by her fellow-Swedes, Abba, and this track is from a collaboration with Elvis Costello – himself a composer for string quartet and other classical formats, as well as a pop legend. It's his beautifully understated arrangement of a Beach Boys song, from their acclaimed 1966 album, Pet Sounds: "Don't talk, put your head on my shoulder". The songs on that album seem to look back yearningly to simpler, happier times – a quality I also enjoy in music by the Kinks and the Beatles – and the contours of this melody are captivating, suspended over a barely-moving accompaniment.
7. Sally Tomato (from Breakfast at Tiffany's) by Henry Mancini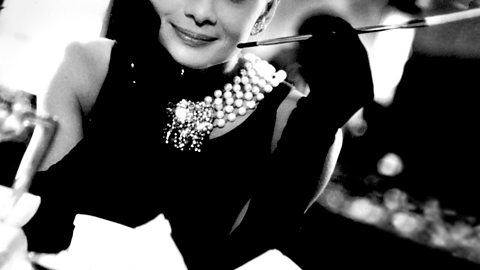 With the Henry Mancini Orchestra, conducted by Henry Mancini.
When I was studying orchestration at college, I had two text books to guide me: one of them was a big academic tome, and the other was "Sounds and Scores" by Henry Mancini. Well the Mancini turned out to be the most insightful…explaining how to achieve all sorts of exotic colours (he was very keen on bass flute, I recall…).
So one Sunday Morning I featured a gem from his score to the 1961 romantic comedy, Breakfast at Tiffany's, starring Audrey Hepburn in her defining role as Holly Golightly. We heard the cool and rather seductive theme of the gangster character, Sally Tomato: instruments and voices are used here with such subtlety, over a fabulous Latin groove and harmonies that are just exquisite.
8. Far from the Madding Crowd, by Richard Rodney Bennett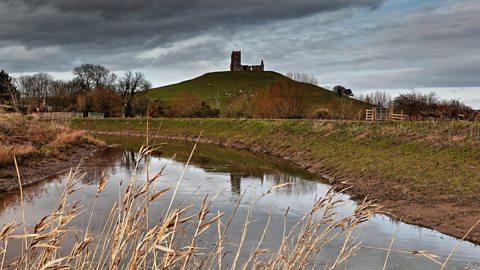 With the BBC Philharmonic, conducted by Rumon Gamba
Here's another nostalgic highlight – this time, one I chose as my Sunday Escape, transporting us to Hardy's Wessex…or perhaps (if you're a fan of Terence Stamp and Julie Christie) to the year 1967! It's the score to John Schlesinger's film, Far from the Madding Crowd: the music by Richard Rodney Bennett was nominated for an Oscar and is still celebrated as one of the most effective film scores ever. It's evocative and lushly orchestrated, conjuring up the rural setting and the passions of Bathsheba Everdene and the three men who court her.
9. Gli Uccelli (The Birds), by Ottorino Respighi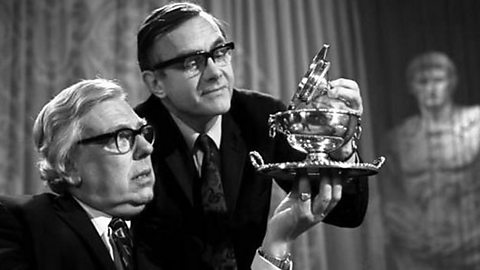 With the San Francisco Symphony, conducted by Edo de Waart
Here's an example of something that's a bona fide classical piece, but is well-known as a TV theme tune. When we played Gli Ucelli, (the Birds), by Respighi, many listeners wrote in to share memories of the antiques quiz show, Going for a Song. It ended (in its first incarnation) in 1977 so was a bit grown-up for my tastes at that time, but I clearly remember Arthur Negus, the resident expert!
The programme used the first movement of Respighi's suite…a prelude based on music by Bernardo Pasquini. It's strongly melodious, and I did wonder if my Sunday Morning listeners might be singing it all day.
10. The Adventures of Robinson Crusoe, by Robert Mellin/Gian Piero Reverberi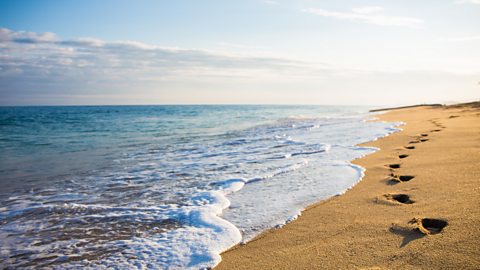 With the City of Prague Philharmonic Orchestra, conducted by Nic Raine.
Okay, this is my ultimate nostalgia offering: the music to the black and white children's TV series, Robinson Crusoe. They used to air it in the summer holidays back in the 1970s, the French voices dubbed, which added to its mystery.
My producer Neil and I were singing along with tears in our eyes, remembering the terrible injustice of having to go back to school before the series ended. I never learned what happened to Robinson Crusoe… but to be honest, the distinctive, haunting music by Robert Mellin and Gian Piero Reverberi was the main reason I watched.

More Light Music on the BBC