Main content
6 moments you need to catch at Download Festival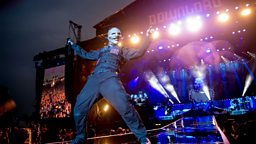 Download, the home of rock and metal in the UK, returns to Donington Park this weekend, with headliners Def Leppard, Slipknot and Tool.
Ahead of this year's festival, Daniel P. Carter from Radio 1's Rock show recorded a special hour long Radio 1 Takeover looking at the line-up.
So if you're sat at work counting down the hours to Download, this show is the playlist you need in your life, along with Daniel's tips for this year. You can listen back here.
Below are just six (out of the many) moments Daniel said he is looking forward to this year.
1 | Slipknot's first UK performance since 2016
Ahead of their sixth album dropping, Slipknot are returning to headline the Saturday.
They're back, complete with new masks. Corey has even said on Instagram he won't be switching up his as it is bothering people so much (there's a picture below if you haven't seen it yet, so make up your own mind).
Daniel has already played a couple of tracks from We Are Not Your Kind on Radio 1's Rock Show, but he said he would play a classic on the Takeover show as: "we should go with a classic, Duality, because this is going to definitely be on the highlights of the festival, I know it already."
You can catch Slipknot's sixth Download set on the main stage on Saturday from 9:10pm. In the meantime, you can listen to Corey Taylor chatting to Daniel P. Carter about the tracks that changed his life here.
2 | Fever 333 returning after their epic performance last year
The American supergroup made their Download debut last year.
The set became an instant highlight of last year's festival for many, and that was before their debut album, STRENGTH IN NUMB333RS, had even dropped.
Daniel said: "They are a truly incredible live band, so I am looking to seeing what happens with them now that the album is out."
You can catch them on the Avalanche Stage on Sunday from 7:10pm.
3 | Die Antwoord's set before Slipknot
The South African hip-hop crew are playing the main stage right before Slipknot on Saturday from 6:40pm.
Daniel said this would be a particular highlight: "Download has had a bunch of artists play that aren't traditionally considered to be part of the rock or metal community, bands like Pendulum and The Prodigy, they always come across amazingly and are always super high energy. I know Die Antwoord is going to be insane for a lot of people."
And we cannot wait to see what Ninja and Yolandi Visser are going to bring.
4 | Slayer's last ever UK show
It's their fifth Download and their final ever UK show for Slayer.
After 37 years and 12 albums, the American thrash metal band have decided to call it a day, but not before they hit up Donington Park one last time to headline the Zippo Encore Stage on Sunday from 8:45pm.
5 | Skindred getting everyone to do the Newport helicopter
The Welsh metal band introduced the 'copter during their 2011 Download set. For the uninitiated, Daniel explains it as follows: "They get the entire festival crowd to take off their shirts and spin them above their heads, which sounds ridiculous, but it's pretty amazing."
And you can watch it in all this full ridiculous glory below.
This video contains strong language. Third party videos may contain adverts.
Skindred will be playing the main stage on Saturday from 3:35pm.
6 | Smashing Pumpkins going into Tool
What a way to close Download, and one that Daniel, a self-confessed Smashing Pumpkins nerd, is particularly stoked about.
He said: "It has been incredible to see the band, they feel reinvigorated with the original line up, bar Darcy (Wretzky) of course."
"I am super excited for Download because Smashing Pumpkins, one of my favourite ever bands, going into Tool on the main stage on Sunday as well - another one of favourite ever bands - I'm probably going to lose my mind."
The band will be playing the main stage from 7:10pm on Sunday, with Tool taking to the stage at 9:25pm.
And if you are heading to Download, don't forget to check out the Radio 1 signing tent. Full details below.
We've even got you covered after the festival, as Radio 1's Rock Show will be celebrating Download with a four hour highlights special on June 23rd from 7pm. You will be able to relive the weekend here.