Main content
Folk Awards 2015 - The Winners!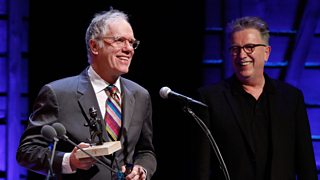 This year's Lifetime Achievement awards will be given to legendary musician Yusuf / Cat Stevens and Grammy Award-winning artist Loudon Wainwright III.
This year's inductee into the Radio 2 Folk Awards Hall of Fame will be the legendary Ewan MacColl. The Hall of Fame exists to recognise the special contribution of an individual to the world of folk music; someone whose impact and influence has had a lasting impression.
Meredydd Evans is the 2015 recipient of The Good Tradition Award. The award is given to a person, group or organisation for their contribution to the preservation, dissemination and continuance/progression of traditional music over a number of years.
WINNERS!
BEST DUO WINNERS - Josienne Clarke & Ben Walker
Josienne Clarke & Ben Walker
O'Hooley & Tidow
Greg Russell & Ciaran Algar
Chris While & Julie Matthews
BEST TRADITIONAL TRACK WINNER - Samhradh Samhradh – The Gloaming
Bedlam – Stick In The Wheel
Handsome Molly – The Furrow Collective
Manus Mo Rùin – Cruinn
Samhradh Samhradh – The Gloaming
HORIZON AWARD WINNERS - The Rails
Ange Hardy
Maz O'Connor
Stick In The Wheel
The Rails
BEST ORIGINAL SONG WINNERS - Swim To The Star – Peggy Seeger/Calum MacColl (performed by Peggy Seeger)
Swim To The Star – Peggy Seeger/Calum MacColl (performed by Peggy Seeger)
The Necklace Of Wrens – Michael Hartnett (performed by The Gloaming)
The Pitmen Poets – Jez Lowe
The Spider And The Wolf – Paul Simmonds (performed by Naomi Bedford)
BBC RADIO 2 YOUNG FOLK AWARD WINNERS - Talisk
Cup O'Joe
Roseanne Reid
Talisk
Wildwood Kin
MUSICIAN OF THE YEAR WINNER - Sam Sweeney
Martin Green
Will Pound
Sam Sweeney
Kathryn Tickell
BEST ALBUM WINNER - Tincian by 9Bach
Fair Warning – The Rails
Nothing Can Bring Back The Hour – Josienne Clarke & Ben Walker
Sweet Visitor – Nancy Kerr
The Moral Of The Elephant – Martin & Eliza Carthy
Tincian – 9Bach
BEST GROUP WINNERS - The Young 'Uns
Bellowhead
The Furrow Collective
The Gloaming
The Young 'Uns
FOLK SINGER OF THE YEAR WINNER - Nancy Kerr
Cara Dillon
Julie Fowlis
Nancy Kerr
Jez Lowe