Main content
Block party: The power of pixel art in the 21st Century
While pixel art came of age during the 1980s video game boom, digital artists all over the world are still using this technique to make amazing pictures. BRUCE MUNRO speaks to some of those creators to discover the appeal of building art tiny block by tiny block.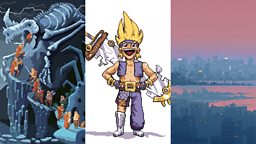 Images from left to right: The Quest by Pixels Huh, The Legend of Krys by Sam Keddy, Cityscape by Waneella
Making a scene
When Octavi Navarro is not applying his pixel art skills to acclaimed indie video games like Thimbleweed Park, the Barcelona-based illustrator and animator produces densely-woven scenes of characters living in diorama-style worlds which he publishes on his personal site Pixels Huh.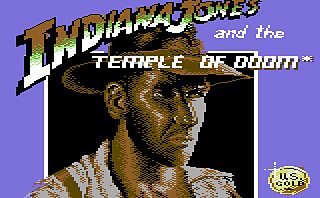 My inspiration came when I got into adventure games. I would replicate screenshots from games like Indiana Jones with Deluxe Paint

Octavi Navarro
Like many other pixel artists, it was Navarro's love of gaming that drew him into art. He fondly remembers the second-hand Commodore 64 and cardboard box full of random titles his parents bought him.
Navarro recalls: "I do remember liking those published by Ocean - Robocop, Batman and Parallax being some of my favourites. I really enjoyed those C64 loading screens.
"But I'd say my inspiration came a bit later, when I was into adventure games, especially those of Lucasfilm/LucasArts.
"I remember replicating screenshots from games like Loom and Indiana Jones and the Fate of Atlantis with Deluxe Paint. I guess that was my first experience with pixel art.
"It's undeniable that it reached perfection as an art form on video games, and that our nostalgia for those games from the 80s and 90s is what keeps pixel art alive today.
"That said, I like to think that it has a lot of potential outside this field. Every day we see more and more great illustrators that choose pixel art as their medium without having a video game background, and that's great. I've made pixel art illustrations for book publishers, magazines and advertising companies so there's hope that pixel art will be seen some day as an open art form."
Matej 'Retro' Jan, who writes about pixel art on Medium, argues the storytelling approach Navarro employs in his Pixel Huh scenes would be a good fit for animations or books. This is perhaps particularly evident in The Fisherman's Daughter, Navarro's own personal favourite scene from the 46 he has published to date on Pixels Huh.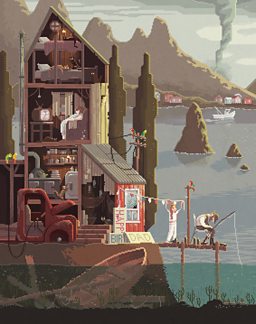 The Fisherman's Daughter by Pixels Huh
The Fisherman's Daughter took around 20 hours to make. Navarro's timelapse film shows the method:
Warning: Third party content may contain adverts.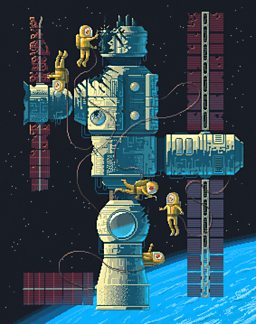 Micrometeorite by Pixels Huh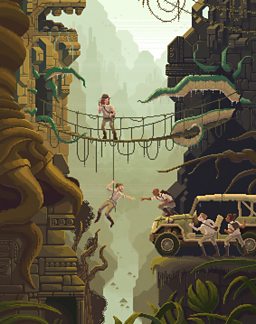 The Stolen Idol by Pixels Huh
Glorious GIFs
As well as looking up to the legendary illustrators from the gaming industry like Mark Ferrari, Navarro also enthuses about the new generation of pixel artists.
At first I thought pixel art was very easy compared to oil painting, but now I know how deeply wrong I was

Waneella
One of those is the Waneella, a Moscow-based artist and animator who is famed for her animated GIFs. Like Navarro, she hopes that the medium will be able to shake off its association with the past.
She says: "I'd say pixel art is too associated with nostalgic and retro moods.
"In the beginning I used to understand pixel art this way too and I think it's normal since most of us were raised on pixel graphics and it reminds us of youth, childhood and good old times.
"It's nice and I like when people find it nostalgic and relaxing, but I hope it will find the way to be perceived by itself. It is quite minimalistic, but not so much that it's abstract. You can add enough details to easily depict everything you want, but still leave some space for imagination.
"I began to make pixel art when I was at university, and it was some kind of a challenge since we were studying academic arts mostly. At first I thought it was very easy compared to oil painting, but now I know how deeply wrong I was.
"I think it still has a lots of possibilities I haven't reached yet. I hope to make a lot of pixel art pieces, animated series, films, games, and art books. It's interesting for me how flexible and universal pixel art could be."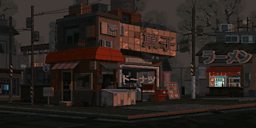 A still version of one of Waneella's GIFs
Community
Sam Keddy is the head moderator of Reddit's r/PixelArt, an online forum with over 166,000 subscribers. Its official description of the medium is that it is "our favorite digitally restrictive art form". So given the limitations, what does he think the appeal is?
I think restrictions open up a whole new world and way of thinking about art

Sam Keddy
Keddy says: "Restrictions open up a whole new world and way of thinking about art. It forces you to think about your art in another dimension, and challenges you to create something within a set of rules that ultimately have a large effect on the end result, but still can have so much variety in style. And that's what pixel art is all about - trying your best to clearly convey something using only small squares of a small selection of colors.
"I think pixel artists enjoy the challenge - it's almost like a game trying to find the perfect way to arrange pixels to make people see what you want. The process is also very different from other media as in the end you aren't just drawing lines or painting brush strokes, you're placing very precise squares one at a time, and you always have complete control. It's also a very accessible art - you don't need any special tools or hardware other than a computer, a mouse and some free software."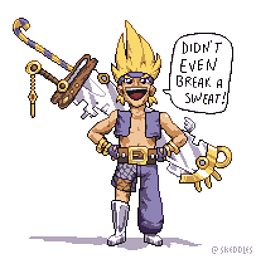 As well as running the r/PixelArt forum, Keddy creates his own art in a style he calls 'bubblegum pixel' | Image: Legend of Krys by Sam Keddy
Pixel future?
Does Keddy think pixel art will stretch out beyond an internet subculture? He says: "It's hard to say if it's getting more widely recognised, but it's certainly well known to most internet savvy folks.
Hopefully with the opportunities in new media we'll see more pixel art productions

Sam Keddy
"It's still a very popular choice for indie games and small studios as it's easier to create than 3D art a lot of the time, and when done well it's very charming.
"It has had a few cameos in television shows such as Community, Gravity Falls, and Rick and Morty, and there was a completely pixel art-based show called Code Monkeys, but I wouldn't say it's been introduced into the mainstream.
"Paul Robertson has done some great animated shorts [including for The Simpsons] and hopefully with the opportunities in new media we'll see more pixel art productions."
Warning: Third party content may contain adverts.