Main content
Keep doing your bit for wildlife!
From the comfort of your own home...
There are lots of ways that you can help wildlife - whether it's from your window, on your street, out on a walk or in your garden.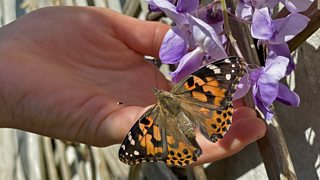 In your garden or outdoor space...
Letting nature reclaim parts of your garden, planting for pollinators and allowing wildflowers and other native plants to grow, are great ways to support wildlife. With that in mind, leave the lawnmower in the shed and take part in No Mow May.
Once your lawn has grown you can take stock of the benefits you are bringing to your local wildlife, in the Every Flower Counts survey.
Buglife has put together this guide about gardening for bugs. There are a wealth of things you can do in your garden to encourage invertebrates.
Beetles love a log pile! Get some great tips on making a log shelter on the Wildlife Trust's website.
Get closer to nature on your doorstep this lockdown and join families in their gardens for the Wild Challenge.
When you're out and about...
Noticed any leaf buds bursting or blackberries ripening? Record these observations and many more with Nature's Calendar.
There's another way of monitoring wildlife from your car the Bugs Matter survey is asking you to help them track insect populations by looking at your car number plate!
If you live near the coast...
Don't forget to do a #2minutebeachclean while out on a walk!
Ways to help wildlife when you're out and about... from the Springwatch blog