Main content
The power of desire: Allen Jones at the RA
6 August 2015
Pop art pioneer Allen Jones was the subject last year of a career-spanning Royal Academy retrospective, which reignited the debate that his work is demeaning to women. BBC Arts took a tour of the exhibition with the artist as guide.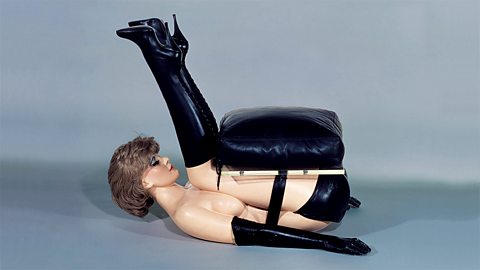 Inside the Royal Academy retrospective with the controversial British Pop Artist.
Since his infamous London exhibition at Tooth's Gallery in 1970 featured the series of works Women as Furniture, British pop artist Allen Jones has had to get used to being derided.
Forty five years on from the debut showing of artworks Chair, Table and Hat Stand, the debate has yet to die down.
One of the works, Chair, even had acid thrown over it in 1986
These life-sized, submissive, fibreglass female figures dressed in fetish wear were decried in the '70s by feminists – and others – as being demeaning to women. One of the works, Chair, even had acid thrown over it when shown at Tate Britain in 1986.
Their highly sexualised appearance became the focus of academic debate and prompted the exploration of the fetishized image of women and the male gaze in general.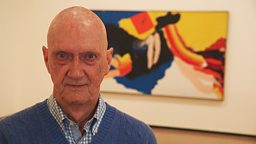 Allen Jones
Unlike other British exhibitors, who for years have largely shied away from showing Jones' work, London's Royal Academy reignited the debate by mounting a career-spanning retrospective in 2014.
It was about offending the canons of art, not about offending individuals

Allen Jones
More coolly appraised, Jones can be seen as a deft draughtsman and a consummate painter with an eye for pop culture and the glossy artifice of graphic design.
Jones studied at the Royal College of Art along with friends David Hockney, Patrick Caulfield and RB Kitaj, and - in a portent of things to come - was kicked out after a year for what he claimed was a minor infraction of College rules.
It seems the mild-mannered artist won't be allowed to escape the misdeeds of his youth or, of course, the furore surrounding his fantastical, stilettoed ladies. While these events may have been unforeseen, he's not averse to causing a stir, as he explains:
"It was about offending the canons of art, not about offending individuals. I thought the whole success of Pop Art lay in a return to representing the figure without the baggage of fine art - so that people would have to make up their own minds whether it was art or not."
"It was the familiarity of the Pop Art image that democratised the way people look at art."
The way we look at Jones now may be as divisive as ever.
The original version of this article was published in November 2014, to coincide with the opening of Jones's Royal Academy retrospective.
It was unfortunate for me that I produced the perfect image for them to show how women were being objectified. Smoke bombs... were thrown at my ICA show in 1978… It was tough stuff and I wasn't expecting it

Allen Jones, 2007
Elsewhere on the BBC
Front Row's John Wilson talks to Allen Jones at his retrospective at the Royal Academy
Pop Art Features
A dissenting view from the global artists represented at The World Goes Pop exhibition at Tate Modern.

Can Pop Art really trace its origins to the work of a couple of artists from Scotland?

Stephen Smith compares the courts of Andy Warhol and the original Sun King, Louis XIV - with the Factory as a 1960s Versailles.

Watch the BBC Four Goes Pop! channel idents by Peter Blake, Derek Boshier & Peter Phillips.

Find yourself in the midst of a typical day for Pop Artist Andy Warhol in the mid-1960s.

Controversial British Pop Artist Allen Jones is the guide around his Royal Academy exhibition.

A Career in Quotes: What the critics said about controversial British Pop Artist Allen Jones.

Follow Andy and his entourage as they tour London in 1970, meeting David Hockney and film critic Dilys Powell.

A fascinating look inside The Factory in 1965, as filmmaker and activist Susan Sontag visits while Andy is filming.

When Everyone Could Own a Warhol: Andy Warhol's 1950s album covers for hip jazz labels such as Blue Note.

The Factory 1964-1970: Billy Name's iconic images of Warhol's Silver Factory, with the Velvets, Nico, Warhol superstars & Dali.

William Cook on the exquisite colours of German Pop at an exhibition in Frankfurt.

Artworks from the bold and brilliant pioneers who shaped Germany's 1960s pop art scene.