Main content
South East
The Littlewoods
From: London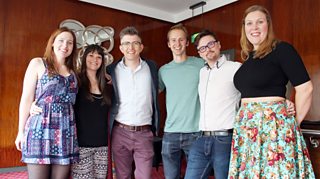 Ages: 23- 35
The Littlewoods are a close-knit group of friends who met through their day jobs, working as ushers in a theatre in London's West End. They all have dreams of making it big in the world of musical theatre, and would love to take on lead roles in the likes of Avenue Q and Fame.
The group started singing together for fun two year ago, but have now started to work seriously on their music and are gigging. They love to put a Pitch Perfect-inspired spin on pop classics, as well as theme tunes from movies like Jurassic Park and Harry Potter.
The Bulmershe Ensemble
From: Reading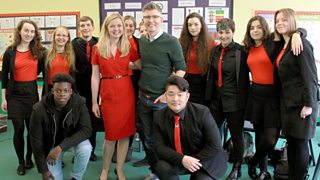 Ages: 16-18 and 31
The youngest contestants in the contest, this secondary school choir from Reading have been on the go since 2014. They were set up by maths teacher and assistant head Sarah, who believes that singing and performing helps to engage students in school life.
A competitive bunch, who give modern chart-toppers their own gospel-infused stamp, this choir can't resist coming up with some hand-clapping, foot-stomping choreography to help their performances stand out.
Dartford and Gravesham NHS Trust Choir
From: Dartford and Gravesham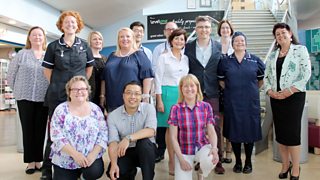 Ages: 30s-50s
Running for the last 15 years, Dartford and Gravesham NHS Trust choir is led by Leslieann, the hospital's Director of Strategic Development and Performance.
The choir is made up of doctors, nurses and support staff from across the Trust's sites, where they regularly perform for patients and visitors.
The Portsmouth Shantymen
From: Portsmouth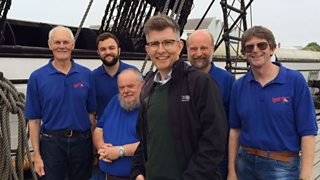 Ages: 20s-60s
Originally formed in 1978, The Portsmouth Shantymen have been through many incarnations since then, and only one of its current members, Nick, has been part of the group since its original line-up. Whether a longstanding part of the group, or a newcomer like latest addition Oliver, all of the men share a passion for sea shanties and are proud of the role they've played in the history and heritage of their region.
The Portsmouth Shantymen have sung all over the world, including France, Ireland and the US, as part of their efforts to keep the shanty tradition alive.
Beatbox Academy
From: South London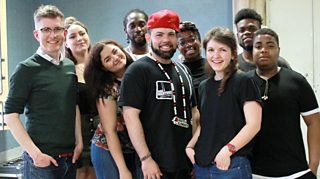 Ages: 18- 35
The only choir in the contest in which beatboxers outnumber singers, Beatbox Academy was co-founded by Conrad, after Battersea Arts Centre asked him to set up a creative outlet for kids/young adults in the local area.
Members can drop in and out as they please, so the group is always changing size and shape. Whatever form this collective takes, they can always be relied on to bring an interesting twist to any performance. When they meet Gareth, they'd like to put his beatboxing skills to the test.