Main content
Peter and the Wolf at 80: How a children's classic survived Stalin... and Disney
02 May 2016
80 years after it was first performed, Prokofiev's Peter and the Wolf remains as popular as ever. While often viewed as a cute fairy tale for children, the story it tells has far darker roots. Originating in the authoritarian stranglehold of Stalin's Russia, Prokofiev's masterpiece barely survived censorship before finding an unlikely champion in the form of fellow creative maverick Walt Disney. BRIAN MORTON charts the tale of an unusual meeting of minds that helped secure the legacy of a much-loved cultural treasure.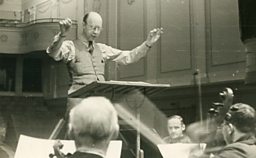 Sergei Prokofiev conducting an orchestra in Russia, 1940s. Photo by Fine Art Images/Heritage Images/Getty Images.
Sergei Prokofiev wasn't very good with people, but he was great with children. Early in 1938, on what was to be last, notably grumpy visit to America, he met another grown-up child, neophile, gadget freak, internationalist and dreamer.
Prokofiev was by his own account so "enraptured" by Walt Disney's Snow White and the Seven Dwarfs that he wanted to see it again the next day. Prokofiev and Disney met in Hollywood that March.
Prokofiev was so "enraptured" by Walt Disney's Snow White and the Seven Dwarfs that he wanted to see it again
The composer enraptured the animator in turn by playing him the piano reduction of a "fairy tale with music" he had written two years before.
In contrast to "Disney's Folly", which had taken four years to make and come in an eye-watering three times over budget, Peter and the Wolf had been written at speed for a children's theatre in Moscow, and had received only a diffident response on its first performance there.
Prokofiev's American biographer Harlow Robinson expresses regret that Disney and Prokofiev never managed to work together, an odd point to make without qualification since in 1946, ten years after its premiere, Disney and his team animated the tale, with Sterling Holloway as the narrator.
Perhaps the original Moscow performance, on 2 May 1936, had failed because it lacked a charismatic voice to carry the story.
Natalia Satz, the bright, eager, 33 year old director of the Moscow Children's Musical Theatre, who commissioned the piece from Prokofiev, fell ill before the first night and was replaced by another reader.
Since then, it's been read in performance and filmed versions by a bizarre range of personalities, from Leonard Bernstein and Hermione Gingold to political commentator William F. Buckley jr, baseball legend Tom Seaver, Mia Farrow, David Bowie (who started out as a Disney-obsessed Anthony Newley soundalike) and most recently David Tennant.
The work's time-travelling qualities have to some degree blurred the sheer oddity or at best irony of a children's tale, albeit one with a wolf and hunters at its heart, coming out at a time of almost institutionalised fear.
A matter of weeks before the Peter and the Wolf premiere, an article appeared in Pravda headlined "Muddle Instead of Music".
There were rumours that it came direct from Joseph Stalin's hand. It was actually written by a party hack, but the rumour had substance.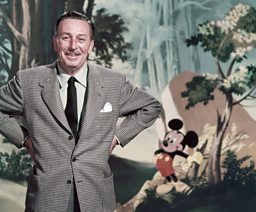 Walt Disney. Prokofiev met the studio chief on a trip to the US in what was to be an unlikely meeting of creative minds. Photo by Alfred Eisenstaedt/The LIFE Picture Collection/Getty Images.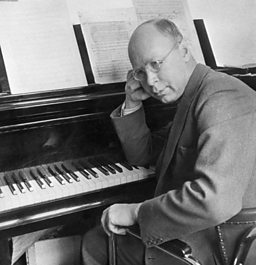 Sergei Prokofiev in New York, 1939. Photo: Bettmann/Getty Images.
The Vozhd, supreme leader of the Soviet Union, had taken time away from a worsening international situation to express his displeasure at an opera by Dmitri Shostakovich which he deemed "apolitical and confusing", an anti-opera in which "love" is smeared in the faces of the heroic Russian public in the most vulgar manner.
It's hard now not to dwell on the political as well as psychoanalytic dimensions
Shostakovich's beloved opera, known as A Lady Macbeth of the Mtsensk District had actually been written and premiered two years before, and had been well received.
Its critical reputation had the opposite trajectory to Prokofiev's fairy tale, which started out diffidently and became, thanks partly to Disney, an international classic.
It's hard to imagine two near-contemporary pieces more different than Lady Macbeth, which features a poisoning and an onstage rape, and Peter and the Wolf.
And yet, one has to ask why the Prokofiev piece avoided censure.
It is outwardly "apolitical", but all too clear in its message. The original Peter was to be a Pioneer, one of the dawn-facing youngsters who would go on to join the Komsomol – the Soviet youth organisation in Stalin's new Russia.
But surely when children shuddered at the line "If a wolf should come out of the forest, then what would you do?" their parents must have looked anxiously at one another.
There, in a single rhetorical question, was their day-to-day dilemma.
Living in an isolated giant, with a fascist wolf just to the west, a circling group of hunters in the Western democracies, and a secret police who turned up so regularly to knock on doors that the majority of thinking Russians (and certainly Shostakovich after "Muddle Instead of Music") kept a "little suitcase" packed and ready by the front door.
Having – or at least understanding – the mind of a child perhaps kept Prokofiev alive during the Terror.
Perhaps his "Russian-mindedness", which always won out over Western money, kept him safe.
It's hard now, in long retrospect, not to dwell on the political as well as psychoanalytic dimensions of a tale that involves a small boy leaving the safety of his grandfather's gate and venturing out into a seemingly bucolic morning full of song.
The boy's vulnerability is, of course, matched by resourceful cunning. It's the duck who's eaten by the wolf and can still be heard quacking inside, but there's a parable here, surely?
Like Disney, Prokofiev used fantasy to get at deep truths about the modern world
Audiences and fellow musicians routinely sat through Shostakovich symphonies, listening for messages of coded subversion in his deployment of instruments.
They came from a culture where all art is in some sense didactic and political, would certainly have found political subtexts even in a piece as light and unthreatening as Peter and the Wolf.
With all that in mind, Prokofiev rejected the original, flowery text written by Nina Saksonskaya, who had been commissioned by Satz.
He didn't like the words, but more than that he didn't like that the young poet had simply knocked on his hotel room door with the text in hand.
Knocked doors were bad signifiers in 1936. He gave her a grandfather-like roasting and sent her away.
Four days later, he had his own text and a week after that, on his 45th birthday, he had the orchestration.
The miracle of Peter and the Wolf is that it scarcely seems to need a text at all.
The story is "told" almost entirely in musical motifs, with different instruments representing characters: a flute for the bird, oboe for the duck, clarinet for the cat, bassoon for the grandfather and strings for Peter, with woodwinds and trumpet representing the hunters and French horns for the wolf.
Prokofiev's ability to let instrumentation, major-minor modulations, timbre and melody convey character and story is instinctive.
His gift as a film composer was precisely that, an innate ability to suggest rather than pictorialize.
But it remains obvious, perhaps ever more obvious, after 80 years that the evergreen Peter and the Wolf is no more a "simple" children's fable than Animal Farm is a skit got up for Countryfile.
Like Disney, and in similarly dark ways, Prokofiev used fantasy to get at deep truths about the modern world.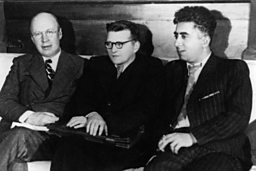 Soviet composers (left to right), Sergei Prokofiev, Dmitri Shostakovich, and Aram Khachaturian. Photo by: Sovfoto/UIG via Getty Images.
Famous narrators
The list of famous names who have narrated Prokofiev's fairy tale includes some notable – and at times eyebrow-raising – entries. Below are some of the great and good.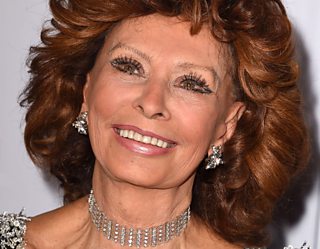 Sofia Loren. Photo by Steve Granitz/WireImage/Getty Images.
David Bowie
Alec Guinness
Sharon Stone
Boris Karloff
Sophia Loren, Mikhail Gorbachev and Bill Clinton
Terry Wogan
Antonio Banderas
Eleanor Roosevelt
Lenny Henry
Sting
Alice Cooper
Barry Humphries as Dame Edna Everage
Phillip Schofield - yes, breakfast telly's Phillip Schofield
Classical music on BBC Arts