Main content
'I was there': Tony Bullimore's ocean rescue, 1997
5 live Daily looks back at an historic moment through the eyes of those who were there.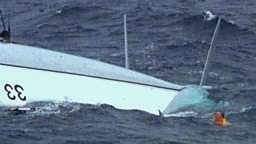 Rescued at sea after five days
Tony Bullimore, a sailor from Bristol, was taking part in the Vendée Globe single-handed around-the-world race when his boat capsized.
He was feared to have drowned, until his vessel was spotted by an Australian navy ship and rescuers made for the scene.
Tony crouched in the upturned hull of his yacht, surviving on chocolate and water.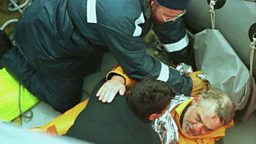 Crackers and corned beef... then disaster
Tony told 5 live he had become caught up in ferocious storm, with winds of up to 100 mph.
"I was sitting below the galley. I'd just made a mug of tea and I had some crackers with a bit of corned beef on top. All of a sudden I heard an almighty crack - the boat capsized instantly.
"I was stood on the roof saying 'come on girl up you get', then I realised the keel had gone and there was no way she would get back upright again."
Tony spent most of the next five days crouching beneath the hull with his head above water, ropes in place to stop him drowning if he slept.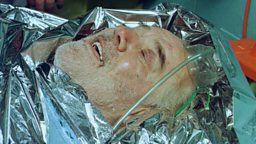 The rescue
Raydon Gates is the retired real admiral of HMS Adelaide, the ship that rescued Tony Bullimore. He and his crew set off not knowing whether Tony was alive or dead.
"When I broke surface I was looking straight at the Adelaide. I thought: 'I'm saved'. I was amazed"

Tony Bullimore
He told 5 live there was a lot to think about on the 2,500 km journey:
"If I'd travelled at maximum speed I didn't have enough fuel to get back to Australia, which would have been embarrassing.
"It was grey, the sea was grey, there were white caps and the winds were up. You're looking for a white hull among white caps and the first time she came up on a swell there was a great cheer on board."
A smaller boat was sent from the HMS Adelaide to retrieve Tony, but he'd already decided to swim for safety:
"All of a sudden this yellow shape appeared between the yacht and us - it was Tony."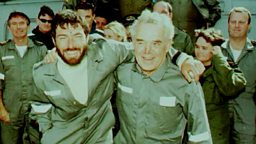 Despite the huge cost of the rescue operation, Raydon says he understands why people want to sail in such dangerous waters: "You're never going to be able to quell the human spirit."
He is concerned that people try to sail as close to Antarctica as possible because it's the shortest route around the globe, "There needs to be a southern limit, so the conditions they get into aren't so severe."
But Raydon remains "very proud" to have been part of the crew which rescued Tony.
Family were 'always confident'
Tony's nephew Stephen Mulvany was among those waiting for news back in the UK.
He told 5 live: "I was always quite confident that as long as he hadn't been on deck, he would find a way to stay safe.
"When the phone went with the news he'd been rescued, all hell broke loose. We were running around shouting and screaming - it was just crazy."
He says Tony is one of life's natural adventurers, "If they don't do it, we don't progress as a race. It's that pushing forward that makes us better people."
You can listen to a short clip here...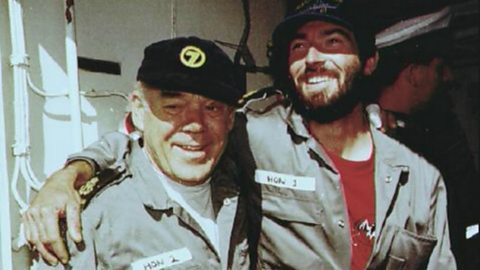 British sailor Tony Bullimore describes the moment he was rescued in the Southern Ocean.
If you have a few more minutes...