Main content
Northern Soul Season: Robert Knight
Bob Stanley shares words on Robert Knight and some of the northern soul tracks that became too popular for their own scene
When Robert Knight's Love On A Mountain Top was a Top 10 hit in 1973, the rumour spread across our playground that the lyric was quite filthy: "making love on a mountain, drinking love from a fountain." Forty years on, I'm pretty certain that Knight's intentions were pure, and that ten year olds had dirtier minds in 1973 than their elders might have thought!
He followed it with another Top 20 hit - Everlasting Love - which had been a no.1 for The Love Affair (another potential filthy name for ten-year olds) back in 1968. Knight's version was the original; Britain just got the chronology a little mixed up. I'm mildly fascinated by soul hits from the early seventies which were sixties recordings, yet rarely if ever get referred to as 'northern soul'. This probably has something to do with the inherent oneupmanship in the northern soul scene - once a record crossed over into the national charts it was purged from collective northern memory.
Knight's hits, therefore, are recalled as seventies pop hits - the same goes for Tami Lynn's I'm Gonna Run Away From You (no.4, 1971), Eddie Holman's slowie, and presumably an end-of-the-night spin, Hey There Lonely Girl (no.4, 1974), and the Tams' Hey Girl Don't Bother Me which qualifies as the only northern soul number one, a position it unexpectedly reached in 1971, sandwiched between the outgoing Diana Ross (I'm Still Waiting) and the incoming Rod Stewart (Maggie May).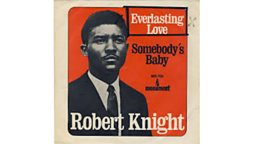 As for Robert Knight, he had originally been a member of doo wop act the Paramounts who, after selling a few copies of a single called Free Me in 1961, made the faux pas of breaking their contract with Dot Records, preventing them from recording. Knight then studied chemistry at the Tennessee State University where he formed a vocal trio the Fairlanes. He was spotted and signed to Monument, previously known as the home of Roy Orbison, where he scored a brace of hits as well as recording Blessed Are The Lonely (covered within months by the Mindbenders. Music has always come second to his love of the bunsen burner, though - he continued to work as a chemical lab technician, and later as a chemistry teacher.
Your weekly bite-size guide to the info and facts behind today's selection of 60s songs