Main content
The Bletchley Girls - Cracking Women
Its male boffins have been hailed as heroes, but recognition is growing for Bletchley Park's female codebreakers, who made up more than three quarters of the workforce at Britain's WW2 decryption centre. We meet a few of the women who helped beat the Nazis.
Rozanne Colchester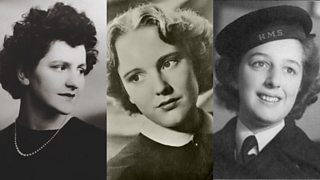 Left to Right: Rozanne Colchester; Pamela Rose: Ruth Bourne
A place where girls like you are what they really want"

Pamela Rose on Bletchley Park
Mussolini "used to always wave to us when he came out in his car", recalls 92-year-old Rozanne Colchester. "He had a tremendous smile. He adored women, obviously, he adored girls."
The teenage Rozanne had been living in Italy before the war, courtesy of her father's job as an air attaché to the embassy in Rome, and moved in high circles.
She wasn't fooled by the fascist leader's demeanour, however, recognising him as a "horrid man", while Hitler, who she also met, was dismissed as "rather ordinary".
Her fluent Italian proved useful at Bletchley's Italian air force section, where she decoded hand-encrypted messages. She cracked one with details of the Italian retreat from North Africa, which led to the Allies shooting them down on their return to Sicily. She was lauded at the time, but felt "dreadful" when she learnt that the casualties included the families of the Italian airmen.
Describing Bletchley as "like a university to me", she chose to pursue a career in intelligence, requesting a post-war transfer to Cairo and meeting her intelligence officer husband on the boat there.
Pamela Rose
Pamela Rose was at a low point when an "interfering godmother" pointed the way to Bletchley Park - a "place where girls like you are what they really want".
World War Two was taking its toll; Pamela's brother was missing in action and many friends had fallen. The actress, whose war effort thus far had been to entertain the troops, duly made enquiries.
Her knowledge of German, which she spoke "not marvellously but fairly fluently", was her way in to Bletchley. Her mother was part German Jew and Pamela had brushed up on the language during a fun-packed visit to the country in 1936. She recalls shaking hands with Hitler and remained oblivious to any anti-Semitic rumblings throughout the stay.
She worked in Bletchley's naval indexing section, meticulously logging, cross-referencing and filing intercepted messages and earning a rare promotion to a senior administrative role. Self-effacingly, she credits this to an inability to type and acting skills used to feign intelligence.
Beyond work, she was a leading light in Bletchley's drama club, while she met husband Jim Rose, a wing commander, at a Bletchley hop.
Ruth Bourne
A "ghoulish" child, Ruth Bourne couldn't resist reading a book about Hitler's terror, plucked from the shelf of her father's library in the family's Birmingham home. The tales of persecution left an impression on the Jewish youngster, who signed up for the Navy Wrens in 1944 at the age of 18 – three years after conscription for women was introduced.
She trained to be a Bombe operator, working on one of the codebreaking machines at RAF Eastcote and gaining "a little bit of personal satisfaction" from her part in anti-Nazi operations.
She remained oblivious to Bletchley's wider brief – "I only knew my bit" – and was sworn to secrecy about that. Her parents never knew what she did, while her husband, on hearing of the publication of a book about Bletchley's female codebreakers, retorted: "That's very interesting, dear. Now what's for tea."
Now 89, she regularly tells her story to a more appreciative audience when she shows visitors around The Park.
Betty Gilbert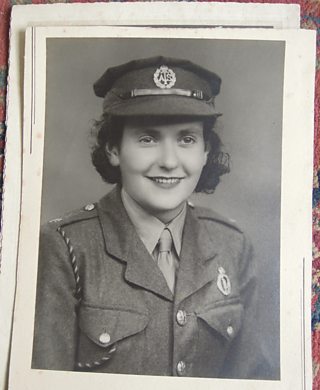 Betty Gilbert
Unlike many of her Bletchley cohorts, Betty Gilbert came from a humble home in Northamptonshire, with no bathroom, no electricity and where she shared a double bed with her mother alongside another in which her two sisters slept.
A lover of school ("I cried when I left"), brainy Betty sailed through her 11-plus but had to take a job in the local shoe factory at the age of 14 to boost the family income.
At 18, she signed up for Auxiliary Territorial Service - the women's army - and after a top performance in an aptitude test was selected to be a wireless operator.
Stationed on the Yorkshire Moors and trained in Morse code, she intercepted coded messages in six hour, non-stop shifts. She was granted three days leave, however, to marry her first husband, who she'd worked with in the factory.
She returned to making shoes after the war but says it "didn't mean anything", She missed the wartime decryption which, she reflects, "made you someone".
Joanna Chorley
Joanna Chorley had ambitions of going to university after excelling at school in Beaconsfield, where she'd been evacuated from her home in Brighton.
Her father had other ideas. On his return from Canada, where he'd been serving in the air force, he made it plain to the school headteacher that further education was not for his daughter and that it was "an absolute waste of money educating a woman".
Joanna was duly packed off to domestic science college, spending a year completing a housewife's course that "nearly killed" her.
To avoid any more of her father's brainwaves, she joined the Wrens at the age of 17, opting to work on "light electrical machinery in the country".
"I always liked nuts and bolts," she explains.
She became one of the "nursemaids" for Colossus – the world's first electronic programmable computer that was developed for British codebreakers. More than 70 years on, Joanna describes it as "the most amazing thing".
Find out more about Rozanne Colchester, Pamela Rose, Ruth Bourne, Betty Gilbert and Joanna Chorley in The Bletchley Girls.
Presenter Tessa Dunlop's book about the subject is published by Hodder and Stoughton.
More from Seriously...
Seven reasons to love the modern melodic drum that creates a haunting tone.

The award-winning writer on porpoise dissections, stranded whales and beached dolphins.