Main content
Stormzy on his second album, wanting a Number 1 single, and headlining Glastonbury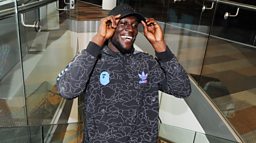 Nick Grimshaw and Annie Mac had a very special Monday show, where they co-hosted alongside the almighty Stormzy. Listen back here.
After releasing new single Vossi Bop, Stormzy dropped by to play some of his favourite records, and to reveal a few details about his upcoming second album – which we could not be more excited about!
Is Stormzy about to get his first Number 1 single?
Aside from winning big at the 2018 BRITs, he's spent most of the past two years out of the spotlight, working on a follow-up to debut album Gang Signs and Prayer. "I went off into the world," he told Annie, about the album's process. "I've been in with different producers, proper focusing on being the most incredible artist that I can be."
He called the album a "beautiful sketch of so many colours," adding: "Sometimes people make an album of 15 tracks with singles and some filler songs. There's no way I'm making a body of work with filler songs. Every song is gonna serve such a purpose. I've tried to do the epitome of every single part of my DNA. Every feel that I want the listener to feel."
"I'm not going to say a single lyric that doesn't mean anything. I'm so proud of this… That's all music is – it's about proving your worth, every single time."
This contains very strong language throughout. Third party videos may contain adverts.
The new album doesn't yet have a release date, but last Friday's Vossi Bop release is currently No.1 in the midweek Official Singles Chart. It looks like his competition for the top spot will be Taylor Swift's comeback single ME! and current chart-topper Old Town Road by Lil Nas X.
Up to now, Stormzy hasn't even had a top five single, but he admits clinching the top spot would be a huge achievement. "To have a Number 1 would be amazing. We're gonna go for it."
His Glastonbury headline set will be a landmark moment
Also on the horizon is a live return at Radio 1's Big Weekend in May, plus a huge headline slot at Glastonbury Festival, where Stormzy will top the prestigious Pyramid Stage.
"I'm ready. I'm excited to prove my worth," he said about the set. "I've got two major cards in my pocket in terms of what I've managed to do with this second album and what I'm about to do with Glastonbury.
"I feel sharp. I'm 25 years old, I'm about to drop my second album. The public have elevated me to this position, and now it's about me repaying everyone. It's about proving you lot right."
He also made a call to anyone heading to Glastonbury and thinking about seeing his set: "Whoever's coming on that Friday, just bring your energy. That's all I need, and I'll give it to you back. We're gonna have a great night."
Listen back to Stormzy's Radio 1 co-host with Grimmy and Annie Mac
Tap here to listen back to the full show with Stormzy.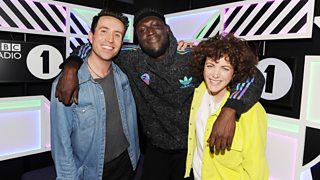 He picked his favourite festival story, and mentioned an incredible anecdote with Peter Crouch!
Hear tracks from all the massive acts playing Big Weekend, including Stormzy, Miley Cyrus and Dave.