Main content
The seven women who've changed women's lives
What do Margaret Thatcher, Beyoncé and Bridget Jones have in common? They're all on the 2016 Woman's Hour Power List. This year we're celebrating the seven women who've had the most impact on British women's lives over the past seven decades, since Woman's Hour first came on air back in 1946.
Our panel of esteemed judges Karren Brady, Ayesha Hazarika, Abi Morgan, Jill Burridge, Julia Hobsbawm and chair Emma Barnett whittled hundreds of listeners' suggestions down to just seven names during some (occasionally heated) deliberations. These are the women that made it…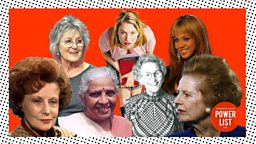 Margaret Thatcher: 'The female warrior leader'
Topping the 2016 Power List – in our only ranked position - is the UK's first female Prime Minister Margaret Thatcher. Elected three times, she's described by our judges as "a female warrior leader" who had both a positive and negative impact on women. In the words of Julia Hobsbawn – "no one's ever forgotten her."
"One of the reasons there was such a strong feminist movement in the 80s was as a reaction to her," says Ayesha Hazarika - while another generation grew up seeing a woman in Number 10 as standard.
"As someone in her early 30s, I have never known that women couldn't lead the country," says Emma Barnett. "Whether you like her or loathe her, just knowing that a woman could have the top job is not something that we should underestimate."
Margaret Thatcher in 60 seconds
Helen Brook: The 'game changer'
Helen Brook may not be a household name, but she should be according to our judges – who all felt Brook's work making contraception available to unmarried women had earned her a place on our 2016 Power List.
She set up the first Brook Advisory Centre clinic in 1964, an act former Woman's Hour editor Jill Burridge thinks sparked the biggest change to women's lives in the past 70 years.
"[It] freed women to think about what choices they had," says Jill. "Employment, job opportunities, all those things flowed on after the pill became freely available."
Ayesha Hazarika adds: "Even until relatively recently, the huge stigma that many young girls would feel about having unprotected sex or discovering that they were pregnant, the idea that these services are free and readily accessible for young women is absolutely huge."
Helen Brook in 60 seconds
Germaine Greer: The feminist campaigner
Writer Germaine Greer spearheaded a revolution with her book The Female Eunuch in 1970, paving the way for modern day feminists from Caitlin Moran to Laura Bates of the Everyday Sexism Project.
"Her views had a huge impact and she is controversial," says Jill Burridge, who as a young woman would get so engrossed in the feminist page-turner she regularly missed her stop on the tube.
"It was all about women's liberation, women's rights, equality - none of which existed in the 1970s. [Women] didn't have the right to have a mortgage! We had to fight for those basic rights that we absolutely take for granted."
"She's a warrior for me," adds screenwriter Abi Morgan. "She's somebody who went to the frontline of feminism and said 'bring it on'."
Germaine Greer in 60 seconds
Jayaben Desai: The unsung hero
You may not have heard of Jayaben Desai, but 40 years ago she led one of the UK's biggest strikes, walking out from the Grunwick film processing factory over poor working conditions for its mainly female and Asian workforce.
The strike lasted two years, attracting support from 20,000 workers and earning them the nickname 'the strikers in saris'.
"It captured the imagination of the whole country," says Ayesha. "The entire trade union movement got behind it… It was a really seminal moment for race relations in this country.
"She wasn't a name, she wasn't a particularly well-connected or powerful woman - she was a woman who stood up for human rights, for dignity at work and also said just because we're immigrants, just because we're women, we're not going to be treated like dogs."
Jayaben Desai in 60 seconds
Barbara Castle: The equal pay champion
Labour's 'Red Queen' was a trail-blazer for women in politics but, as the architect of the Equal Pay Act, Barbara Castle also had an impact on "every single woman, regardless of where you were from."
In the wake of strikes by female machinists at Ford's Dagenham, she showed "sheer determination" and "huge commitment" to the issue of men and women earning the same wage for the same work.
"I think what people don't realise is that it did not just fall into her lap," says Ayesha. "She had to fight tooth and nail for it. She actually did throw her toys out of the pram and say 'I want this piece of legislation'."
"It would be criminal not to put Barbara Castle on the list," adds Emma Barnett. "Every negotiation I've ever had I know I've got her standing behind me with what she put into legislation."
Barbara Castle in 60 seconds
Bridget Jones: The 'flawed heroine'
Ok, so she's not a 'real person' - but when unlikely fictional role model Bridget Jones first appeared in the 90s she had a huge impact "on how women felt about themselves and how women saw themselves", according to our judges.
First as a newspaper column, then in Helen Fielding's best-selling books and immortalised on screen by Renee Zellwegger, the pages of Bridget Jones's Diary resonated with a whole generation of singletons struggling to find their place in a world populated by smug marrieds, with only some Chardonnay to help.
"She ushered in the voice of a woman narrating her own banality as well as her own complexity," says Bridget fan Julia Hobsbawm
"Sometimes when we're doing these lists it's all about perfection," adds Ayesha. "It's all about women who have had it all, done it all. Bridget Jones is a character that connected with a lot of women… Everyone knows a Bridget."
Bridget Jones in 60 seconds
Beyoncé: The global superstar
Yes, she's sold millions of records but Beyoncé's influence on women's lives reaches much further than the music they listen to and knowing the dance to Single Ladies.
"Beyoncé has an impact on British women in a way that is very, very deep," says Emma Barnett. "In how people look, dance, dress, how people think of themselves and how people represent themselves online."
But the judges' main reason for awarding the singer a spot on the 2016 Power List is for helping to kick-start some big conversations.
"She is a political activist with her music. She's politically advocating for feminism within her music, for black women's rights within her music," says Abi Morgan. "She's walking the walk."