Main content
Clara Amfo's classical music fix
The Radio 1 DJ and Live Lounge host joins Clemmie Burton-Hill for Classical Fix, a new podcast about the mysterious (not really) world of classical music.
From Clara's musical obsessions to what *really* happened in her Live Lounge debut, here's what we found out...
Quite a lot of Clara's classical experience so far seems to be transport-related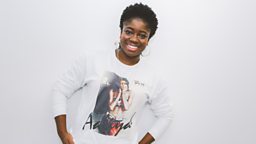 Clara's dad loved listening to classical radio when she was growing up, and from the age of eight or nine she'd listen with him on long car journeys. Nowadays, she mostly hears classical being played in train stations to calm commuters down (although privately, she thinks it might be stressing them out even more).
But she's coming to realise that classical is everywhere
"The cool thing about classical music is that we don't realise how much of it seeps into what is 'popular'," Clara says in the podcast. "I'm a big RnB fan and a big Hip Hop fan, and so many of these tracks that I love sample classical music."
Plus there's the fact that many of the artists that come into Radio 1's Live Lounge are classically trained. "They might be DJs or producers, but they've gone to prestigious music schools and learned piano before they learned to mix records," she says.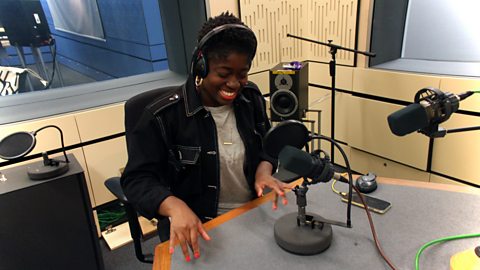 Is it the drama? The gravitas? The recognisability factor? Clara Amfo has her theories.
Speaking of piano… did you know Clara has been known to tinkle the ivories?
"I played the piano when I was younger, but I gave up and I really regret it," she says. So a couple of years ago, she challenged herself to relearn piano, a process that culminated in a broadcast performance in the Live Lounge. No pressure.
"It was one of the scariest moments of my life," Clara confesses. "I was performing with CHVRCHES on their cover of Calvin Harris and Rihanna's This Is What You Came For. It was really nerve-wracking and I actually carried on playing a few more chords than I was supposed to, but luckily I didn't mess it up.
"I need to get back to it."
And she's a massive musicals fan. Like, huge
Clara saw Stephen Sondheim's Into The Woods on TV as a kid and it made a big impression. "It was one of the best things I'd ever seen," she says. "I think musicals get a bad reputation for being cheesy, but it's such a smart art to tell a story with song and with dance."
Then she starts counting off musicals: "I also loved Chorus Line, I went to New York to see Chicago, I've seen Wicked twice, saw Hamilton the other week… and I'm obsessed, OBSESSED with West Side Story." It's on at the BBC Proms in August, Clara. Just saying.
She's also obsessed with Claire de Lune
Clara's one of those people who can't rest until they've identified a track – and once she's identified a track she loves, she listens on repeat. "That's what I did with Claire de Lune," she says. "I first heard it on a film called Far from Heaven, then in Twilight, then in another film called Frankie and Benny with Al Pacino and Michelle Pfeiffer.
"It's so beautiful. I rarely use this word, but it's quite tender. The way it builds, you could almost cry: it's just really stunning."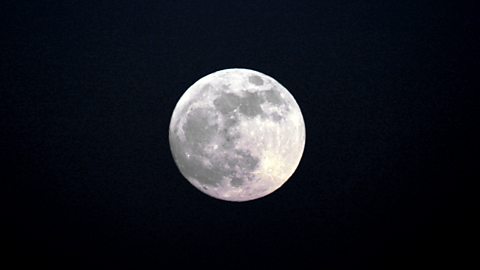 The Radio 1 DJ joins Clemmie Burton-Hill on Classical Fix.
In fact, she thinks Radio 1 listeners could handle a bit of Debussy...
Wouldn't classical make Clara's listeners switch off? Not necessarily. "You should never underestimate your audience, 'cos it will really surprise you what people are into," says Clara. "I know if I played this on Radio 1, there'll be people who will be like: 'Oh my God! I heard this on Twilight!' Or: 'My dad played this to me in the car!' It's so beautiful, regardless of what genre of music you say you're 'into' – you can't not respect that."
Clara's quickfire classical
Clara on... Richard Strauss (1864-1949)
Beim Schlafengehen from Four Last Songs
"I think it's the vocal that gets me here. I'm so used to hearing these pop voices, so a classical voice really stands out. I'm such a geek, I'm thinking: 'How is she using her vocal chords to produce those sounds?"' That's what I'm obsessed with, I just want to hear more. And I want to know why she's so sad..."
Clara on... Beethoven (1770-1827)
Symphony No. 5 (mvt 4)
"I'm seeing a Hollywood kiss here: it's very romantic, that's the vibe I was getting. I felt like that was a crescendo we've been wanting to see from the start of a really dramatic romantic movie. Maybe lovers split up by war? Some kind of tragedy, something's gone on, but they're going to be reunited and everything's going to be OK."
Clara on... Alissa Firsova (b.1986)
Stabat Mater
"The layering of the vocals is beautiful. It's so stunning: I feel like I should be listening to this in a giant cathedral. That's not a bad thing, it's just quite meditative. I could see myself lying on my sofa on a Sunday hearing this and just collecting my thoughts. Something like this would relax me instantly."
Clara on... Ólafur Arnalds (b.1986) and Chopin (1810-1849)
Eyes Shut / Nocturne in C minor
"I think it's beautiful. Is it based around a death? There's a sense of saying goodbye... [Nice spot, Clara. This is Ólafur Arnald's tribute to his grandmother; they listened to Chopin together before she died.] I think it's amazing he could emote that so well without a vocal. It's beautiful, incredibly sad, but stunning."
Clara on... opera. And Rihanna
"I'm curious about opera. I don't have a serious knowledge, but I think the right singer could turn me on. Take Rihanna: that woman's tone is so incredible that the minute you hear her on a record you know it's her. She could sing anything and I'll buy it straightaway..."
Clara Amfo is Clemmie's guest on episode two of Classical Fix, available to download from Monday 22 July 2018. Catch up with episode one, featuring BBC 6 Music's Shaun Keaveny, by subscribing wherever you get your podcasts.
Clemmie Burton-Hill helps music fans curate their own classical playlists. If you fancy giving classical music a go, start here.

Disconnect from your devices and escape into soothing ambient soundscapes.

Radio 3's quirkiest podcast gathers together the strangest stories from the dustiest corners of history. Subscribe now.