Main content
Ed Sheeran's five most unlikely friends
Of course, we know Ed Sheeran is great mates with One Direction and Taylor Swift (among others) but his friendship circle is wide and varied.
As well as other cool young stars Ed is friends with a number of famous faces you may not expect.
Here are five of the more unlikely names in his contacts list.
Ed's appeal is truly global, with a good mate in Australian acting icon Russell Crowe.
Well, he may be a good friend but he's not very good at keeping a secret, having potentially let slip that Ed is engaged to girlfriend Cherry Seaborn.
"We became friends through people we know and he was on tour and came to stay," Russell said in an interview with Australia's Nova FM.
"We just became friendly and he has since come back with his fiancée for more time and stuff."
He also revealed that he and Ed are keen on big (and messy) nights out in London, but that Ed sometimes forgets to drink water and struggles with hangovers the following day.
How does a singer/songwriter from Suffolk end up mates with Courteney Cox, one of the most famous TV actresses ever?
The two are so close, he even stayed at her house (rent free) for several months in 2013 while he recorded his second album, x.
"There was no rent but I made the bed and cups of tea and things like that," he told The Sun newspaper.
"If you're staying at your friend's house, you should treat it like your own."
But there's a simple link between the two; Courteney's husband Johnny McDaid.
Not only is Johnny a former member of Snow Patrol, he's also a long-time collaborator of Ed's.
Between Ed and Johnny, they've written songs such as Photograph, Bloodstream and the biggest hit of 2017 (so far), Shape Of You.
Needless to say the tunes being played at Courteney's house made up for the lack of rent.
Princess Beatrice
It's nice to be friends with lots of celebrities, but you know you've really made the A-list when you've got a princess in your contacts.
But despite reports in the media, Princess Beatrice apparently didn't scar his face with a sword after a party, it was all made up. James Blunt revealed to ShortList magazine that he invented the story after a party with the pair
James Blunt invented the story after a party with the pair, embarrassing Ed in the process (and probably the princess too).
"Yeah… there's… I don't know if I can talk about that, you know," he said when he co-hosted The Radio 1 Breakfast Show with Scott Mills.
Ed and Rupert's friendship began when Rupert starred in Ed's Lego House video and they've been poking fun at each other ever since.
Most recently, in March 2017, Rupert performed a sketch on MTV as Ed, claiming his whole career was something he made up after Harry Potter finished.
"After Potter, all I wanted to do was stretch myself, create some real magic, so I created a character," he said on the channel.
"He'd have the voice of an angel, impossibly wispy facial hair, so I bought a guitar and a bunch of flannel, and I called him Ed, Ed Sheeran.
"I just didn't expect everyone to think he was real. He became my greatest activity and the bane of my existence."
Ed's response?
James Blunt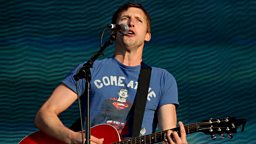 The unlikely friendship between James Blunt and Ed Sheeran goes deeper than making up stories about princesses and swords.
Ed also worked with James on his 2017 album The Afterlove, the two becoming firm friends - even seen holding hands at award shows on the red carpet.
James praised Ed's songwriting skills, saying he was made to feel uncomfortable by Ed's talent for drawing emotions out of other musicians.
"He is so open and he dragged me into that space," he told The Telegraph.