Main content
Seven ways to explain the Kardashians
They're absolutely everywhere, it's incredibly hard to go about your day without experiencing them in some form, and yet, you're not entirely sure who they are or what they do!
To mark David Baddiel's attempt to get to grips with one of America's most ubiquitous families in David Baddiel Tries to Understand, we try to explain why they've dominated our TVs and social media feeds for the past ten years.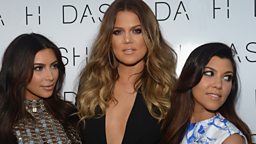 Sisters Kim Kardashian, Khloe Kardashian and Kourtney Kardashian (L-R) on the red carpet
1. Seven is the magic number!
The family is made up of three famous siblings, Kim, Kourtney and Khloe their half-sisters, Kendall and Kylie Jenner, their Mum Kris Jenner and Caitlyn Jenner, the ex-partner of Kris. Caitlyn used to be known as Bruce, and won the 1976 Olympics decathlon in Montreal. (Also, the Kardashians have a brother, Rob, who occasionally appears on the programme.)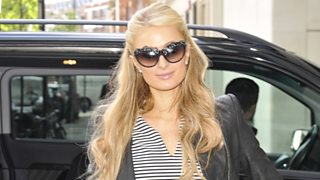 Kim Kardashian first attracted the attention of the media after spending time with Paris Hilton
2. The Kardashian-Jenner household is worth over $450 million.
Kylie, the youngest, is one of the wealthiest, with her beauty brand, Kylie Cosmetics, which has sold $420 million worth of product since it launched 18 months ago. Kim makes the most money from her mobile app game, Kim Kardashian: Hollywood. The Kardashians also make money from collaborations with a range of fashion and beauty brands, and they get paid six figure sums for sharing sponsored posts on their social networks.
3. Why are these women so famous?
Well, the Kardashian name first appeared in the public eye when Robert, Dad to Kim, Kourtney and Khloe, acted as OJ Simpson's defence attorney during his 1995 murder trial. (Robert and Kris were already separated by this point - they divorced in 1991. Kim started attracting paparazzi attention in 2006, thanks to her friendship with Paris Hilton. Then, at the start of 2007, her profile grew after a sex-tape of Kim with her boyfriend, singer Ray J surfaced on the internet. Around this time, presenter and producer Ryan Seacrest was inspired by The Osbornes, and wanted to make a reality show about a family. Casting directors approached the Kardashians, and the first episode of Keeping Up With The Kardashians was shown in the US on the entertainment television channel, E! on 14 October 2017.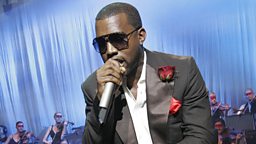 Rapper and music producer Kanye West married Kim Kardashian in 2014 and later became a father to two children, Saint West and North West
4. 10.5 million viewers watched Kim's second wedding
The most watched episode of KUWTK was aired on 11 October 2011, when Kim married basketball player Kris Humphries. The episode was filmed in August, when the wedding took place, and aired two months later. 10.5 million viewers tuned in to watch the "fairytale" wedding, the most viewers E! has ever attracted in a single day. Kim filed for divorce from Kris on 31 October 2011, after 72 days of marriage.
I love when people underestimate me and then become pleasantly surprised.

Kim Kardashian (Forbes)
5. They have some seriously famous fans
This summer, it emerged that Johnny Depp had reportedly spent $7000 on one of their old sofas, which had been featured on the show, for his daughter Lily Rose.
6. The next generation is arriving
Kim has a daughter, North, and a son, Saint, with husband Kanye West. Kourtney has three children with her ex-partner Scott Disick - Mason Dash, Penelope Scotland and Reign Aston. Rob Kardashian has a '10 month old' baby girl, Dream, with his ex-partner, model Blac Chyna.
7. Celebrating 10 years on TV
The family has just announced that their '10 year' anniversary series will be airing in Autumn 2017. The bonus '90 minute' special, hosted by Ryan Seacrest, will look back at the last decade. Topics that are bound to come up include Kim's terrifying attack, when she was held hostage by armed robbers in Paris in 2016, and when Khloe kissed an inflatable giraffe on camera.
A few moments spare?
David Baddiel sets out to make sense of some apparently puzzling topics and takes on the challenge to understand the Kardashians.
David Baddiel Tries to Understand