Main content
Ursula Le Guin
7 Bestselling authors share their love and respect for the influential writer.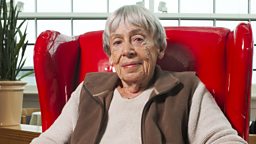 First published in the 1960s, Ursula Le Guin has nourished the sci-fi and fantasy genre with piercing visions of race, gender, ecology and politics. She's also been its hero defender.
Here seven bestselling writers reflect on the huge impact she made on their work...
1. Margaret Atwood
Margaret Atwood describes Ursula Le Guin as 'one of the classic twentieth-century writers', praising her talent as a stylist as well as her ability to coalesce new ways of thinking about the world into good literature.
While both writers share overlapping environmentalist and feminist themes, particularly in Le Guin's Hainish cycle (1974—2000) and Atwood's MaddAddam trilogy, they're not always in accord.
Atwood's preference for the term 'speculative' over 'science' fiction to describe her work proved one point of contention. It's apt that Le Guin, whose concept of magic in the Earthsea series springs from the true naming of things, places importance on the labels writers use.
2. David Mitchell
Ursula Le Guin has been cogently arguing away the supposed difference between good genre fiction and good literary fiction for decades, so it must be heartening for her to see twice Booker Prize shortlisted novelist David Mitchell carry the same banner aloft. Mitchell regularly cites Le Guin and Tolkien as major influences on his celebrated era and continent-leaping work, from Cloud Atlas and The Bone Clocks to forthcoming novel, Slade House.
3. Zadie Smith
Zadie Smith's relationship with Ursula Le Guin's work is a recent but fruitful one.
In 2011, under the tutelage of 'a friend who reads a lot of science fiction', the acclaimed novelist, short story writer and essayist was introduced to Le Guin's 1974 anarchist utopia, The Dispossessed. 'I felt like a child reading it' wrote Smith, 'by which I mean I was totally subsumed in it'.
That subsumption has found its way into Smith's forthcoming fifth novel, which she describes as a 'science-fiction romp' influenced by Le Guin's work and the feminist movements of the 60s and 70s.
4. JK Rowling
The Harry Potter books (1997—2007) are confettied with elements found in Ursula Le Guin's Earthsea series (1968—2001). A school of magic, a trainee sorcerer scarred and pursued by a shadow power joined to him alone, an elderly mage and a teenage boy on a quest to defeat a death-conquering dark wizard…
6. Terry Pratchett
Homage isn't the only outcome of influence; parody is its twin.
Writing in 1990, the late, great Terry Pratchett named Ursula Le Guin as one of the architects of 'the consensus fantasy universe', a world of 'dragons, and magic users, and far horizons, and quests, and items of power, and weird cities'. Pratchett saw problems in that universe, not least its unbalanced portrayal of magisterial male, and cheap female, magic. Enter Granny Weatherwax and a whole Discworld to right that wrong and fondly prod fantasy out of its humourlessness.
Plus a few more!
Other writers influenced by Ursula Le Guin, see: China Miéville, Octavia Butler, Salman Rushdie, Robin Hobb, Kelly Link, Michael Chabon, Jonathan Lethem and Iain Banks.