Main content
The Secret Adversary
Here you can find out about three of the locations used to create 'The Secret Adversary' the first three-part adventure of Agatha Christie's Partners in Crime.
Didcot Railway Centre, Oxfordshire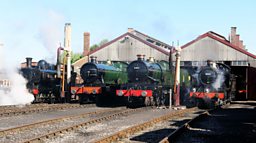 Didcot Railway Centre is the Living Museum of the Great Western Railway where in its 20 acres it provides a 180 year historical journey from Brunel's 1840's Broad Gauge railway right through to modern railway practise. In Partners in Crime, it plays the railway station in Paris where Tommy and Tuppence first meet Jane Finn.
Visitors can get up close and personal with the unique collection of Locomotives and Carriages and enjoy train rides on Running Days.
Didcot Railway Centre is open every weekend and operates train rides on certain days.
Englefield House, Berkshire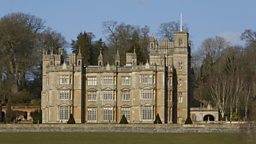 Located between Newbury and Reading, Englefield House is a magnificent Tudor mansion, visited by Elizabeth I towards the end of her reign in the early 17th century.
It has been a family home for over 300 years and is surrounded by stunning countryside with its terrace and woodland gardens plus a deer park supporting over 300 fallow deer. Other major productions filmed at Englefield House include, The King's Speech, Great Expectations and X Men: First Class.
Chiltern Hills, Buckinghamshire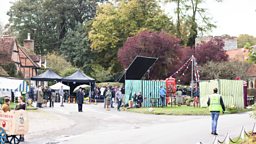 This tiny village nestled at the base of the Chiltern Hills valley may appear extremely familiar to viewers.
As well as portraying as the on-screen home for Tommy and Tuppence, it has also provided the church for the Vicar of Dibley and the windmill for Chitty Chitty Bang Bang.
The village and the surrounding area in Buckinghamshire is one of the most fatal on television, as it is also the backdrop for Midsomer Murders!