Main content
10 surprising things we learned from David Baddiel's Desert Island Discs
Comedian and writer David Baddiel entertained and provoked the minds of a generation in the '90s, with shows like the iconic Mary Whitehouse Experience, and the much-loved Fantasy Football League (which led to one of the first hit podcasts: Baddiel and Skinner's World Cup Podcasts). A few sell-out stand-up tours, a movie and a musical later, he's influencing a new generation with his bestselling children's novels. Here are 10 things we learned from an honest and emotional interview…
1. He has a "truth urge"
Finding it hard to inhibit or censor himself, David has always spoken about his own life when on stage. He's always used confessional comedy as a way of talking about the darker things in life and thinks that, rather than being a form of denial, comedy is a way of processing and engaging with difficult personal experience. "As you get older, your life gets darker. You, suddenly, are faced with mortality… If you can laugh about illness and death then you are, to some extent, putting up the only weapon against it."
2. He thinks his partner is a better performer than him
David thinks his tendency to talk about himself on stage might also come, in part, out of his limitations as a performer. He says his partner, Morwenna Banks, is the opposite of him in terms of versatility and range. "I look at her, or people who I grew up performing with like Steve Coogan – they are incomparably brilliant at occupying someone else. I can't even do an accent."
3. A sixth-form revue nearly got him expelled
When asked to write their sixth-form revue, David and his classmate Nick created a series of sketches making fun of the teachers. "It's still one of the best gigs I've ever done." He remembers one sketch where the (very Christian) librarian had sex with a blow-up doll on the photocopier. "I'd never done comedy before" he says, "I absolutely stormed it. Suddenly… I was really cool – and also, nearly expelled."
"I absolutely stormed it. Suddenly… I was really cool – and also, nearly expelled."

David Baddiel on his first comedy gig
4. The next stand-up show might be about trolls
David took a long break from stand-up because he was exhausted after doing it for 15 years, had children, and wanted to do other things. But doing his show My Family: Not the Sitcom every night has made him think maybe it isn't the most terrifying thing in the world, and that the next show might be about internet trolls. "In my opinion, outrage confers identity on social media," he says, "but the majority of people are sharing a communal experience, I think that's what's good about social media."
5. He really likes musicals
When David was old enough to realise he wasn't going to be a footballer, he turned to his love of music and became obsessed with Jesus Christ Superstar and Godspell (which, he says, "is strange, for an atheist Jew"). Two of his discs are from musicals: a comic song from The Book of Mormon, which he selects because Derek and Clive, although a transformative comedic influence in his early years, is too obscene for Radio 4 and Love Will Find A Way from his own musical The Infidel. He was with his mother at the premiere and it was the last time he saw her "shining with happiness" before she died a couple of months later.
6. His childhood home was filled with golfing memorabilia
When he was growing up, David's mum had "a very public affair" with a golfing memorabilia salesman, and turned their house into a shrine to golf. She used to tell people about it whenever she could, and left copies of her love letters around the house. His dad never seemed to notice, David says, even though "It's quite hard to forget about the affair when there's a statue of Lee Trevino in your eyeline."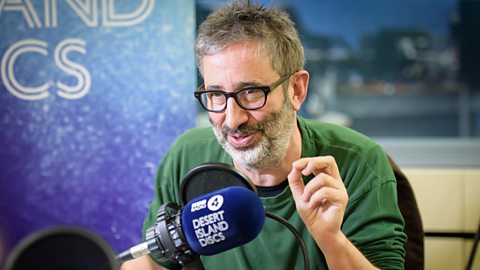 Comedian David Baddiel on why he grew up surrounded by golfing memorabilia.
7. His mum escaped Nazi Germany
David's mum was three months old when the war broke out in Nazi Germany. There's a swastika stamped on her birth certificate. Most of her family was murdered, but she escaped with her parents and they moved to Cambridge, where they lived together in one room for most of her early life.
8. His dad told him he was wasting his brain
David speaks about his father's dementia and describes his dad as both funny and frightening. He says that, growing up, his father would find tiny things provided constant aggravation. "Every time the phone rang between 1970 and 1979, he'd just get furious… he didn't even know who it was!" When David was about to choose his A-levels he told his dad – a scientist – that he wasn't going to study science, but English. "It's a waste of a brain," his father replied. As David points out, this was in the seventies when "parenting" was not a word.
9. "I don't believe in God, but I do believe in Larry David"
Kirsty Young asks David why he describes himself as "Jew" in his Twitter bio, and yet also says he's a "fundamentalist atheist"? He admits it seems confusing but explains, "for me, and for lots of Jews, it's all about culture and heritage and tradition – and, you know, comedy. I don't believe in God, but I do believe in Larry David. I'm so proud of being a tiny, tiny footnote in this great tradition of Jewish comedy. And I also have been activated… more in later years but throughout my life, by anti-Semitism, to call myself a Jew."
10. He still gets goosebumps when he hears Three Lions
For his fifth disc, David chooses the England football team song he and Frank Skinner co-wrote the lyrics for – and co-performed with The Lightning Seeds. He describes hearing it being sung by the crowd at Wembley Stadium, when England beat Scotland at Euro '96, as "an extraordinary, extraordinary moment in my life… I cannot believe that happened."

More comic castaways
Featuring Russell Brand, Kathy Burke, Ricky Gervais and many more...

In a frank and hilarious interview, the comedian speaks about fame, being funny and fish.