Main content
9 Questions with Gary Barlow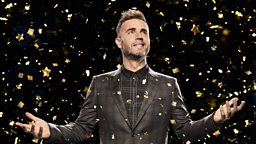 1. What gave you the idea for Let It Shine?
It had been three years since I was last on a TV show, and I knew I wanted a new challenge. So I sat down with creative teams at the BBC and we came up with this idea of having bands battling each other for their place on a brand new West End stage show.
2. Which came first: the stage show or Let It Shine?
The stage show – it's been in development for about two years. I've been getting more and more experience in theatre and the ultimate goal was to create a West End show using the music of Take That. Together, we've got twenty-five years of music that documents our life as a band, and I thought it'd be really nice to see that on stage.
3. What is it about Let It Shine that's so exciting?
For me, it's that we're looking for five young men to work as a team. Children these days aren't socialising the way they did years ago, they're on their phones or PlayStations. I want people to watch this show and think "I want to be in that gang!" Let It Shine will remind people of the strength and success of working together. We definitely need some team spirit right now, that's for sure.
4. Tell us about the prize…
As a judge, to be sat there promising these young kids they're going to be a star or whatever, I don't even know what that means anymore. So to give them a job is something everyone can understand. This isn't an easy job either. The contract is for twelve months, eight shows a week!
5. Tell us what Martin Kemp brings to the show…
Martin was in my favourite boyband as a kid. I used to go to the shop with 50p and I'd either buy a Duran Duran record or Spandau Ballet. I used to dress like him so getting him was important to me because one, he was in the original boyband, and two, he has acting skills which I don't have. So he would be perfect to give critique.
6. What about Dannii Minogue?
Dannii's got a relationship with Take That – when we first started, she was doing her pop career too, so we've known her for a long time, and I thought she was brilliant on The X Factor. For our contestants, it's great to have someone on the panel that's so good at spotting talent.
7. The final judge during auditions is Amber Riley of Glee fame. Why bring her over from the US?
Amber brings a fresh perspective to the panel – she doesn't know who Take That are! We're not looking for a tribute act and we don't want lookalikes, so she comes at it completely fresh. I mean, she's only been to the UK a couple of times before, so it's exciting.
8. Have there been clashes between the judges over the talent on stage?
I think we've got the chemistry right on this show. I didn't want it to be a pantomime, I wanted the judges to be making good critiques. If they've got nothing to say then they don't say anything!
9. Can viewers expect to see you perform during the live shows?
Maybe! Try to keep me off that stage!
Read our other interviews with the Let It Shine team: