Main content
Broomstick Pumpkin Kebabs with Roasted Pepper Relish
This is a really tasty relish made with peppers of whatever colour you choose. Chop as coarse or finely as you wish to make a really tasty relish ideal for this time of year.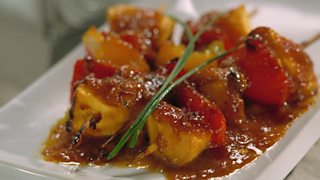 If you are using wooden skewers, remember to leave them in cold water for a few minutes before threading the food – this prevents them from catching fire during cooking.
(Serves 4)
Roasted Red Pepper Relish
Ingredients
2 yellow and 2 orange peppers – halved
4 tbsp oil.
1 tsp chilli flakes
1 dsp soft brown sugar
juice of 1/2 lemon
Method
Place the peppers on a baking tray and cook in the oven at 200C/gas mark 6 for 10–12 minutes until softened. Alternatively, place the peppers under a hot grill until soft and slightly blackened.
Peel the skin from the peppers and place the flesh in a bowl with the oil. Blitz in a blender for 1 minute until you have a smooth paste.
Place the pepper mixture in a saucepan along with the relish and add the chilli flakes, soft brown sugar and lemon juice. Cook for 3–4 minutes. Leave to cool.
Pumpkin Kebabs
Ingredients
225g/8oz pumpkin flesh
300g/12oz chicken pieces
1 pkt large salad onions
1 yellow and 1 orange pepper –
cut into 1 inch cubes
Cut the pumpkin into wedges and take out the seeds. Remove the soft pumpkin flesh and cut into 1 inch chunks. Steam the pumpkin over a low temperature for 7–10 minutes until slightly soft.
Thread alternate pieces of chicken pieces, steamed pumpkin, salad onions and peppers onto wooden or metal skewers. Brush well with the roasted pepper relish and cook on the barbecue or under a hot grill for approximately 10 minutes or until the vegetables and chicken are tender. Turn the kebabs frequently and keep brushing them with the relish during cooking.