Main content
Colour your own 'thank you' to NHS staff
9 April 2020
One of Britain's leading artists, Sir Michael Craig-Martin, has designed a poster for adults and children to colour in and display as an appreciative show of support for the selfless work of NHS staff.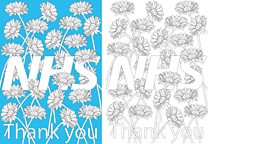 Print out Michael Craig-Martin's design to share as a tribute to NHS workers - Download links below
Sir Michael said, "Now more than ever is the time to show our appreciation for the courageous work of our NHS staff across the UK. We might be in lockdown but, by colouring in this design individually and sharing it either in windows or digitally, you can show your personal support for the selfless work they're doing to save the lives of our friends, family and loved ones."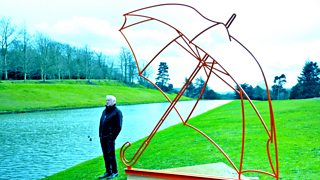 By colouring in this design and sharing it, you can show your personal support for the selfless work NHS staff are doing.

Michael Craig-Martin
Across the UK, people have been showing their support for frontline NHS staff and other key workers as they grapple with the extreme circumstances of a deadly virus and a country in lockdown. This has taken many forms, from communal clapping to painted rainbows in windows.
As well as being a revered artist in his own right, Michael Craig-Martin was an influential teacher at Goldsmith's College, London from the 1970s to the 1990s where he mentored a gifted group known later as the Young British Artists, among them Damien Hirst, Gary Hume and Sarah Lucas. For this tribute poster, he has used flowers as a poignant thank you to the vital doctors, nurses and other healthcare professionals who, every day, are working to save lives and take care of people affected by the spread of coronavirus.
Known for his painting, sculpture and print-making, the Royal Academician has been exhibited in numerous museums and galleries across the world. He said he wanted his design to be positive and hopeful.
Downloads
Share your coloured-in poster on social media platforms using #GetCreativeAtHome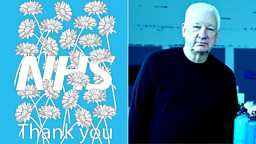 Michael Craig-Martin and his NHS poster
Gerbera flowers: A 'positive, hopeful' symbol of thanks
Along with the iconic blue and white NHS logo, Sir Michael's design uses gerbera flowers, also known as the African daisy, as they grow in a riot of colours. This lets people at home apply their own palette to show their appreciation of those doing life-saving work in hospitals and care homes.
Flowers seem appropriate in our present challenging circumstances.

Sir Michael Craig-Martin
"You may be surprised to see me drawing flowers but in isolation I have been drawing fruit, vegetables, and flowers," the artist said. "Of course they refer to 'nature' in a way I never normally do, but they seem appropriate in our present challenging circumstances."
And he told Get Creative that flowers had an added significance in these extraordinary times. "As the only place one is able to go to is the supermarket, by far the most striking things we see are these gifts of nature. They never looked more important or more beautiful."
There is added symbolism and poignancy to Sir Michael's choice of flower. It was named after the German medical doctor Traugott Gerber in the 18th Century.
Historically, the gerbera has held a variety of meanings in different cultures. It is thought the Egyptians believed that they symbolised a closeness to nature, and for Celts they lessened the sorrows and stresses of everyday life.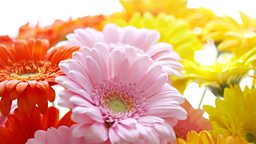 Gerberas grow in a variety of hues, making it easy for you to interpret your own colours onto Sir Michael's design
Mindfulness
As well as a symbol of thanks, colouring in the poster has the added benefit of being a mindful activity for both adults and children who are being encouraged to stay indoors.
There is a large body of research showing that creative, mindful activities like colouring-in can be really supportive for mental health.

Dr Daisy Fancourt
Dr Daisy Fancourt, who is Associate Professor of Epidemiology at University College London, says colouring has been accepted as a relaxing and calming activity which can help us de-stress as well as explore our creativity.
"There is a large body of research showing that creative, mindful activities like colouring-in can be really supportive for mental health," Dr Fancourt said. "They can help to distract people from worries, provide a medium for expressing emotions, and improve self-acceptance.
Research has shown benefits including reduced blood pressure and stress hormones, and improved immune function, from mindful tasks."
On the NHS website, Professor Mark Williams, who is a former director of the Oxford Mindfulness Centre, says that mindfulness means knowing directly what is going on inside and outside ourselves, moment by moment.
"It's easy to stop noticing the world around us. It's also easy to lose touch with the way our bodies are feeling and to end up living 'in our heads' – caught up in our thoughts without stopping to notice how those thoughts are driving our emotions and behaviour," he says.
The Godfather of YBAs
Born in Dublin, Michael Craig-Martin grew up in the United States before settling in the UK, where he has lived and worked since 1966. He participated in The New Art, the definitive 1972 exhibition of British conceptual art at the Hayward Gallery.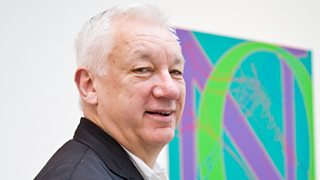 Craig-Martin's numerous exhibitions and installations in galleries and museums across the world have included: the Centre Pompidou, Paris; MoMA, New York; the Kunstvereins in Dusseldorf, Stuttgart, and Hannover; IVAM in Valencia; and Kunsthaus Bregenz. He represented the UK in the 23rd São Paulo Art Biennial.
Craig-Martin was an influential teacher at Goldsmiths College, London, where he taught and supported artists such as Damien Hirst and Sarah Lucas and their famous Freeze exhibition, which kick-started the YBA movement. He was a Tate Trustee from 1989 to 1999, was awarded a CBE in 2000, and was elected to the Royal Academy in 2006. He was knighted in 2016 at the Queen's Birthday Honours for his services to art.
More ways you can be creative at home
Wimbledon may have been cancelled but stuck-at-home tennis fans can tackle this crafty alternative

Learn how with this simple guide to cutting and laying mosaic tiles

Master an impressive origami jumping frog with this interactive step-by-step tutorial that puts you in creative control