Main content
Everything we know so far about Liam Payne's debut album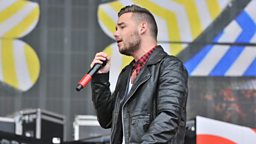 The countdown is on: it's T minus two days until our ears are blessed with new music in the form of Liam Payne's debut single (put Friday 19th May in your diary, stat).
The former One Direction member is joining Grimmy in the studio on Friday morning to drop his much-anticipated single and chat all things solo career. If you can't wait until then, here's everything we know so far about Liam's upcoming album...
Strip That Down featuring Quavo lands on Friday and, so far, all we've had is a teaser vid featuring a whole lot of 'yeahs'. Not familiar with Quavo? Sure you are. He's one-third of in-demand hip hop group Migos, the guys behind Bad and Boujee.
Opting for R&B vibes and recruiting a whole lot of heavyweight collaborators in the process (more on that later), Liam's sound massively differs from Harry's, Niall's and Louis's solo offerings. So far, so catchy. We're into it, Liam.
So we might not totally know what the single sounds like but we know what it looks like. Capital letters are a thing of the past. You heard it here first.
It's no secret that Liam's collaborated with Quavo - he features on the debut single, after all - but it seems that Migos (comprised of Quavo, Takeoff and Offset) might have played a part in other tracks on the album.
Speaking to Tim Westwood, Quavo said: "I just came from a video today. My boy Liam from One Direction. We just shot that. Crazy vid. Crazy visuals. Crazy team. Cool guy, nice guy. It's goin' up. I wasn't even supposed to say that. It's gonna be a surprise though."
But the collaborations don't stop there. Liam's hinted at working with both Drake ("great to see a genius at work last night" he captioned the Instagram post) and Pharrell ("Great few days working with @pharrell pleasure working with you as always") and, as if that wasn't enough, has mentioned that Ed Sheeran penned a song for him. We are, in a word, psyched.
He's worked with Danny Boy Styles and Ben Billion$ - the producers responsible for some major tracks from Beyoncé, The Weeknd and Nicki Minaj - as well as Bibi Bourelly - the songwriter responsible for Rihanna's BBHMM.
Tagging all three in a clip shared on Instagram back in November, the R&B-heavy track features the very apt lyrics "all the best things take a little time." We're waiting, Liam...
Listen to the Radio 1 Breakfast Show on Friday 19 May 2017 to hear Liam Payne premiere his debut solo single.