Main content
How to decorate your Christmas tree like a pro
Interior stylist Maxine Brady from the We Love Home lifestyle blog has given BBC Radio 5 Live her top tips on how to decorate your Christmas tree like a professional this year.
Click here to listen to the full interview on BBC Sounds.
Set the mood!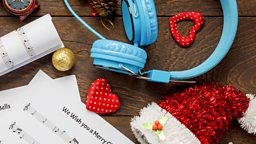 (Photo: Getty Images)
"When decorating your tree, set aside the afternoon to do it and put your Christmas playlist on!
"You want it to be all done in one afternoon and be as fuss-free as possible."
"Buy your tree or get the fake one out of the loft. I like really fat bushy ones where you can't see the middle; I go for Nordic Spruce or a Nordic Blue with bluish white soft shade.
"If you hate de-tangling lights, you can buy fake trees that are pre-lit, with fairy lights built in. This guarantees an even distribution of lights so could be a good option in an open-plan home if your tree is seen from all angles."
Location, location, location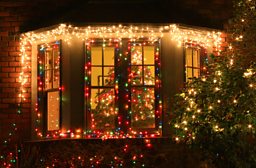 (Photo: Getty Images)
"Choose where to put your tree. I put the tree in the window so everyone can see it walking past!
"Always start with the lights; tuck them in so you can't see the wire. Don't go round and round; zig-zag up the tree starting at the bottom.
"I use two sets of fairy lights. Before you finish with the lights, turn them on and step back to make sure they are evenly placed."
The importance of a well-placed decoration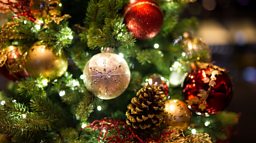 (Photo: Getty Images)
"If you are going for a theme, try to stick to a colour pallet with your decorations.
"Put the baubles on first, bigger heavier ones at the bottom. Tuck over-sized ones on the branches to fill the gaps where you can see the trunk."
Tie it with a bow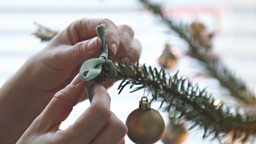 (Photo: Maxine Brady We Love Home)
"Try to put the little, delicate ornaments on the ends of the branches so they catch the eye.
"I tie velvet ribbon on the ends of the branches too; it's a simple touch that makes a big impact."
Top it off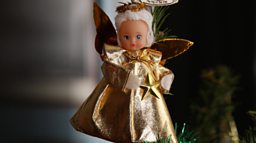 "I like to put a big bow on top of my tree. But there are lots of lovely options to top your tree with; from stars and fairies to birds or even a David Bowie.
"Final tip; why not get a separate little tree for kids to decorate so you can keep your main tree looking just as you want it to!"
Listen to the full interview and get even more festive top tips on BBC Sounds.
Muppet puppeteer and voice artist Frank Oz shares a few insider secrets...

If you're making a film about space - better ask these guys for some technical advice first...

Doctors Kitchen author Dr Rupy Aujla explains how to get more greens into your diet.